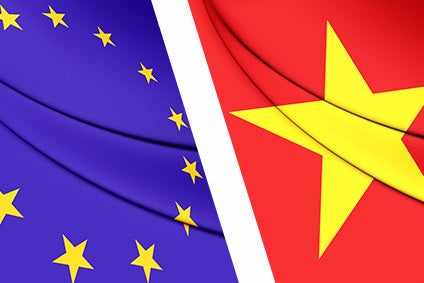 Vietnam is confident the EU-Vietnam Free Trade Agreement (EVFTA) will be an opportunity to increase the export of textiles and footwear, while also playing an important role with those export commodities facing difficulties due to the impact of coronavirus.
Vietnam is the EU's second-largest trading partner in the Association of Southeast Asian Nations (ASEAN) after Singapore, with trade in goods worth EUR47.6bn (US$51.91bn) a year and EUR3.6bn when it comes to services. The main EU imports from Vietnam include telecommunications equipment, clothing and food products.
At present, only 42% of Vietnamese exports to the EU currently enjoy zero tariffs under the Generalised System of Preferences (GSP). The new trade deal, backed by the European Parliament earlier this month, will remove virtually all tariffs between the two parties over the next ten years.
"The approval of the European Parliament for the EVFTA is of great significance as it is an $18trn market with large potential for Vietnamese goods," says Vietnam's minister of industry and trade, Tran Tuan Anh. "Especially, as Vietnam's agricultural products, fishery products, textiles and garments face difficulties in exports due to the impact of the Covid-19 epidemic, the approval of the EVFTA is more significant."
According to the Ministry of Planning and Investment, the EVFTA will help Vietnam's export turnover to the EU increase by about 20% in 2020, 42.7% in 2025, and 44.37% in 2030.
Import turnover from the EU will increase but at a slower rate than export turnover – by about 15.28% in 2020, 33.06% in 2025, and 36.7% in 2030. On the macro side, the EVFTA will contribute to the increase of Vietnam's GDP by an average of 2.18-3.25% (in 2019-2023); 4.57-5.30% (in 2024-2028) and 7.07-7.72% (in 2029-2033).
"The import-export structure between Vietnam and the EU is largely complementary and less direct competition," adds Anh. "Therefore, if the EVFTA comes into effect, it will be a great push for Vietnam's exports. With a commitment to eliminate import taxes on up to nearly 100% of tariff and trade value approved by both sides, the opportunity to increase exports for Vietnam's major products such as textiles, footwear, agro-fishery agricultural products, wooden furniture, etc is remarkable."
In addition to opportunities, Anh also acknowledges the implementation of FTAs, especially new-generation FTAs, poses "many challenges" for Vietnamese businesses and the economy, such as competition pressure, protectionist trends for domestic production of the importing countries, and regulations on trade remedies.
To overcome these, Anh says there will need to be an increase in production capacity, restructuring, and effective implementation of commitments, particularly related to legal reforms and basic conditions related to the sustainable development environment and conditions of workers.
He adds: "The urgent issue is to improve the competitiveness of businesses. Vietnamese firms must change their thinking to adapt to the new context, learn, capture information and be flexible in accessing and taking advantage of opportunities.
"Along with that, investment in building high-quality human resources is very important and indispensable. Only when businesses meet the conditions and standards of importing markets and criteria of origin will preferential tariffs be effective [enough] to promote exports and contribute to the country's economic growth."
The agreement is expected to be approved by May and take effect in July.