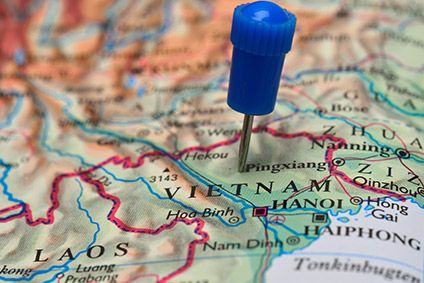 Vietnam's garment sector has benefited as producers and buyers diversify their supply chains, and the latest data shows the country has continued to increase its share of US apparel imports over the last few years.
Official figures for apparel imports into the US show Vietnam's share of the market in volume terms has risen from 11.52% in 2015 to 13.28% in 2017.
This may have been boosted by a near 5% drop in prices from Vietnam over the last two years. Data from the Department of Commerce's Office of Textiles and Apparel (OTEXA) shows average unit costs on imports from the Southeast Asian country have fallen by around 0.3% year-on-year to US$3.21 per square metre equivalent (SME). This compares with $3.22 in 2016, but is 4.2% higher than eight years ago when its prices averaged $3.08.
Vietnam's actual share of US imports, however, pales in comparison to China, despite it closing the gap slightly. China's lead accounts for almost three times the volume of imports from Vietnam, proving that no country can match China in terms of the size of its supply base, its range of skills, its quality levels, its product variety and the completeness of its supply chain.
As the largest supplier of apparel to the US, the volume of China's shipments amounted to 11.36bn SME in 2017, an increase of 1.7% on the prior year. In comparison, Vietnam's shipments reached 3.60bn SME, an increase of nearly 7.5%.
China's share of US apparel import volumes has fluctuated over the last eight years. Its share currently stands at 41.9%, marginally higher than the 41.53% it held in 2016, and marginally lower than the share of 41.98% it held in 2010.
Of the other top ten apparel suppliers to the US, Bangladesh is the only other country to have increased its share, reaching 6.84% in 2017 from 6.49% eight years ago. Cambodia and India have both seen decreases, from 3.83% to 3.43% last year, and 3.92% to 3.81%, respectively.
El Salvador, Mexico, Honduras, Pakistan and Indonesia have all seen their market shares decline since 2010.
Over the last 12 months, only half of the top ten apparel supplier countries booked growth in the volume of shipments to the US, with Vietnam seeing the largest increase. Those from third-largest supplier Bangladesh fell by 0.4% to 1.85bn SME last year.
Cambodia booked the second-highest gain, at 3.1% to 931m SME, while India reported a 2% increase year-on-year to 1.06bn SME.
The volume of total US apparel and textile imports was up 3.2% for the year to 64.89bn SME. Within this, textiles grew 5.1% to 34.77bn SME, while apparel shipments edged up 0.8% to 27.12bn SME.
In value terms, total US apparel and textile imports edged up 1.3% to $1.06trn in the 12 months to December, from $1.05trn a year ago. Apparel imports dropped 0.5% to $80.29bn, while textiles were up 7.2% to $25.71bn.