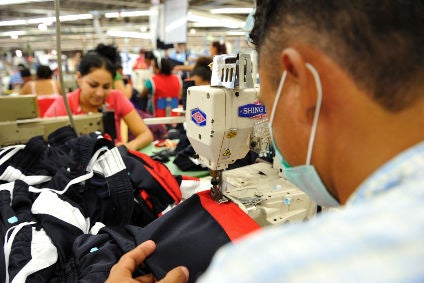 Central America's apparel exports will likely hover at $4bn to $5bn this year as the coronavirus pandemic slashes the impoverished region's shipments by 50%, observers say.
"Production is down everywhere but especially in Dominican Republic, Honduras and El Salvador," according to a regional expert who helps advise brands sourcing in the seven countries that make up the DR-CAFTA (Dominican Republic-Central America Free Trade Agreement) trading block with the US. These are Guatemala, Honduras, Nicaragua, El Salvador, Nicaragua, Costa Rica and Dominican Republic.
Karin de Leon, executive director of the Central American-Dominican Republic Council of Textiles and Apparel (CECATEC-RD), agrees the export outlook has dimmed.
But she says many manufacturers, notably in Guatemala, are quickly restructuring to make personal protective equipment such as masks and gloves, or medical gear for overwhelmed hospitals north of the border and elsewhere, helping them to potentially offset losses.
"It will all depend on how fast factories can transform themselves to supply international markets. All regional governments are working to do this now," de Leon says.
US labels refuse payment
She notes US many garment brands have refused to pay for cancelled shipments during the past two months, throwing makers into a cash squeeze.
De Leon echoes views that the US could help Central America cope with the crisis. "The US could send us more feedstocks and open some flexibilities [within CAFTA] that would help us send more medical equipment."
Whatever happens, the region is in turmoil with no end in sight. Freddy Carrasco, head of the labor union at textiles maker Tegra, says Honduras's maquila industry has stopped completely.
Tegra, which was rushing to build a new Nike supply factory before the pandemic began, has closed its factories for 120 days and, while it has partially paid workers, there is no guarantee payment will be received for that entire period, Carrasco says.
Gildan Activewear, Delta Apparel and Fruit of the Loom have also announced 90 to 120-day closures, idling thousands of workers in a country with huge unemployment rates, he adds.
"Some companies have asked employees to take early summer and bank holidays which is actually against the law," Carrasco explains, adding that the government is unfairly supporting manufacturers instead of workers.
In Guatemala, losses from order cancellations continue to rattle the industry – although textile mills that supply to Amazon and Wal-Mart have not shuttered, observers say.
Alejandro Ceballos, president of apparel and textile industry association Vestex (Asociación de la industria del Vestuario y Textiles), says the sector has lost $400m in exports. And although some factories have switched gear to make PPE, the industry expects to lose 20% of its factory base to the virus while 60,000 jobs are also under threat.
While the government has offered partial subsidiaries to help workers cope with a looming recession, they are not being distributed fast enough or in an organised fashion, he notes.
As reported on just-style last month, Mexican and Central American garment factories have been shutting down as regional governments respond to the coronavirus outbreak and US demand slumps as retailers face widespread store closures to contain the global health emergency.