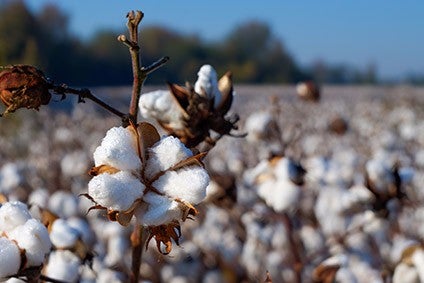 US retail giant Walmart has joined more than 480 companies from across the global supply chain who have signed up to the Cotton Leads programme, which supports responsible production practices by cotton growers in the US and Australia.
The joint programme aims to raise awareness of characteristics common to the Australian and US cotton industries, including responsible production practices, strict regulations that protect the environment and people, the ability to affect positive change nationally, nationwide cotton research and development programmes, and sustainability benchmarking.
Among those who have already signed up are Gap Inc, Hugo Boss, Macy's, Hanesbrands, Fruit of the Loom and Esquel Group.
"Cotton is a major ingredient in many of our apparel and home textile products," explains Ken Lanshe, Walmart's vice president, general merchandise, technical, quality and sustainability.
"Through the Cotton Leads programme, Walmart hopes to learn from and collaborate on efforts that US cotton farmers are taking to be responsible and sustainable producers. Our support for the Cotton Leads programme aligns with Walmart's goal to sell products that sustain the environment."
Mark Messura, senior vice president, global supply chain marketing at Cotton Incorporated, a founding member organisation of the Cotton Leads programme, adds: "Joining with Walmart in the Cotton Leads programme brings the scale and commitment of an industry leader together with the leaders in cotton sustainability and responsibly-sourced cotton."
This is the latest in a line of sustainability commitments from Walmart, including launching a project to reduce greenhouse gas emissions from its operations and supply chain. It is also the first retailer with a verified science-based target emissions-reduction plan and aims to make significant progress by 2025/2030, including reducing its absolute Scope 1 and 2 emissions by 18% by 2025.