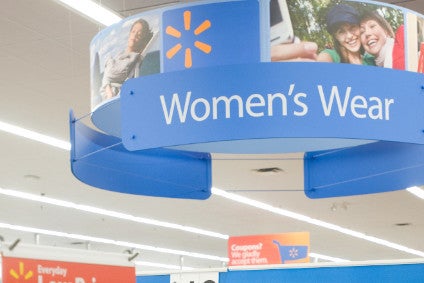 US supermarket giant Walmart has identified its apparel supply chain in Bangladesh as one of the key areas where it is likely to have the greatest impact in addressing major potential risks to the dignity of workers.
Apparel in Bangladesh is one of five retail supply chains Walmart believes is ready for transformation – the others include shrimp in Thailand and tuna processed in Thailand – and says it plans to work on a minimum of ten by 2025.
The goal was included in its 2019 Environmental, Social & Governance Report. The retailer also said forced labour and worker safety are two human rights issues it is particularly focused on through its responsible sourcing work and collaborative initiatives.
Bangladesh was prioritised as a key geography after the retailer analysed internal data, audit findings and other external resources such as World Bank global indices and government and media reports.
"We also considered where Walmart could have the biggest impact and identified collaborators that could help effect change," the retailer said.
Tackling the issue will involve "business and philanthropic initiatives" such as clarifying expectations with suppliers; investing in research to understand prevalence of human rights violations and track progress toward improvement; engaging with governments to advocate for laws, regulations and enforcement; collaborating with key stakeholders and thought leaders in task forces and consortia; and building capacity in critical parts of the system e.g., responsible recruitment, worker communication tools and monitoring technology."
Walmart adds that to gain "deeper insight" into these areas and the day-to-day experiences of workers, it also conducts on-site visits that help improve its ability to collaborate on whole-system change initiatives but also improve its merchandising and responsible sourcing practices.
Walmart was one of the founding members of the Alliance for Bangladesh Worker Safety in 2013, and says though the initiative came to an end in 2018, it is still dedicated to worker safety in the country.
Sustainable Chemistry initiative expanded to include apparel
Separately, the retailer has expanded its Sustainable Chemistry Initiative to include apparel. Launched in 2013, this sets goals for product formulation and transparency, covering around 125,000 personal care, beauty, baby, pet and household cleaning products sold by Walmart and Sam's Club stores in the US.
Last year it became the first US retailer to announce a time-bound chemical footprint reduction goal and set a commitment to report annually to the Chemical Footprint Project. Its consumables chemical footprint is based on Walmart's Priority Chemical list and includes chemicals such as formaldehyde and phthalates.
By 2022 it aims to reduce the chemical footprint in personal care, beauty, baby, pet and household cleaning categories in US stores by 10%. Its baseline for this goal is its calendar year 2017 footprint of approximately 190m pounds for Walmart US and approximately 30m pounds for Sam's Club.
The initiative has now been expanded to include apparel and footwear, and suppliers are being encouraged to "lead on sustainable chemistry" Walmart says.
"It's not enough to just serve one stakeholder group, the opportunity for business and their leadership is to add value for all stakeholders," notes Doug McMillon, CEO of Walmart. "Throughout Walmart's history, we have understood that for a business to last, it must have a fundamental reason for being, which is found in the value it creates for all – customers, associates, communities, shareholders, suppliers, future generations, and the planet."
Kathleen McLaughlin, Walmart's chief sustainability officer, adds: "Through ESG (Environmental, Social and Governance) initiatives, our goal is not only minimising our own footprint or mitigating risk, but to inspire collective action to help transform the sector for long-term environmental, social and economic sustainability.
"We're engaged in efforts to source responsibly, create economic opportunity for retail associates and people working in supply chains, take action on climate change, and help improve sustainability of the products we sell. We believe business exists to serve society, and that when business engages to be part of the solution not only can we help accelerate progress in the world, we make our business better, too."
Last month, at its Sustainability Milestone Summit, Walmart outlined a number of new sustainability goals for apparel sold in its US stores, including plans to source more sustainable fibres and working with suppliers to reduce manufacturing impact.