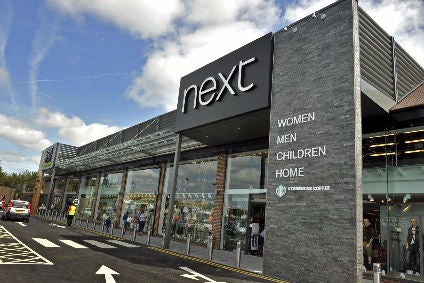 Unusually warm weather helped buoy sales at Next Plc in the first quarter, but the rise was not enough to spark an increase in full-year guidance at the UK fashion and homewares retailer.
Full price sales for the 13 weeks to 27 April were up 4.5% on last year and ahead of company guidance at 3.3%, Next reported in its latest trading update.
The company, which is one of the UK's largest retailers, trading from more than 500 stores in the UK and Ireland, and around 200 stores in 40 countries overseas, said sales were boosted by unusually warm weather over the Easter holiday period, which was "particularly helpful to our retail stores."
However, Next warned it does currently believe this performance can be extrapolated through to the rest of the year. "The over-performance in the first quarter amounted to sales of around GBP10m. Given this is a relatively small number in the context of annual sales, we believe it is too early to revise our full-year sales and profit guidance."
Looking at the year ahead, Next anticipates full price sales growth of 1.7%, with retail sales seen down 8.5% and online sales to up 11%. Group profit before tax is seen slipping 1.1% year-on-year to GBP715m.
Sofie Willmott, senior retail analyst at GlobalData, notes that despite retailers' strategic initiatives to drive trade, consumers' shopping habits will always be somewhat impacted by the weather.
"February was the stand-out month, with full price sales rising 7.2% due to widespread snow in the UK last year. However, this and a 4.7% [full price] rise in April due to a warm Easter weekend was not enough to offset further declines in physical stores," she says.
With competitor Debenhams hoping to close 22 stores as part of a proposed CVA, Willmott notes this is a prime opportunity for Next to steal clothing market share in 2019.
"Although Debenhams will be hoping to shift spend from the stores it is shutting to its own website, Next offers a more compelling online proposition, including faster and free Click & Collect with no minimum spend threshold. Arcadia's sales are also ripe for the taking, with the group reportedly planning a CVA.
"Next must enhance the appeal of its own brand clothing in-store in order to draw in shoppers who have become bored with Arcadia's bland ranges, particularly at the safer brands such as Dorothy Perkins, Burton, and Wallis. Strong visual merchandising is vital, particularly when players such as Zara are raising the bar and creating a more premium feel by reducing the volume of stock in stores. Next's often overcrowded branches should be streamlined so they are easier to shop."