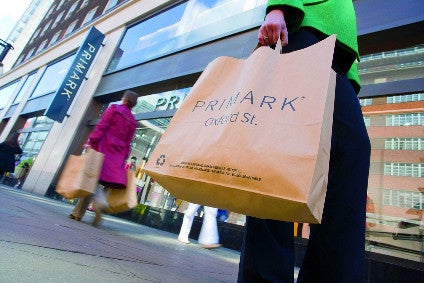 Unseasonably warm weather last autumn is expected to have taken its toll on like-for-like sales at Primark in the first half of the financial year, but the value fashion retailer remains optimistic of a jump in profit growth for the second half.
Like-for-like sales are expected to show a decline of 1% for the 24 weeks to 3 March, the clothing giant's parent company Associated British Foods (ABF) noted in a trading update today (26 February).
The firm said growth was held back by warmer than expected weather in October with a significant decline in the like-for-like measure in that month.
However, ABF said it expects Primark to return to like-for-like sales growth in the coming weeks, with the 16 weeks to 3 March tipped to deliver growth of 1% thanks to Primark's "record" sales performance in the week before Christmas.
Meanwhile, sales at the UK's biggest clothing retailer by volume are expected to be 7% ahead of those reported last year, at constant currency, driven by increased retail selling space and 9% ahead of last year at actual rates.
ABF said the retail chain is performing very well in the UK with sales 8% ahead of last year and a strong increase in its share of the total clothing market, driven by a 4% growth in like-for-like sales, an increase in selling space and the breadth of its consumer offering.
Overseas, the firm said its business in the US continues to make progress.
Operating margins in the first half are expected to be in line with the same period last year, with better buying offsetting the adverse effect of the US dollar exchange rate on purchases. In addition, ABF said stock was tightly managed and markdowns will be in line with those of the first half last year.
Looking ahead, the firm expects an acceleration in Primark profit growth in the second half as a result of an improvement in margin over the same period last year. It says this will be driven by better buying and some benefit of the recent weakness of the US dollar on purchases, which will more than offset an expected return to a more normal level of markdowns, compared to the very low level achieved last year.
It also expects to add 1.2m sq ft of new selling space to its portfolio this year, with 0.5m sq ft earmarked for the next quarter and new stores planned for Toulouse and Metz in France, Munich in Germany, Antwerp in Belgium, Valencia in Spain, its ninth store in the US in Brooklyn, and in the Westfield London shopping centre at White City.
Sofie Willmott, senior retail analyst at GlobalData, notes Primark has demonstrated once again that it does not need a transactional website to thrive in the UK market.
"As shopping habits continue to shift online, clothing and footwear spend in physical locations is forecast to decline to 2022, with the little growth expected in the sector overall set to be generated solely online. But Primark continues to buck this trend, benefitting as shoppers with squeezed disposable incomes trade down, and stealing share from its high street competitors including New Look and H&M whose customers have become disillusioned with lacklustre product ranges," she adds.
Meanwhile, whereas many major retailers such as Marks & Spencer, Next and New Look are reviewing their large store portfolios with the intention of reducing costly physical space which is unprofitable due to weak footfall, Primark has continued to open stores, albeit at a slower pace than in recent years.