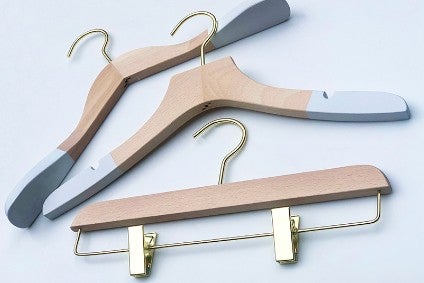 First-of-its-kind research has found that too many plastic hangers are being used by the UK clothing industry, with widespread disregard for hanger toxicity and a substantial increase required in the amount of sustainable alternatives.
The findings are outlined in a 32-page report published today (12 November) by Dutch sustainable hanger company Arch & Hook (A&H). The research, which is said to be the first to examine the consequences of plastic hangers on the environment, was conducted by Dr Alana James, senior lecturer in fashion at Northumbria University, and fashion consultant Emma Reed.
James and Reed anonymously surveyed apparel businesses spanning multiple market sectors, ranging from high street to luxury and e-commerce to sportswear. Participants in the study were UK senior fashion professionals in roles such as buying and merchandising, product development, supply chain, and corporate responsibility.
In addition to primary research, the study utilised data from world-renowned industry reports, sales figures, and academic literature to ensure an in-depth analysis of the existing market position.
The results "ring alarm bells" about the widespread disregard for hanger toxicity, and the solutions that exist to combat it. While 82% of survey participants stated sustainability as decisive in the purchase of commodities, only 15% of those cited recyclability as a consideration for hanger selection.
Additionally, 68% of fashion companies interviewed are unaware of what type of plastic(s) their hangers are made from, making it difficult or impossible to recycle them.
Other findings suggest that only 5% of fashion companies deliberately dispose of the plastic hangers they no longer require, but it is not always clear what happens to unwanted hangers, despite the intention to reuse and recycle them.
"For nearly a century now fashion has had an unhealthy reliance on the use of plastic, with 65% of all garments currently produced being made from synthetic fibres. Hangers remain a largely overlooked area of environmental impact in the industry, despite 60% of all clothing sold being associated with a plastic hanger," says James.
The report concludes the UK clothing industry awareness of the damage to the environment caused by huge numbers of plastic hangers being disposed of in landfill is low.
It also states fast fashion and the throwaway society it facilitates increases consumption of materials required in the retail commodity supply chain, such as plastic hangers.
However, on a more positive note, the migration of clothing sales online has been found to aid the reduction of plastic hanger consumption. But fashion companies are said to not be adapting quickly enough to accommodate this shift and to eliminate the delivery of redundant plastic hangers.
Recommendations
Increased choice of alternatives to plastic hangers
Functionality is the main factor affecting hanger selection. Recyclable hangers should be made available in a full range of hanger types, shapes and sizes to ensure that they adequately meet demand.
Lower cost sustainable alternatives
Cost is an important factor affecting hanger selection. An increased interest in sustainable hanger alternatives would drive volumes up and prices down.
Industry awareness
A campaign is required to inform the fashion industry about plastic hanger usage and sustainable alternatives.
Proliferation of this research
This study only represents hanger usage in the UK. It should be replicated in other territories with high clothing consumption to gain a clearer picture of worldwide plastic hanger usage.
Consumer pressure
Change in the fashion industry is frequently consumer-led. A PR campaign raising the awareness of the damage plastic hangers are inflicting on the environment will help to drive a change in industry attitudes.
The report authors also suggest further research in the field, including examining the product lifecycle of plastic hangers to explore consumer perception; user experience and innovation opportunities; replicating the UK study across a European and US market to facilitate comparable data sets; and feasibility studies with multiple stakeholders, i.e. retailers, consumers etc.
Arch & Hook works to develop durable, sustainable, and affordable solutions to the plastic hanger. Its Blue and Mission-E programmes combine recycled and recyclable materials to create durable hangers, as well as hanger recollection operations, to provide sustainable alternatives to the billions of hangers used in transporting and displaying clothing every year. It also provides wooden hangers made from FSC-certified wood.
"The hangers most frequently used by retailers are made of polystyrene, whose quality doesn't withstand transportation and degrades during recycling," explains Arch & Hook founder and CEO Sjoerd Fauser. "Our hangers are made of high-quality thermoplastic originating from marine, ocean-bound, and post-consumer plastics that have been collected from the world's most polluted rivers.
"Our eye-opening report is just the tip of the iceberg. Data for worldwide hanger usage remains unavailable. We are determined to expand the research into other areas, in collaboration with more partners, to unveil the truth, create awareness, and turn sustainability into tangible action."