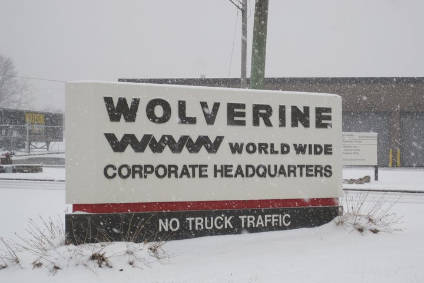 US clothing and footwear maker Wolverine Worldwide has committed up to $45m to speeding up its supply chain and addressing groundwater issues related to its former tannery operations, as it outlined its guidance for 2018.
This year the company says it will execute on its Global Growth Agenda, which includes between $40m-$45m of incremental investments to directly support product innovation and speed, demand creation to "deepen emotional connections with consumers," and new talent and tools to enable Wolverine to better compete.
The pledge came as the company outlined its guidance for 2018, for which it is forecasting revenue in the range of $2.24bn to $2.32bn; a reported decline of 1.3%, and underlying growth of nearly 6% at the high-end of the range.
Reported operating margin is expected to be 11.6%, while reported diluted earnings per share are forecast in the range of $1.87 to $1.97.
For fiscal 2017, the company has booked preliminary revenues of $2.35bn, at the top end of its outlook. It expects adjusted diluted earnings per share at the high end of its guidance of $1.60 to $1.65.
Wolverine is also continuing its ongoing testing and monitoring of groundwater and providing bottled drinking water and water filter systems for people affected by groundwater problems.
The company used chemicals at its former tannery in Rockford, Michigan to waterproof leather for shoes. Over the last year, Wolverine has been working through the legacy issue related to the tannery and related disposal sites.
The company says it is cooperating with local, state, and federal authorities to evaluate the sites for the presence and impact of PFOA and PFOS – two of the family of compounds known as per- and polyflouroalkyl substances (PFAS). They are found in a number of commercial items, including Scotchgard, which it purchased from 3M.
"Like thousands of other companies and millions of consumers, the company purchased Scotchgard from 3M and relied on 3M's assurances to Wolverine, the EPA, FDA, scientific bodies, and the public that there were no adverse effects on human health from Scotchgard containing PFOA and PFOS – a position 3M maintains today," Wolverine said. "Despite decades of study and millions of dollars of research, human health effects from PFOA and PFOS are unknown, and no human studies have proven that exposure by an individual to PFOA or PFOS causes any illness."
Wolverine's former tannery operations closed in 2009, and over the last year it has been working with state, local, and federal authorities to test area groundwater for the possible presence of PFOA and PFOS. Wolverine says it has taken "proactive and immediate" steps to provide drinking water solutions for impacted residents in its community while more testing and evaluation is completed.
"The actions taken by the company have been beyond those voluntarily taken by other companies or the federal government facing similar circumstances," it noted. "The company is working in full cooperation with federal, state and local officials to address these legacy issues, and it will continue to be part of the long-term solution to provide our community the confidence it deserves in its drinking water."