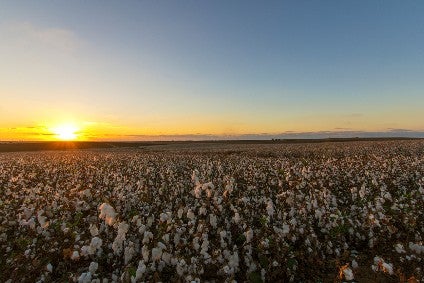 US jeans giant Wrangler has launched its sustainable cotton programme in Europe as it looks to advance traceability in the supply chain.
Building on an existing initiative in the US, the Wrangler Science and Conservation Program was unveiled today (3 February) at the Agrotica international agricultural fair in Greece.
Initially rolled out in 2017, the programme is an alliance of industry experts, pioneering farmers, and non-profit partners that sponsors research, farmer workshops and promotes soil health farming practices. With an aim to build a more resilient and regenerative cotton supply, these practices are not exclusive to cotton producers, and can be adopted by all farmers and ranchers.
According to Wrangler, research shows these science-backed methods can increase yield while reducing water and energy inputs, fighting erosion, and add more carbon into the soil.
The denim brand aims to source 100% of its cotton from farms using land stewardship practices by 2025.
Through the programme, Wrangler says it will collaborate with European farmers to promote sustainable agricultural production and land stewardship practices that advance soil health and traceability in the supply chain.
"Wrangler products are made with cotton grown all over the world, so it's important that we help drive the entire industry toward more sustainable production," says Roian Atwood, senior director of sustainability at Wrangler. "It's been great to learn from European farmers, to share our research and to unite against major industry challenges, like the loss of valuable top soil."
Wrangler Science and Conservation Program ambassadors co-hosted a practices-based dialogue on sustainable agriculture at the Agrotica Fair with BASF's Greece-based Certified Fibermax Cotton Program. Wrangler ambassador and founder of Cover Crop Coaching, Steve Groff, discussed his experiences and solutions to key challenges with the local growers, who, in turn, shared their journeys to land stewardship and committed to continuous improvement.
"The importance of soil health cannot be overstated. Healthy soils are the backbone of agriculture, essential to our lives," said Groff. "Farmers and their supply chains must work together to protect and restore this precious resource to preserve the future vitality of agriculture."
BASF joined forces with the Wrangler Science and Conservation Program in 2019 to advance traceability for sustainable cotton in the US. The initiative linked on-farm sustainability performance with finished garments and helped launch The Wrangler Rooted Collection, in which five farming families provided sustainable cotton in a special assortment of jeans and shirts made with BASF's US-sourced e3 cotton.