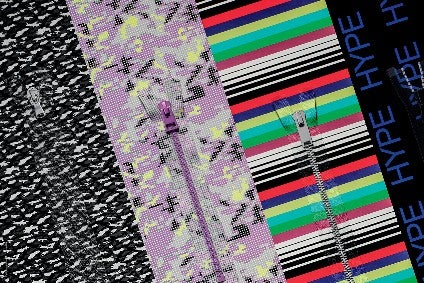 Among the latest developments from Japanese fastener business YKK is a new printed and customisable zipper suitable for use in both footwear and apparel.
According to the firm, the YKK Prifa allows buyers to design every detail of the zipper using any design software.
"Digitalisation has enabled the fashion industry to expand and evolve quickly, bringing new technology and innovative design processes. YKK digital technology enables buyers to design every detail of the zipper, creating fashion excellence in an innovative and modern way," YKK says.
Prifa's tape and elements can be inkjet printed with personalised logos, patterns, and gradations to ensure that even the smallest detail of a garment reflects the brand's vision, the firm adds. The customisable zipper can be incorporated into a number applications including jackets, sportswear, casualwear clothing, shoes, and luggage.
The Prifa zipper will be showcased at various exhibitions throughout 2019, including Première Vision in Paris and Lineapelle in Milan.
Founded in 1934, YKK develops and produces a range of fastening solutions, including zippers, hook-and-loop fasteners, fabric tapes and plastic products, snaps and buttons for all fashion applications and leather goods.