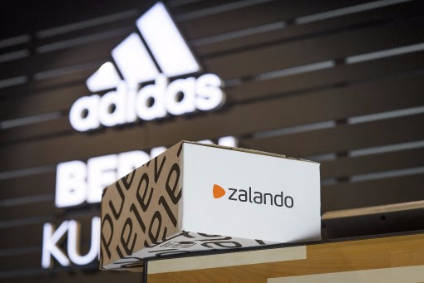 German fashion e-tailer Zalando foresees revenue growth of between 10-20% in 2020, despite what it calls a challenging trading environment due to the coronavirus.
In a trading update today (7 May), the Berlin-based firm said it expects to grow its business at double-digit rates in a fashion market that is expected to show "significant negative growth" in the year ahead.
Along with revenue, gross merchandise volume (GMV) is also tipped to rise in a range of 10-20%. Zalando noted revenue growth will be "slightly below" that of GMV due to stronger growth of the partner business as part of the company's platform strategy.
What's more, the firm expects to continue to grow profitably and anticipates an adjusted EBIT between EUR100-200m (US$107.9-$215.8m) for the fiscal year 2020. This compares to adjusted EBIT of EUR224.9m in 2019. It will also continue to invest in its European logistics network and technology infrastructure and plans to invest between EUR230-280m this year.
Growth will be driven by the accelerated consumer shift from offline to online, and Zalando's ability to invest independently of demand fluctuations and a challenging environment, as well as its accelerated platform transition, it said.
The Partner Program share of GMV grew 4.4 percentage points year-over-year in the first quarter. In times where offline sales are affected over-proportionally by governmental restrictions across Europe, brands are transferring more of their business online to reach their customers, Zalando noted. In the past three weeks, 50 new partners joined the Partner Program, among them Vaude, American Eagle Outfitters, and Next Group brand Lipsy London.
"We are confident that we will grow double-digit and at a clear profit in 2020. This will allow our partners to grow and gain market share in a challenging economic environment by building their business on Zalando. Many of them have significantly increased their activities on our platform in the past weeks, and we will continue to make it easier for them to reach customers across Europe," said Rubin Ritter, co-CEO.
The forecast comes as the group reported a 10.6% revenue hike in the first quarter to EUR1.5bn, compared to EUR1.4bn last year. GMV grew by 13.9% to EUR2bn in the period. Zalando said growth was especially pronounced in the off-price segment, which grew its revenue by 35% year-over-year.
Due to lower customer demand in March following the lockdown measures and an exceptional inventory write-down of EUR40m as a result of the revised sales expectations for the current season, Zalando recorded an adjusted loss before interest and tax of EUR98.6m. The figure is in-line with those forecast by Zalando for the first quarter last month.
Meanwhile, customer demand started to recover in April and GMV grew double-digit compared to last year.
"As a company, we quickly found answers to the challenges in March. We are now seeing a significantly more positive development in the first weeks of the second quarter. These recent developments are testament to the resilience of our business model and the agility of our team, and generally make us confident for the full year," said CFO David Schröder.
Aneesha Sherman, analyst at AB Bernstein, noted Zalando's full-year guidance is "well above" expectations.
"Owing to this recovery in sales, we expect Q1 to have been the only unprofitable quarter this year," she added.