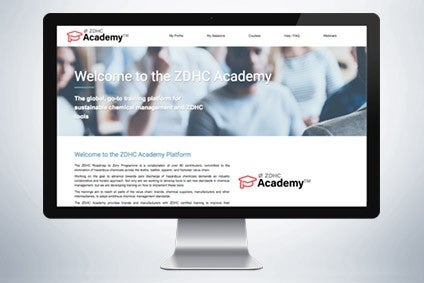 The Zero Discharge of Hazardous Chemicals (ZDHC) Foundation has launched an improved version of its ZDHC Academy online portal in a move that sees it now offer a new training course on wastewater management training.
First launched in 2016, the training platform makes certified training courses available to all parts of the value chain, from brands and retailers, to manufacturers and tanneries.
It aims to create awareness, build knowledge, and improve skills through a pool of seven ZDHC Accredited Training Providers and more than 60 individual trainers, to industry stakeholders around the world. It enables them to understand and adopt the basics as well as best practices and innovations for holistic sustainable chemical management.
The Foundation, which works to eliminate hazardous chemicals in the apparel and textile industries, says learners and trainers accessing the new platform will find it easier to navigate and search for suitable courses, register for training and track learning progress.
In addition, as part of the revamp, ZDHC is offering a new training course – ZDHC Wastewater Management Training. The course introduces participants to the key elements of the ZDHC Wastewater Guidelines, shows how to implement them and how to conduct a root cause analysis in the event that test results show non-conformance. The course also offers an overview of each stage of the wastewater treatment process, giving all participants a basic understanding of how today's wastewater treatment technology works.
"With more than 1,000 training participants and nearly 80 in-person training sessions in 2018 so far, we wanted to take our training platform to the next level in terms of clarity and user-friendliness," says Christina Raab, global implementation director at ZDHC Foundation. "We are excited about the growing uptake of our Academy worldwide and committed to continuously setting the mark on training content and quality together with our Accredited Training Providers and partners."
Additional training courses are under finalisation and are expected to be announced in January 2019, along with an expanded pool of ZDHC Accredited Training Providers.