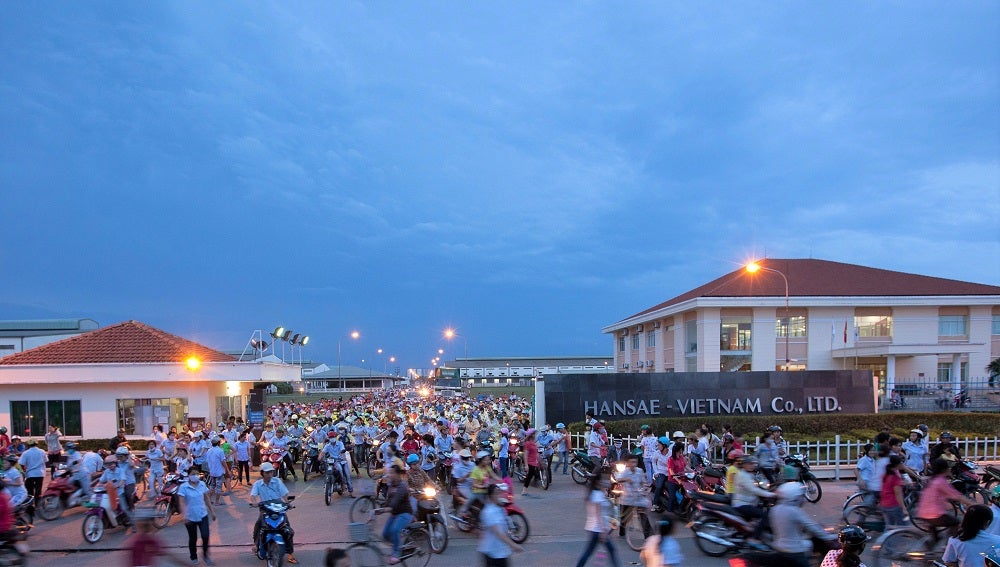 Vietnam is a global production powerhouse for apparel, and it's also a major manufacturing base for South Korean ODM company Hansae Co., Ltd.
Hansae's vice chairman Kim Ik-Whan and president Kim Kyung accompanied South Korean President Yoon Seok-yeol on his state visit to Vietnam as part of a business delegation. South Korea is the largest foreign investor in Vietnam, and the two countries have a strategic partnership. One of the topics on the trip was trade, and the two countries agreed to boost two-way trade to $150 million by 2030.
"Although the business environment is difficult in recent years, we must find new opportunities in Vietnam, which is the center of global supply chain reorganization and an emerging consumer market," President Yoon said, according to Reuters.
The delegation, the largest since the Yoon administration took office, included more than 200 CEOs from leading Korean companies, including Korea's top conglomerates Samsung Group, LG Group, Hyundai Motor Group and SK Group. Kim Ik-Whan made a splash by sitting next to President Yoon and First Lady Kim Keon-hee at the head table during a dinner meeting on the evening of June 22.
Kim holds a Master of Business Administration (MBA) degree from George Washington University in Washington, D.C. He worked at Abercrombie & Fitch in the U.S. before joining Hansae in 2004. In his current role as CEO and vice-chairman, he oversees the company's strategies and investments.
Founded in 1982, Hansae Co., Ltd. operates 22 corporations and 10 offices in nine countries around the world. Among them, Vietnam is the company's largest production base, and it is considered a representative company that has succeeded in localization by building a corporate culture that coexists with the local community. Hansae originally entered Vietnam in 2000, and as of 2023, it operates 10 Vietnamese corporations, 12 Vietnamese factories and employs about 25,000 people in the country, including suppliers. In 2015, the company completed its verticalization by establishing C&T Vina, a fabric dyeing company, and it recently completed C&T Factory 3, continuing its growth trend.
Hansae also has plans to open a new factory to produce recycled cotton fiber in partnership with circular fiber maker Recover. This facility will ramp up circularity in the apparel industry. Located near the Ho Chi Minh textile production hub, the factory will benefit from a large volume of industrial waste streams for recycling.
Last year, Hansae's apparel exports from Vietnam accounted for more than 60 percent of Hansae's total sales of $1.6 billion in 2022. The company has been building capabilities to stay ahead of the curve by actively implementing automation and digitalization in Vietnam to maximize efficiency. In fact, the company has invested more than $24 million in Vietnam over the past three years.
"Last year, we signed a business agreement with Hanosimex, a subsidiary of Vietnam's state-owned Vinatex, to produce recycled fiber," said Kim Ik-Whan. "We will continue to actively invest in our Vietnamese factories, including building eco-friendly facilities. Through this business delegation, we will be able to lay the foundation for business expansion through mutual cooperation, including partnerships with local companies in Vietnam and creating new business opportunities."