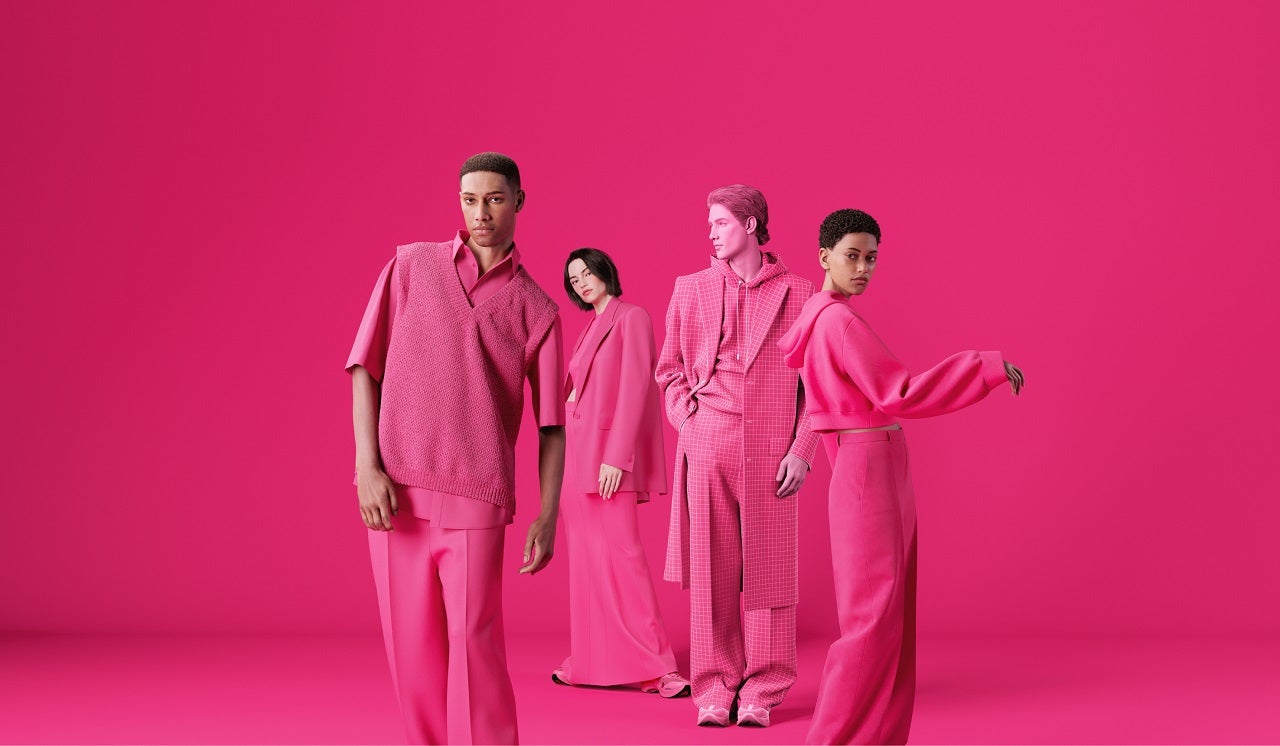 Today, brands and suppliers in the fashion industry are facing significant challenges, with increasing pressure to improve product transparency and reduce environmental impact.
With more brands beginning to look harder at their supply chains, suppliers are consequently being confronted by an increasing number of individual brand needs, asks and ideas, none of which are standardised.
That's where DMIx comes in.
DMIx is a digital ecosystem that enables brands and their suppliers (not just tier 1, but tiers 2, 3 and 4 too) to collaborate via a single platform across all areas of textile design, development, and production, enabling fully digital product workflows using colour technology, 3D technology and master data.
Through seamless real-time digital interaction and connectivity to all relevant industry applications, stakeholders can transform from physical to virtual collection development.
Yet this digitalisation only works if you can trust the digital appearance of any asset. This is why the Digital Twin Technology is the heart of the DMIx solution – a digital twin is the virtual counterpart of a physical product, and it is a single source of truth, be it size, colour or appearance. The accuracy and reliability of the Digital Twin reduce the need for physical samples and prototypes. Not only does this save cost and time, but it also reduces waste, water usage and CO₂ emissions.
Building on this, impact can be measured with DMIx. ImpAct, the smart environmental tool that delivers impact measurement values for raw materials. Through DMIx ImpAct, brands have the ability to choose fabrics and trims based on their environmental impact such as carbon footprint, water usage, land use and more which supports their preferred material strategy.
By offering secure and user-friendly digital interaction via a single platform between all stakeholders, DMIx helps to digitalise supply chains to create a better industry: better for brands, suppliers, and the planet.
So, what was DMIx founded on? There are three core pillars that guide the digital ecosystem:
Transparency: Supply chain transparency, particularly around environmental impact, is increasingly becoming a business imperative. DMIx offers end-to-end product transparency with real-time master data.
Collaboration: DMIx enables the interaction and exchange with all industry-standard solutions in the areas of colour and 3D technology, including major design software applications and PLM solutions.
Innovation: Digitalisation is one of the key drivers in the transformation to a more sustainable fashion industry. DMIx is leading this change with its pioneering high-quality technology which creates levels of interaction and efficiency unseen before.
Let's take a closer look at the tools offered within DMIx:
Color Technology
Brands can align workflows in design, sourcing and production based on digital colour standards and spectral measurements.
The benefits of this colour accuracy include reductions in sampling costs, collection development time and environmental impact by controlling lab dipping and bulk production.
3D Technology
State-of-the-art DMIx technology supports the creation of photorealistic digital materials for use on any kind of 3D object directly in the DMIx environment. The resulting images are incredibly close to reality and even include hyper-realistic digital humans.
The high-quality digital output supports the entire product development and planning processes and can be directly used in e-commerce and marketing, the final stages of the route to market.
Master Data
With DMIx, the digital materials and products can carry comprehensive master data from various levels of the value chain, which can be transferred in real-time with other systems like PLM/ERP solutions.
This means brands and suppliers can work with full end-to-end product and process transparency, thanks to working on a secure collaborative ecosystem.
Earlier this year, we saw the launch of the DMIx AvatarStudio and DMIx 3D-Studio in partnership with verce®, bringing together a high-quality end-to-end digital human workflow for fashion brands, including a virtual 3D photo studio. The state-of-the-art human avatars within the new DMIx AvatarStudio have a photorealistic quality never seen before and can be customised and individualised to a brand's preference, enabling brands to build up their own completely unique digital model team and take their digital workflow right up to sales and marketing.
The DMIx platform is used by over 300 customers, from PVH Group, big-name brands such as Hugo Boss and Tommy Hilfiger, specialist brands like Martini Sportswear, and suppliers such as AMANN and Marzotto.
To learn more about the DMIx ecosystem and all it has to offer, visit the DMIx website here, or contact Silke Friesen (silke.friesen@colordigital.com).