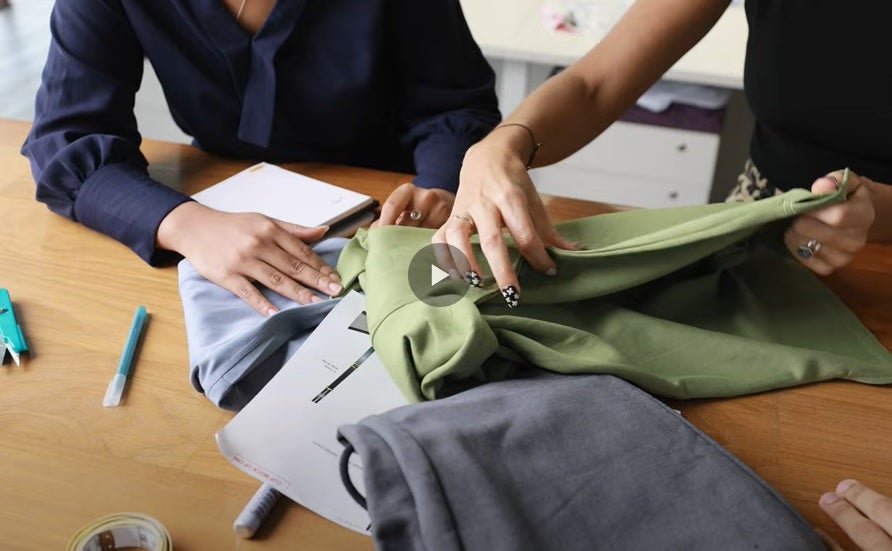 Every day we stand on the verge of innovation, a new opportunity to fulfil more than just one dimension of a human need.
This requires an understanding that singular, top-down solutions no longer meet the market's emerging requirements; that consumer voices are louder than before – and brushing aside their needs could lead to countless missed opportunities.
So how can fashion brands continue to offer solutions that are relevant and meet the consumers' most critical needs?
The answer is simple – co-creation.
Co-creation is a collaborative approach where brands, manufacturers and consumers work together to meet the complex requirements of a single, revolutionary product.
MAS sees co-creation as a way to make products that were previously unimaginable. Going beyond the traditional 'made to order' method, co-creation requires a merging of ideas, intelligence and a journey of exploration into material and technology.
Co-creation gives big names in fashion an opportunity to keep growing and for smaller, nascent brands to become relevant and in demand, sometimes through a single innovation. Washable absorbent period underwear, clothing that eases the biological challenges of menopause and adaptive wear for persons with disabilities, are just a few examples of solutions that MAS has co-created with their customer brands, breaking into completely new segments of consumers.
The value of co-creation has leading brands now on the hunt for future-oriented and capable creators. This is where MAS' tech and material expertise and its craftmanship stand out.
MAS' capabilities extend across several areas, such as fit, construction, engineered knit, sew-free applications and mass-customisation. "Our material specialists, designers and pattern makers come to the same table as our customers as well as our tech partners to really create something groundbreaking," says Shehani Gomes, General Manager – Product Growth and Development at MAS. MAS' best innovators are not only skilled in the application of technologies but are fully immersed in conceptualising and developing the product.
Over the years, the MAS portfolio has pushed the boundaries of performance wear, lingerie, athleisure, swimwear and tech-enhanced garments to identify which innovations may change the future of apparel. MAS believes that the integration of expertise is the best way forward.
In co-creation however, there is no one-size-fits-all solution. For example, what works for constructed garments in the intimates space may not work for fem-tech or adaptive wear. Commenting on how MAS stays close to the customer, Nemanthie Kooragamage, Director of Group Sustainable Business at MAS, says, "What's most important is understanding that brand handwriting intimately, knowing what the brand stands for and who the consumer is… creating a product unique to that brand that helps them win with their consumers."
Each problem requires a unique solution; and MAS works with brands to find what works and what innovations can take the industry forward, sometimes in leaps and bounds, or sometimes one small step at a time.
To explore this potential, MAS invests in solving problems that have challenged the industry for decades. Emissions, waste, circularity, biodegradable, recyclable or reusable products are areas that are more important than ever to brands and consumers. It is an uphill climb, but the opportunity is as significant as the challenges.
Jehan Jayasuriya, Chief Marketing Officer at MAS Intimates, talks about two key aspects of a product; sustainability and inclusivity. What is truly meaningful about co-creation according to Jehan, is when both these elements are connected through a creative product.
In 2021 and 2022, MAS was recognised as one of the most innovative companies at the Clarivate Innovation Awards. With every innovation, MAS' goal is to widen its consumer base to ensure that these solutions have the potential to serve a wide range of needs. Holistic consumer representation means including all genders, body structures, sizes, persons with disabilities and those undergoing different biological phases such as maternity or menopause.
When it comes to reaching the end consumer, finding a niche is great, but empowering diverse customer populations is even better.
Developing products that are dedicated towards those who have traditionally been left out by the fashion industry, products that are people-centric and geared towards a sustainable future is what adds value to co-creation. Working with like-minded brands, MAS has the capabilities, culture and right mindset towards innovating transformative products encompassing all market segments.
To find out more, please contact info@masholdings.com