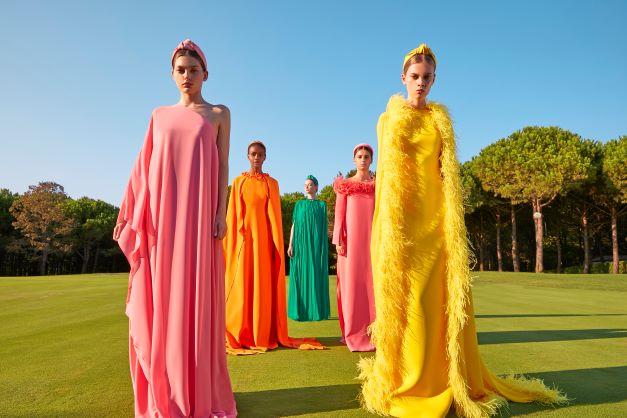 Turkey clothing manufacturers are investing significant sums of money in sustainability and traceability, implementing international standards, and adopting digitalisation in anticipation of more consumer demand for eco-friendly products.
With Turkey a higher-end (and cost) apparel manufacturing hub than east Asia, Egypt or Africa, the country's industry is banking on its value-added production to retain as well as expand exports to Europe and the US.
"As an industry we want to be transparent, traceable and environmentally-friendly. We don't want to just follow but be a reference for the overall industry. We're already ahead of [Turkish] national regulations because of our international connections and auditing standards," said Mehmet Kaya, a Board Member of the Istanbul Apparel Exporters Association (İstanbul Hazır Giyim Ve Konfeksiyon İhracatçıları Birliği – İHKİB).
Turkey clothing companies have adopted international sustainability standards, such as the Global Recycled Standard (GRS), Recycled Claim Standard (RCS), the OEKO-TEX standard 100 on harmful substances, and International Organization for Standardization (ISO)-linked lifecycle assessments (LCA), among others. The country has also implemented legislation to be in-line with the European Union's (EU) regulation on Registration, Evaluation, Authorisation and Restriction of Chemicals (REACH).
"Brands and retailers are increasingly asking for more eco-friendly dyes, chemical treatments and garment washing. If product designers and decision-makers want to consider the environment, manufacturers are ready," said Kaya.
Demand for more sustainable products is set to rise following the policies and laws being introduced under the US's Green New Deal and the EU's European Green Deal, which are backing economic transitions away from hydrocarbons to achieve net zero carbon emissions by 2050.
"The EU Green Deal has started and processes are underway to calculate a product's carbon footprint at the border. That is why the industry has to be prepared for these expectations, and we are ready," said Kaya.
At the factory level in Turkey, manufacturers have reduced emissions in recent years to address sustainability by installing solar and wind power to generate renewable energy, re-using water and applying new technologies such as ozone washing. There is also a move towards using more natural dyes, said Kaya.
Lifecycle assessments (LCA) are also being carried out at factories, in addition to environmental product declarations (EPD). "We back up all our production with EPD certificates and GRI [Global Reporting Initiative] reports, with sustainability reports carried out by third party auditors. These certifications are key for more sustainably produced garments," said İsmail Kolunsağ, a board member of the İHKİB.
Regarding cotton, Turkey has invested to increase cultivation and adopt more sustainable practices. Out of the cotton crop of 740,000 tonnes forecast for 2021-2022, some 100,000 tonnes are forecasted to be Better Cotton Initiative (BCI)-standard. The country's production of organic cotton is also rising, with Turkey expected to produce 38,000 tonnes this year, according to ministry of agriculture and forestry figures.
Overall cotton consumption, however is 1.6 million tonnes, according to the US department of agriculture's (USDA) foreign agricultural service's figures. For organic cotton to increase in the Turkish supply chain from the forecasted 5% of total crop, and for other natural fibres such as hemp to be produced, there needs to be more forthcoming demand from retailers and brands: "It needs collaboration between product designers and producers, as the [garment] producers are not the decision-makers," said Kaya.
Further ways to improve the Turkey clothing industry's sustainability credentials are being considered. Utilising more of Turkey's fully integrated domestic supply chain would for instance lower the industry's sourcing ecological footprint. "Some brands nominate a trim supplier in China which we have to buy from, although we have the equivalent quality of trim in Turkey. We can re-think these types of policies," said Kaya.
The IHKIB is working hard to develop the sectoral infrastructure on sustainability issues which focuses now primarily on the decrease of carbon footprint of apparel producing companies, says Mr. Mustafa Gültepe, President of the IHKIB.
For example, via the EU-financed 'From Design to Production: Digital Transformation of Apparel Sector in Turkey' project, Ekoteks Laboratory, a research and development unit founded by the IHKIB to serve the industry, is now able to assess the GMO share of cotton inputs, or introduce standards to measure energy, waste and all other parameters of sustainable production within a company, which in turn help the traceability level of the industry. Mr Gültepe also stressed that now Turkey has just ratified the Paris Climate Agreement, the level of sustainable production infrastructure within the industry will become even stronger.
Written by Paul Cochrane