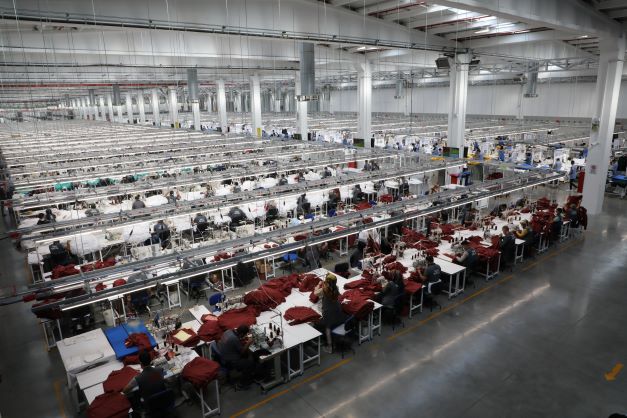 The Turkish clothing sector is capitalising on sourcing diversification and changes in retailers' orders in the wake of the Covid-19 pandemic. Exports are up on last year and the industry is laying the foundations for strong future demand as the sector expands.
"The Turkish apparel industry is going through a mini renaissance due to a combination of internal and external factors, some long-term and others short-term, induced by the pandemic," said Navdeep Sodhi, partner at the Switzerland-based Gherzi Textile Organization.
The acceleration of digital commerce over the past year has played into Turkey's hands, particularly for orders from Europe, which account for around three-quarters of the country's apparel exports.
"The significant increase in international brands' online sales in 2020 has required quick times to market, innovation and near shoring. All these factors have benefited Turkey, and will further benefit them," said Sodhi. "Brands were already asking for shorter lead times, so the pandemic simply brought these dynamics forward by at least five years if not a decade."
Apparel exports increased by 25% year-on-year in the first eight months of 2021, reaching USD$12.868 billion, compared to exports of USD10.318 billion in the same period of 2020. The Turkish sector aims to export USD20 billion this year, with forecasts sales will rise from the USD19 billion in apparel export sales that had been expected last year, but was not achieved due to the impact of the pandemic.
In the long-term, Turkey is set to benefit from the shift in sourcing patterns, with international brands increasing sourcing diversification away from east Asia, added Sodhi. "Turkish companies have also embraced innovation through investment in new technologies such as digital printing, air jet spinning, and product development. Many companies are also evaluating technical textiles and advanced textiles. Turkey will certainly sustain these advantages in the medium to long-term," said Sodhi.
Turkey's adoption of digitalisation and industry 4.0, has been instrumental in adapting to the new retail environment. "Order numbers have increased but order volumes have reduced, so that's why we've needed to be quick for near-shore orders and why digitalisation is so important," said Mehmet Kaya, a Board Member of the Istanbul Apparel Exporters Association (İstanbul Hazır Giyim Ve Konfeksiyon İhracatçıları Birliği – İHKİB).
Digitalisation has also played into rising demand for more far-flung export markets, such as the US, with Turkish apparel exports to this country rising by nearly 17.6% in the first eight months of 2021 on the same period last year to USD600 million.
"New innovative technologies and investment in industry digitalisation is making us a bigger player in the global market," said Haldun Boz, a board member of the İHKİB.
Turkey has had to invest in new technology, automation, digital printing and more advanced apparel production to provide value-added to customers given its higher production costs than the likes of Bangladesh, Egypt, Vietnam or China.
"Turkey is going after value-added garments. We are also an important market for licenced goods – most (worldwide) are produced here – because of investment in new machines that can print, for example, 20 different colours in a print run. And in fabric production, knitted and woven, there are new electronic weaving and knitting machines, and we have some of the most advanced sock making machines, which is a big advantage at the moment for Turkey," said Mustafa Cem Altan, an İHKİB board member.
Heightened consumer demand for more sustainably produced garments has pushed Turkish producers to adopt more environment-friendly standards and programmes such as the Better Cotton Initiative (BCI).
"Most Turkish companies are reducing their carbon footprint and carrying out life-cycle assessments as more brands and retailers are asking for such certification," said Altan.
Turkey has increased its BCI-certified cotton production since starting in 2013, to 67,000 tonnes in 2020, with production forecast to reach 100,000 tonnes in 2021-22 on the back of rising demand from Turkish textile companies, according to Turkey's Good Cotton Practices Association (IPUD).
Turkey's production of organic cotton is also increasing, with Turkey producing 23,960 tonnes in 2019-20, and a further 29,108 tonnes of annual production now in transition to organic cotton. This year (2021), an expected 38,000 tonnes of organic cotton will be produced, according to ministry of agriculture and forestry figures.
The İHKİB is running various projects for its members specifically on digitalisation to benefit further from increasing tendency towards near-sourcing within the global apparel value chain. Mr Mustafa Gültepe, İHKİB President stressed that these projects will touch every company within the Turkish apparel industry, enhancing the quality of digital infrastructure, while boosting sustainability improvements.
Written by Paul Cochrane.