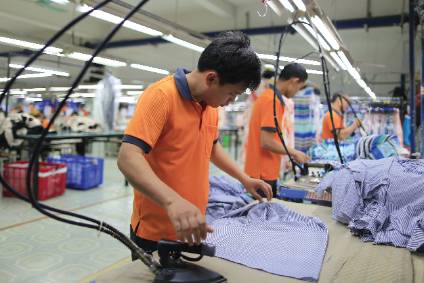 Labour rights are set to worsen in Asia's garment sector as the coronavirus pandemic continues to spread across the region – with knock-on implications for fashion companies trying to maintain supply chains from these locations.
As fashion brands and retailers around the world face dwindling customer numbers, enforced store closures and mounting stock inventory, the immediate reaction of many has been a scaling back or cancellation of current production orders.
This has caused major problems for Southeast Asia's 40m garment workers, who now find themselves at the sharp end of the coronavirus crisis.
The pandemic has devastated the sector, leaving thousands unemployed and facing poverty, while the health and safety of those who continue to work is at serious risk in factories that are not geared up for social distancing.
"Laid-off workers are likely to turn to exploitative employment that increases the risks of forced labour. The chances of children entering the workforce will also rise exponentially" – Sofia Nazalya, Verisk Maplecroft
Garment hubs in countries such as Cambodia, Bangladesh, Indonesia, Myanmar and Vietnam "already perform poorly across our labour rights indices, with all rated high or extreme risk for forced labour, child labour and occupational health and safety," explains Sofia Nazalya, human rights analyst at global risk consultancy Verisk Maplecroft.
"However, we expect an increase in these risks across the board as staff are laid off and livelihoods are threatened. As a result, laid-off workers are likely to turn to exploitative employment that increases the risks of forced labour. The chances of children entering the workforce will also rise exponentially, as families attempt to make up shortfalls in earnings."
The health and safety of garment workers who continue to work in factories is a serious risk.
"In Cambodia and Bangladesh, workers have little choice but to continue working in packed facilities in order to provide for their families and pay off micro-loan debts," Nazalya adds. "It's highly doubtful that social distancing measures will be effectively enforced, heightening the risk of infection.
"Our subnational index for Occupational Health and Safety shows that the central area of Bangladesh, constitutes a higher risk than the rest of the country. Dhaka administrative region is home to most of the country's garment manufacturing factories and was already rated extreme risk for OHS prior to the pandemic. We are likely to see the region's score worsen even more."
Pressure ratcheting up on retail and fashion brands
Over the next several months, global retail companies will face increasing pressure by international and grassroots labour advocacy groups to ensure that the most vulnerable workers in their supply chain are not left behind.
In particular, retail companies will be pressed to meet payments for orders placed, and to ensure that suppliers that do continue with operations enforce strict health and safety measures.
Some companies have already begun to implement measures to mitigate impacts of Covid-19 on garment workers. Such measures include establishing Covid-19 wage funds and committing to payment for orders already placed. However, these actions are unlikely to be a lasting solution for workers who ultimately face sustained unemployment.
"As the pandemic continues to spread across Asia and the world, we expect layoffs of garment workers to continue in 2020-Q2, reflecting the serious economic disruption facing the sector," Nazalya continues.
Lower consumer demand, supply chain disruptions and inability to source raw materials will result in continued losses for the industry. In particular, workers in the top five Asian garment manufacturing hubs Bangladesh, Vietnam, India, Indonesia and Cambodia – are at grave risk, the global risk consultancy believes.
"The effects will be felt most severely by informal workers – a group that is already highly vulnerable to forced labour and human trafficking risks. Considering the substantial percentage of garment workers in Bangladesh and Myanmar that continue to be employed informally, this will present significant challenges for procurement departments that need to ensure illegal working practices do not seep into their supply chains."
Combustible mix of risks will need new solutions
Government support for laid off workers across Asia's garment producing countries is unlikely to cover their financial losses, Verisk Maplecroft notes.
The Bangladesh Garment Manufacturers and Exporters Association (BGMEA) has criticised the Bangladesh government's US$588m stimulus package for the export sector as insufficient. According to BGMEA, 1,149 factories have reported the loss of US$3.17bn dollars as orders were cancelled or suspended.
Garment workers in Cambodia face similarly dismal prospects. Prime Minister Hun Sen recently announced suspended garment workers would receive US$70 a month – US$40 coming from the state, with the employer paying the rest. This represents 37% of the current minimum wage – a sizeable cut from the US$114 initially promised.
"So, what can we expect?" asks Nazalya. "Massive layoffs will ignite labour unrest and union activity as workers protest unfavourable working conditions and demand wages owed. In the capitals of Bangladesh and Cambodia, thousands of laid off workers have already held protests demanding wages owed and severance pay, which may only be the start.
"This leaves fashion and retail companies facing a combustible mix of reputational risks that cannot be offset by onsite inspections, along with ongoing disruptions from shortages of material and potential flare-ups of civil unrest in their key hubs.
"These are difficult times in which a business-as-usual model won't work. Getting creative about managing risk using data screening or assessing suppliers using tools, such as SMART self-assessment questionnaires (SAQs), is going to be essential in the coming months.
"Doing this now could avert some of the effects of this crisis and ultimately help prepare for the next."
Click on the following link to read just-style's ongoing coverage of How coronavirus is impacting the global clothing industry.