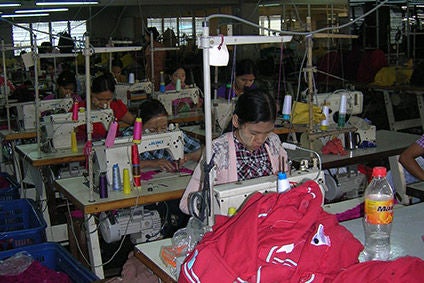 Myanmar today resembles Romania 30 years ago, when the country swerved at the last possible moment from potential catastrophe to a more prosperous and peaceful future. And the clothing industry is key to its transformation, believes Mike Flanagan.
As I write this, Myanmar's major cities are choked with demonstrators as its civil servants are refusing to work. Its army keeps repeating its promise to hold fresh elections and relinquish power, while threatening "lethal action" if the crowds don't disperse.
February so far
The National League for Democracy (NLD) won a landslide victory in November's election. But the army's Union Solidarity and Prosperity Party (USDP) claimed electoral fraud so, after weeks of tension, its troops seized power.
On 1 February the Burmese army detained NLD President U Win Myint and state counsellor Dr Aung San Suu Kyi hours before a new parliament was due to sit – but both reportedly knew about their "detention" before it happened.
The role of clothing
Myanmar accounts for 2.4% of the developed world's clothing imports – and only 0.2% of the US's. In 2019, it sold the outside world $5.2bn in garments, but Covid cancellations made those exports fall 23% in 2020. The country's export history explains why.
In the 1990s, Myanmar supplied about 0.7% of US clothing imports – a level not equalled since. SLORC, the USDP's 1990s predecessor, was even more brutal than the USDP is today – leading to widespread calls for sanctions against members of Myanmar's government and its extractive industry, where human rights violations were particularly appalling.
In 2003, the US added clothing to the list of banned Burmese imports, after US retailers created their own boycott. Dr Aung San insisted there was no evidence of real abuse in Burmese clothing factories, and serious researchers confirm this. Almost overnight, 200 factories closed.
The country remained a pariah until US imports resumed in 2013. The EU – which had never banned Burmese clothes – buys ten times as much as the US.
Why did US retailers volunteer to stop selling clothing from one of the poorest countries on earth?
For much the same reasons they took so long in 2013 to join the consortia creating good safety policies in Bangladesh: fear of activist protests, customers unhappy their clothes were made overseas and the fear of legal action.
There were practically no US clothing plants left to defend in 2003, and no rational argument about "preserving American jobs" in 2013. America's growers sell their cotton to Asians in the 21st Century as they did to other Americans in the 20th Century and to the British in the 19th.
What's changed since?
In 2013, the US resumed importing clothes from Myanmar – which now had a new barrier to overcome. A Burmese man-made fabric blouse attracted no import duty getting into Europe, Canada or Japan – but around a 26% tax in the US.
The US has just about the world's highest import duties on clothes, originally to protect its dirt-to-shirt garment plants. But those plants are gone – and America's cotton industry no longer needs domestic protection.
This is not unique to Myanmar. Officially designated Least Developed Countries (LDCs) face obstacles selling to the US that they don't face selling to Europe, Canada or Japan: America's relatively high import duty means most LDCs have smaller shares of America's imports than of the EU's:
These aren't the only barriers against US imports from LDCs. Imports from Haiti, for example, carry no duty: its problem is attracting foreign investors .
Covid has been even worse for poor-country garment exporters.
The Clean Clothes Campaign (CCC) estimates that cancelled orders cost Myanmar's 700,000 garment workers 33% of their wages in the first three months of the pandemic – that's $250m a year.
The US can't cure a misconceived policy today – or even next year. But taking Myanmar's share of US clothing imports from 0.2% to 0.4% would inject as much money into Myanmar's economy as a year's Covid job losses have taken out.
The Clothesource pitch
Min Aung is now using language I've never heard from the "strong man" thugs who dominate Turkey or Brazil – or the "strong man" thugs who dominated Myanmar in the days of the SLORC.
In his Union Day TV address to the country, Min Aung said those protesting had been "incited" and asked them to work for the country without "focusing on the emotion." He called on Burmese to "join hands" with the military.
It now seems clear that protester Mya Thwe Thwe Khain, who died on 19 February, was shot by a stray live bullet.
But in the days of the SLORC, all those bullets would have been live. And we don't know whether the Mandalay student activist telling the BBC he feared "prisoners are being released to attack protesters" was in danger – or a paranoid teenager misreading a genuine gesture of goodwill.
I think I know what's happening – like a fair few in the US State Department.
Of course many paranoid American teenagers would protest if they thought "evil capitalist" retailers were making money from the desperately poor. Many sensible American retailers would send them packing if they were their own teenagers – but also need their custom if they're going to get a bonus this year.
In Myanmar, the one thing worse than having a filthy, underpaid job is not having one at all. And if the US treated Burmese – or Haitian or Bangladeshi or Cambodian – blouse exports the same way the EU or Canada do, there'd be so many more jobs that eventually they would be neither filthy nor underpaid .
At Clothesource, we believe now's the time for Joe Biden to give all LDCs the same US market access they already get for the EU, Japan, UK and Canada.
Sadly, Myanmar's troubles might get worse, and democracy may be suppressed again. But that's all the more reason, in countries like Bangladesh, Haiti and Cambodia, to encourage the creation of real jobs.
And we'd like all the US trade associations that represent American clothing brands, retailers, importers, and wholesalers to the US and foreign governments – to join us.
Click on the following link to read just-style's coverage so far of the potential repercussions of the recent coup: Clothing sector likely major loser from Myanmar coup.
About the author: Mike Flanagan is CEO of UK-based Clothesource, which monitors clothes production in EU factories for UK clients and gives the world's apparel buying community objective information on price competitiveness, trade regulations and apparel producers in over 100 countries. His retail insights come from being a director of the Charlbury Deli, which made more money in December 2020 than in any entire year before Lockdown. Contact him here, or go here to receive his newsletter. The views expressed in this article are entirely Mike's. They do not reflect the views of just-style, Clothesource or the Charlbury Deli.