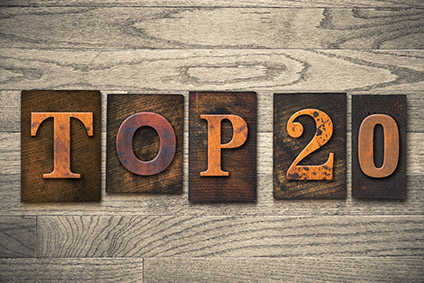 Among the most-read comment articles on just-style in 2017 were a look at the huge potential benefits of 3D CAD, the impact of the Trump administration on the textile and apparel industry, what's driving transparency in the retail supply chain, and strategies to survive in a declining apparel market.
1: A tale of three countries – Vietnam, India, Bangladesh
Things are no longer going well for Bangladesh when it comes to US garment imports, writes David Birnbaum, as he takes a closer look at why the country has been left behind as its competitors have moved forward.
2: 3D CAD comes of age
Although there are many continuous developments in technology, every so often a giant leap occurs with the potential to bring huge benefits to apparel retailers, brands and manufacturers. 3D CAD is undoubtedly the next major advance for the sewn products industry in a world where speed to market, cost reductions and the elimination of waste are paramount.
3: 'Who Made My Clothes?' will redefine fashion supply chains
24 April marked the anniversary of the horrific collapse of the Rana Plaza garment factory complex in Dhaka, Bangladesh. In the years since, the incident has sparked a worldwide movement called Fashion Revolution, whose mission is to unite people and organisations to work together towards radically changing the way clothes are sourced, produced and consumed.
4: How millennials (and actually, everyone) want to shop
Brick and mortar companies cannot compete online. If they try, they will lose, and they will lose hard, writes Emma Birnbaum. Here she takes a closer look at why brick and mortar is not dead, but is just being mishandled.
5: What Arket reveals about H&M's new direction
H&M's new Arket concept is quite unlike anything previously seen from the retailer. Rather than adopt a faster sourcing strategy, the company has opted to introduce a new brand to cater to shifts in consumer behaviour and progress towards a more sustainable business model. Bernadette Kissane, senior analyst for apparel and footwear at Euromonitor International, takes a closer look.
6: Why collaboration is key to a successful fashion supply chain
Collaboration between retailers, brands and their suppliers is a mission critical element in developing a slicker and more cost-effective supply chain. But in today's complex fashion environment, putting it into practice is still a considerable challenge – as Siobhan Gehin, managing director, Kurt Salmon part of Accenture Strategy, explains.
7: Why US sporting goods retailers are struggling
Despite strong growth in US sportswear sales, sporting goods retailers are struggling as consumers change their purchasing habits, sportswear brands focus more on direct channels, and new players enter the market. Ayako Homma, senior research analyst for apparel and footwear at Euromonitor International, takes a closer look.
8: The impact of Trump's trade policy on apparel businesses
There's no doubt the Trump administration has been very active on the trade front – but what exactly is its trade policy, what is it hoping to achieve, and what are the implications for the textile and apparel industry? Dr Sheng Lu, assistant professor at the Department of Fashion and Apparel Studies at the University of Delaware, takes a look.
9: Strategies to survive in a declining apparel market
Surviving in a declining market is the biggest challenge for the discount/mass-market retailers and suppliers of commodity products such as basic T-shirts, hoodies or cotton men's shirts. David Birnbaum believes it is time to stop negotiating and bring in the engineers.
10: Amazon private label push to shake up sportswear?
Reports that Amazon is teaming up with some of the world's biggest athletic apparel suppliers ahead of a move into sportswear have sent stocks tumbling and raised concerns over new supply and pricing pressures in the sector.
11: Off-price clothing – an accessible marketplace?
The off-price clothing and footwear industry offers an important channel through which brands can liquidate their excess inventory. But why is it far less developed in the EU than it is in the US? And how can the EU off-price industry be developed into a stand-alone entity?
12: Breaking out of the cheap commodity garment trap
From basic commodities to high value added fashion, why do some industries develop while others remain forever mired in cheap garments? David Birnbaum takes a closer look.
13: The Flanarant – An assembly-worker free apparel industry?
For the past 20 years, Western buyers have been getting lower prices by switching production to countries with exceptionally low wages. But do recent announcements from Amazon and adidas mean automated manufacturing is going to grow? asks Mike Flanagan.
14: Maybe it's time for a single cotton sustainability standard
There's an undeniable desire on the part of brands around the world to clean up their supply chains, and there's no lack of interest in using more sustainable cotton. But the confusing mix of standards and options available merely delays the decision-making process for so many firms, argues Robert Antoshak, managing director at Olah Inc.
15: Understanding sustainability in an unstable world
Macroeconomic and social trends, as well as politics, loom ominously large these days – in many ways glowering at our industry at a time of vulnerability. But by embracing sustainability, the sector has taken steps to structure its future, writes Robert Antoshak, managing director at Olah Inc.
16: The Flanarant – Is China about to burst its apparel trade bubble?
For the past six years China's clothing producers have retained their dominance of world apparel manufacturing despite widespread forecasts of imminent collapse. At its peak share in 2009, China accounted for 42.3% of America's apparel imports; in the first nine months of 2016 this was almost unchanged at 41.2%. However, Mike Flanagan believes China's apparel exports now face a serious threat – from the Chinese government.
17: Start preparing for the rise of the conscious consumer
Consumers are starting to demand more responsibility and transparency from retailers and brands about how and where their products are made. But instead of pointing fingers, perhaps it's time that stakeholders stopped passing the blame and started working together towards improving production processes.
18: What is driving transparency in the retail supply chain?
Supply chain transparency is an urgent issue facing retail organisations today, as it's often deep down in the supply chain where the most significant brand, reputation and financial risks live.
19: Five key costs linked to poor product quality
For consumer-driven, competitive apparel and footwear companies, product quality is critical. When managed well, it can improve your brand image, strengthen your consumer relationships, and reduce your operational and financial costs.
20: Four steps to reduce product defects
In the modern apparel industry, change is rapid. Consumer behaviours and perceptions are shifting. Cost pressures are intensifying. And while poor quality has long resulted in widespread markdowns and chargebacks, now it may result in permanently lost clients.