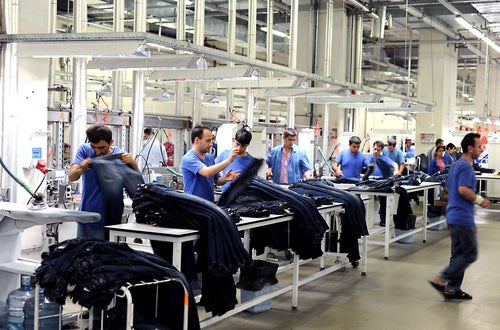 Türkiye, being the sixth largest supplier of the world and third largest supplier of the EU, is one of the most important and leading actors in the global apparel industry. The deep integration between the Turkish apparel industry and the EU apparel industry developed organically with Europe and global buyers and brands over the years and the industry follows the same priorities and principles that shape the global value chain.
In 2021, US$31.2bn exports were realised by the Turkish apparel industry, together with the textile industry. The textile and apparel industries employ more than 1.2 million production workers that operate in a modern and safe working environment. Together with the retail industry, more than 2 million workers are employed by these industries in Türkiye, and with their families, about 10 to 15 million people get their income from Türkiye's textile and apparel industry.
How Türkiye has overcome geopolitical challenges
On the other hand, geopolitical issues surrounding Türkiye has led to a number of immigrants being hosted by the country. In the last decade, Türkiye welcomed, hosted and provided the essentials for millions of immigrants who fled to Türkiye. There are 3.6 million registered Syrian refugees and together with other nationals, Türkiye hosted between 7 and 8 million immigrants, most of which are refugees that had to escape from war.
Istanbul Apparel Exporters Association (İHKİB), as a leading representative organisation of the industry, regrets to hear the recent alleged statements on Türkiye's apparel industry concerning immigrants' labour rights.
Türkiye's textile and apparel industries make almost 70% of its exports to the EU market under the strict regular auditing of Western brands and are inspected under EU level national labour laws, so the sector does not exploit Syrian immigrants and children as cheap labour and, there is not any unregistered Syrian or other immigrant workers or child labour within the Turkish textile and apparel industry.
Türkiye's apparel industry uses legislation based on European standards
It is one of the key advantages and strengths of Türkiye's apparel industry that it has a deep experience and know-how in making the highest quality apparel for leading markets of Europe and employs a young, dynamic, and well-educated workforce.
In addition, Türkiye has extremely high standards in terms of human rights, working conditions and environment standards. Türkiye's legislation is based on European standards thanks to its 27-year-old Customs Union with the EU, the candidate status for membership to the EU and its labour laws are in compliance with EU legislation.
About the author: İstanbul Apparel Exporters' Association (İHKİB) represents the Turkish ready-made clothing and apparel industry. İHKİB protects the interests of the Turkish ready-made clothing industry in national-international platforms and before the government, to support the exports of its member companies.
Earlier this year Just Style shared an in-depth look at Türkiye's apparel sector, which is quickly becoming a go-to sourcing country for Europe and beyond and hopes to become one of the three largest suppliers in the world.