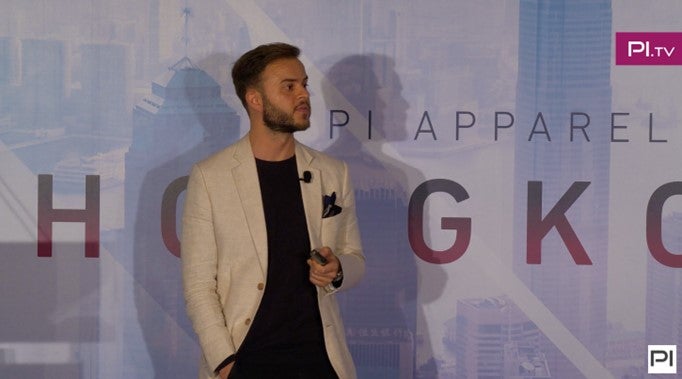 PI Apparel attendees welcomed QIMA Global key account manager Renzo Bazzarini as he delivered the keynote session for the April 24th and 25th PI Apparel event held in Hong Kong. The speech was a highlight of the event's focus on challenges and trends disrupting the fashion industry in the Asia Pacific Region.
Bazzarini shared insights on how major global brands and retailers are implementing tech-enabled QC/QA programmes, CSR and sustainability strategies, with the goal to best utilise the increased transparency across global supply chains that digitisation provides.
A key element of Bazzarini's message was technology's ability to optimise a business's investments in quality processes. He highlighted the fact that supply chain digitisation provides enhanced visibility, allowing managers to implement a risk-based due diligence strategy supported with clear data.
Bazzarini also discussed effective data use and the ways digital platforms ensure high-quality standards and boost efficiency. His speech provided practical tips on using advanced analytics facilitated by supply chain digitisation.
The speech underlined the importance of the latest strategies for building a strong and adaptable supply chain that can weather unexpected disruptions. Empowerment was also a consistent theme in the address. Digitisation provides tools along an entire supply chain that promote higher quality and flexibility that builds supply chain resilience.
"Businesses worldwide increasingly look to supply chain digitisation as a solution for new sourcing challenges arising from increased supplier diversification and tightening ESG regulations," Bazzarini told the audience.
About PI Apparel
PI Apparel brought together a wide range of fashion industry professionals to explore developments in innovation and sustainability. New technologies offer better solutions to address the challenges posed by diverse supply chain networks, shifting consumer trends and volatile political environments.
About QIMA
QIMA has been a leading global presence in Quality Management since 2005, the first in the industry to integrate digital technology through online scheduling. With operations in 95 countries, QIMA is perfectly positioned to help you remain on the leading edge of supply chain trends and innovations.
QIMA's latest supply chain advancement, QIMAone, is a collaborative platform that digitises quality and compliance management for the world's largest brands, retailers, and manufacturers. QIMAone connects buyers to their supply network to monitor and improve product quality, increase supply chain visibility, and reduce operational inefficiencies.
QIMA offers inspections, audits, certifications and testing so you can compete in the global marketplace. To learn more about how QIMA and QIMAone help supply chain leaders save time and optimise costs, visit the QIMA page for contact information.