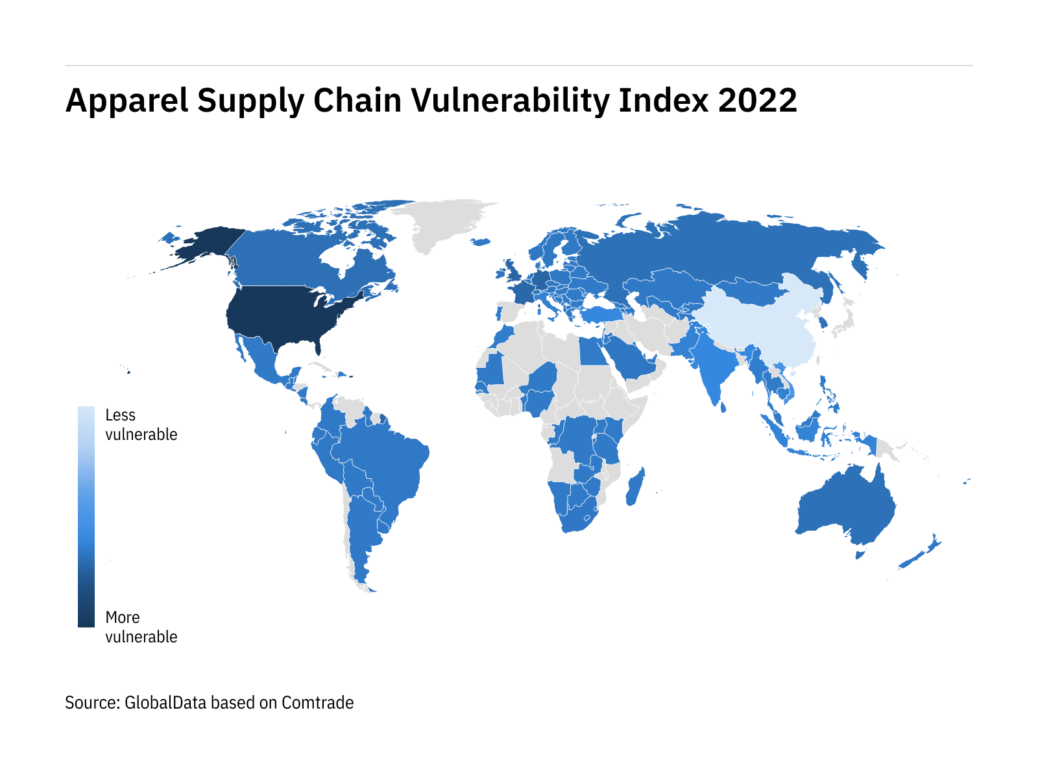 China has come out on top as having the most self-sufficient apparel and textile supply chains in the world in terms of what it outputs versus the amount of each commodity it imports, according to a supply chain vulnerability index published by Just Style.
Just Style analysed data supplied by global trade database Comtrade which explores 127 of the world's 195 countries to determine a goods balance between textile imports and exports and apparel imports and exports.
The analysis aims to establish which countries' apparel and textile manufacturing industries are least vulnerable since they import less of each commodity than they export.
Unsurprisingly, China ranked highest in both indices, while India was listed in the top three for both the apparel and textiles indices.
It should be noted, however, that Bangladesh, which is considered one of the world's leading apparel export countries was one of the countries not featured on the index, as Comtrade explained it had not received a data submission from the Bangladesh National Statistics Office for some time.
China reigns supreme
According to Comtrade data, China imported US$21.05bn worth of textile raw materials in 2020, while exporting $70.61bn, leaving it with a trade surplus of $49.55bn. In terms of finished garments, China exported $238.33bn worth, while importing $15.66bn, resulting in a surplus goods balance of $222.67bn for 2020.
For decades China has been the go-to for apparel sourcing. The country's low per-unit cost of apparel and highly skilled workforce together with its vertically integrated supply chains leave it virtually unrivalled.
Together with this, China is a major supplier of textiles, including cotton and is responsible for 80% of the world's cotton production. One of the major markets for both its cotton apparel and cotton textiles is the US. But over the last few years, there has been a sharp drop in China's market share of US cotton apparel and textile imports. In 2019, China's market share of cotton apparel shipments to the US stood at 21.9%, falling to 15.4% and 15.2% in 2020 and 2021 respectively.
In terms of cotton textiles, in 2019 China's market share stood at 31.6% of US imports of cotton textiles, falling to 28% and 24.1% in 2020 and 2021.
Strong textile production industry holds US in good stead
Many US apparel brands and retailers have been forced to explore different avenues to source their apparel due to political tensions between the US and China which led to tariffs being imposed and subsequently an increase in sourcing costs. Part of the tension is coming from a US crackdown on imports that contain input materials from China's Xinjiang region, where the US alleges the mistreatment and forced labour of Uyghur Muslims.
Xinjiang was responsible for 20% of China's cotton production and the US bill banning all products from the region was signed in December 2021 so it will be interesting to see how China's lead in this vulnerability index, which is based on 2020 data, will change now that a complete ban on Xinjiang cotton is in place.
Plus, the US is also a major producer of cotton itself which puts it in a strong position on the textile supply chain vulnerability index as it is less reliant on sourcing cotton textiles and cotton-based apparel.
The US is at the very bottom of Just Style's apparel supply chain vulnerability index, with a trade balance deficit between apparel imports and exports of $116.08bn in 2020. This is likely linked to consumer appetite for clothing that the US is not capable of producing quickly enough, or at the volumes needed. Conversely, it features highly on the textile supply chain vulnerability index with a surplus goods balance of $5.36bn, thanks to its ability to produce and export more textiles than it is bringing in.
India – a worthy contender for China's title?
India, another major producer of cotton, is showing a pattern similar to China, and trending high on both the apparel and textile supply chain indices when it comes to resiliency.
In 2020, India exported $18.91bn worth of finished garments while importing just $1.93bn. In terms of textile raw materials, it exported $10.65bn compared with an import figure of $3.61bn, leaving it with a goods surplus of $7.04bn.
In recent years, India has focused its attention and investments on ramping up its textile production and export business.
Recently, the Central government approved a production-linked incentive (PLI) scheme worth INR10,683 crore for manufacturers of fabrics and apparel in the manmade fibre segment, and domestic technical textile firms.
In addition, responding to global pressure on sustainability, India is also making an effort to be seen as green.
At the end of last year, Adidas, Levi Strauss & Co, and PVH Corp announced they would be backing a new consortium project to understand both the pre-consumer and post-consumer textile waste streams in India, and to pilot sorting and mapping solutions.
Looking at the apparel supply chain vulnerability indices, Asian and North African countries dominate – the likes of Pakistan, Indonesia, Myanmar, Sri Lanka, Morocco and Egypt all trend strongly as being among the least vulnerable.
This correlates with the idea that developing countries play on their strengths in the labour-intensive business of apparel production.
It's also interesting to look at which countries are considered the most vulnerable within the apparel supply chain vulnerability index.
The bottom of the table is dominated by European countries, including Germany, the UK, Austria and Switzerland, as well as the US, Canada, Russia, Australia and the Republic of Korea.
Developed countries' apparel supply chains are most vulnerable
The figures show that developed countries are relying on more apparel coming in than is going out.
Joining the US at the bottom of Just Style's apparel supply chain vulnerability index are the UK and Germany. The UK exported $10.67bn worth of apparel goods in 2020 compared with imports of $35.89bn, leaving a goods balance deficit of $25.23bn.
Germany, meanwhile, exported $35.76bn worth of apparel, versus imports of $61.66bn, leading to a goods balance deficit of $25.91bn.
But developed countries textile supply chains are least vulnerable
Looking at the other side of the coin, Germany, the US, the Republic of Korea, Australia and Austria were among the 20 biggest textile exporters in the world in 2020. This makes sense since developed countries typically focus on making and exporting textiles due to textile manufacturing being more capital intensive.
As a country's economy advances, we would also expect to see it moving away from making and exporting labour-intensive apparel items and instead focusing on capital and technology-intensive textile products.
Case in point is Pakistan, which, while it is among one of the largest apparel producers in the world, its textile supply chain is also considered to be one of the strongest.
Exceptions to the rule
In 2020, Pakistan exported $3.2bn worth of textile goods while importing $2.84bn leaving a goods balance surplus of $362.73m.
And Uzbekistan, which sitting just shy of the top 20 on the apparel supply chain vulnerability index (position 22) with a surplus goods balance of $572.35m, is placed comfortably within the top ten suppliers identified by Comtrade and determined by Just Style as having the least vulnerable textile supply chains (position nine).
In 2020, Uzbekistan, which has a particularly strong cotton industry – despite global concerns around forced labour during its cotton-picking season – exported $1.51bn worth of textiles while importing just $274.72m, resulting in a $1.24bn surplus goods balance.
World's most vulnerable textile supply chains
Way down the chart – considered as having the textile supply chains that are most vulnerable, are some of the world's biggest readymade garment producers and exporters including Sri Lanka (120th position), Indonesia (124th position), Cambodia (125th position) and Vietnam in last place (126th position).
Vietnam – which was the world's second-largest ready-made garment exporter in 2020 according to data from the World Trade Organisation – imported $16.97bn worth of textile raw materials while exporting just $6.22bn, leaving a goods deficit of $10.75bn.
Interactive heat maps display the world's most and least vulnerable apparel and textile supply chains