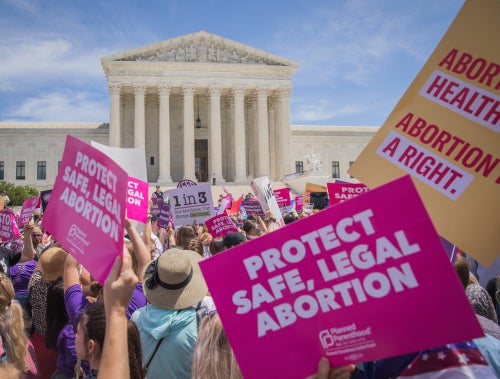 On Friday 24 June, the US Supreme Court overturned its 50-year-old Roe v Wade decision which means millions of US women will lose the constitutional right to have an abortion and apparel sector consultant Bob Antoshak believes it will have a ripple effect on the entire apparel sector.
Antoshak explains the announcement marks a divisive turning point in American history, and leaves open the possibility of future weakening of rights, especially for marginalised groups such as women, people of colour, the LGBTQ+ community and interracial couples.
He says: "The ruling striking down the original decision on Roe v. Wade has taken a highly charged issue and exposed it to plutonium, super-charging an already intense cultural battle. Moreover, the decision underscores the deepening cultural divide in the United States."
Antoshak is quick to highlight this divide does not operate in a vacuum, as this news on abortion rights directly affects the apparel and fashion sector.
He says: "From designers in New York to women working on sewing machines in Bangladesh. Our industry, perhaps the world's largest, comprises many creative and hardworking women and men of all colours and backgrounds. The Supreme Court ruling compels our industry to further support the rights of people worldwide."
Dr Sheng Lu, associate professor of fashion and apparel studies at the University of Delaware adds studies show consumers today, especially younger consumers increasingly expect fashion brands to incorporate social causes into their businesses.
He says: "In other words, besides high-quality goods and services, consumers want to link their brand loyalty with companies' demonstrated commitment and positive impacts on the planet, society, and the community. This explains why it has become common for fashion companies to take a public stand on social and political issues."
The US Fashion Industry Association's President Julia Hughes tells Just Style exclusively: "Even though the leaked draft document meant everyone had an idea of what the ruling would say, most companies are still looking at the impact, especially on their workforce."
She explains many companies are still assessing whether they will make a public statement or not, but points out that most have not so far.
Denim apparel brand Levi Strauss & Co., however is an exception to this rule. In an official statement the brand says: "We stand strongly against any actions that hinder the health and wellbeing of our employees, which means opposing any steps to restrict access to the full range of reproductive health care, including abortion. Protection of reproductive rights is a critical business issue impacting our workforce, our economy, and progress toward gender and racial equity."
The company has already made a pledge to ensure employees can get the care they need regardless of their location, through a benefits plan that allows for reimbursement for travel expenses incurred for any covered medical expense not available within 50 miles of where an employee lives. There is also a process in place through which employees not in its benefits plan, including part-time hourly workers, can receive financial assistance if travel-related expense for any medical care creates an economic hardship.  
Levi Strauss & Co. also explains it has joined more than 230 other companies, including outerwear apparel brand Patagonia on the Don't Ban Equality statement, which outlines the economic impacts – on individuals, on business, and on state economies – of restrictive reproductive rights policies.  
The American Apparel & Footwear Association (AAFA) told Just Style it does not have a comment at this time.