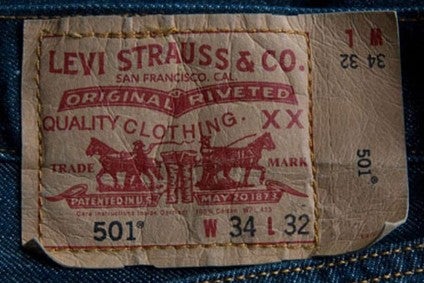 Speaking to investors yesterday in the wake of its Q3 results being announced, Chip Bergh, CEO of Levi Strauss explained softer consumer demand during the third quarter stemmed from "a confluence of pressures from inflation to falling consumer sentiment and rising interest rates" along with the apparel industry continuing to experience supply chain disruption and a heightened promotional environment.
Levi Strauss & Co Q3 numbers in brief
Net income slid to US$173m from $193m (adjusted to $161m from $197m) a year earlier after a fall in operating income.
Operating income fell to $199m from $216m on the back of lower adjusted growth margins, and higher adjusted selling general and administrative expenses.
Net revenue rose 1% on a reported basis to $1.5bn and 7% on a constant currency basis.
DTC net revenues rose 2% compared to Q3 a year earlier and 8% on a constant-currency basis.
Wholesale net revenues rose 1% year-on-year while digital net revenues rose 9%.
Levi Strauss management notes that transitory pandemic-related supply chain issues intensified in the US during Q3 and resulted in its inability to fulfil orders.
"Thanks to the strength of our brands, our diversified business model and operational agility since we were able to swiftly manage expenses and exceed expectations with adjusted diluted earnings," Harmit Singh, Levi Strauss CFO said.
Supply disruption expected to continue:
Levi Strauss has tempered its outlook for the remainder of the year to reflect ongoing supply chain disruption and macro-economic pressures.
It has reported net revenue growth of 6.7% to 7.0%, representing 11.5% to 12% net revenues growth on a constant-currency basis and adjusted diluted EPS of $1.44 to $1.49, inclusive of incremental FX headwinds of $0.05 since last reported in July.
But it is improving:
Bergh explained all parts of the supply chain are indeed improving" though Levi Strauss is feeling the impacts of disruption.
He said: "We additionally have some congestion within our logistics and distribution network due to the inventory build that we did to protect Q1 revenue as well as our ERP transition. With this congestion comes a lot of efficiency in our distribution network. And so we think Q4 will be the peak and we expect to start improvements in Q1."
On port, transloading and distribution centre congestion, he added: "We're working through it and the majority of it is largely in the US. And US is primarily a core market, so we're working through that. We're working through the same with our customers to ensure there's minimal disruption, but it does hurt overall revenue.
"While we expect the macroeconomic backdrop to remain unpredictable over the next few quarters, our strong brands, diversified business model and proven team position us to deliver on our long-term objectives. We have separated ourselves from the competition by making the right moves in challenging times, and this environment is no different. We will operate with discipline and lean into our strengths to further expand our lead for the years to come."
Earlier this week, Levi Strauss made a commitment to achieve net-zero emissions of greenhouse gases by no later than 2050 under a new set of sustainability goals.

The 16 goals – several new while others pre-existing – cover focus areas including greenhouse gas emissions, water stewardship, circular economy and new business models, worker wellbeing in the supply chain, diversity, equity and inclusion and social issue advocacy.
Shortly after, the denim giant revealed the details of a partnership with HSBC aimed at helping its suppliers transform to drive sustainability in their operations.
Analyst takeaway
Pippa Stephens, apparel analyst at GlobalData notes: "Despite Levi's having previously been confident in its ability to withstand the cost-of-living crisis, the worsening situation is now starting to bite, with the brand dropping its net revenue growth guidance for FY2021/22 from 11-13%, to around 7.0%. As well as the inflationary pressures affecting consumers, especially those in Europe and North America, Levi's has also experienced supply chain issues in the US, driving net revenue in Q3 FY2021/22 to rise by only 1.3% to $1.5bn, though this is still an impressive 4.8% up on pre-pandemic levels in Q3 FY2018/19. The strength of the dollar has also impacted its performance internationally, with revenue growth in constant currencies notably higher at 6.7%. Looking to the future though, the brand still expects to achieve its long-term goal of reaching revenues between $9bn and $10bn by 2027, which seems reasonable given Levi's strong brand identity and its outperformance in FY2020/21.
"Levi's Q3 results show significant disparity between regions, highlighting how differently each area is being affected by rising inflation. Asia reported high constant currency growth of 52.5%, as softer inflation has allowed consumer confidence and product demand to remain steady, while its home market of the Americas showed slight growth of 3.4% in constant currency, since Levi's long-lasting and versatile products mean that many consumers are still willing to invest. Reported sales in Asia and the Americas were therefore 3.6% and 4.4% above Q3 FY2018/19 respectively. In contrast, constant currency revenues in Europe declined by 9.0%, with reported sales now 15.8% below pre-pandemic levels. Though this is partly due to its exit from Russia, it will primarily be down to shoppers cutting back on non-essential apparel purchases as the price of necessities like food and energy continue to rise.
"Even though Levi's has been focusing on growing its direct-to-consumer (DTC) segment in recent years, its performance was still relatively in line with its wholesale division in Q3 FY2021/22, with each increasing by 2% and 1% respectively. The brand aims for its DTC segment to make up 55% of total sales by 2027 (currently 35%), so it will need to make more significant investments in this area to reach this goal. Its online channel must be the focus, with its own website currently only comprising 6% of its total sales during the quarter, which is much lower than should be expected for such an established brand. In August 2022, Levi's announced that it will be using AI in its fulfilment process to better accommodate ecommerce orders, which will certainly help to improve the online shopping experience. However, it must also invest in more integral aspects too, like introducing click & collect and next-day delivery, to maximise sales through this channel and increase convenience."