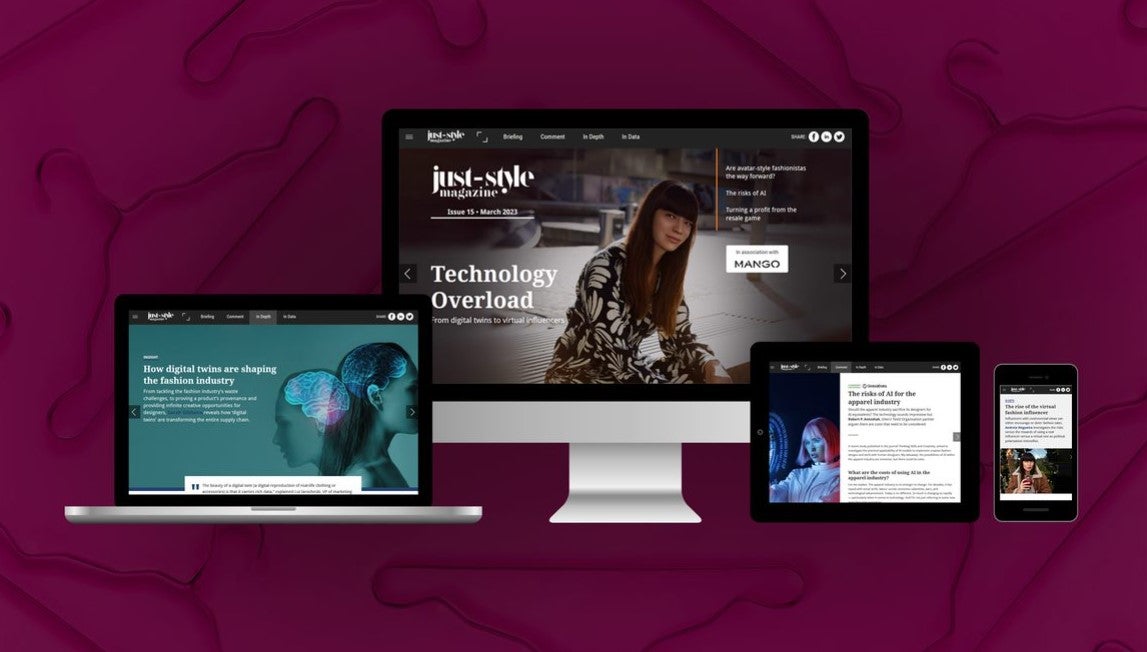 The latest issue of Just Style's digital magazine explores the world of technology and how it can be used to streamline and enhance operations throughout the fashion supply chain as well as create some excitement to boost end consumer sales. Read it for free online on all devices.
Our digital twins feature reveals how digital reproductions of real-life clothing are being used to create and test designs. It also explores how personalisation can be enabled at scale with the likes of Spanish fashion retailer Zara and German sports brand Puma reaping the rewards.
At the opposite end of the spectrum, virtual fashion influencers are on the rise. And it's easy to see why when the controversy over rapper and ex-Adidas partner Kanye West's 'antisemitic' remarks late last year put Adidas and its Yeezy sneaker collaboration in a compromising position. In fact, the sports brand said at the time it expected "to have a short-term negative impact of up to EUR250m (US$264m) on the company's net income in 2022 given the high seasonality of the fourth quarter".
As a result, Just Style weighs the risks and the rewards of fashion brands using virtual influencers over real ones. 
Artificial intelligence is another technology that is growing in popularity throughout the fashion supply chain, however Gherzi Textil Organisation partner, Robert P. Antoshak argues in this issue that there are costs that need to be considered in his extremely insightful comment piece.
Finally, finding ways to improve sustainability is essential. In an exclusive interview with Spanish fashion retailer Mango, Just Style uncovers how the company is working with its vendors to boost circularity and transparency across its supply chain.
Read the latest issue of Just Style Magazine for all this and more insights, analysis, data and interviews from the apparel industry.
You can subscribe here to receive email notifications when a new issue is available. As always, don't forget to follow us on Twitter, Facebook and LinkedIn and let us know your thoughts on this issue.