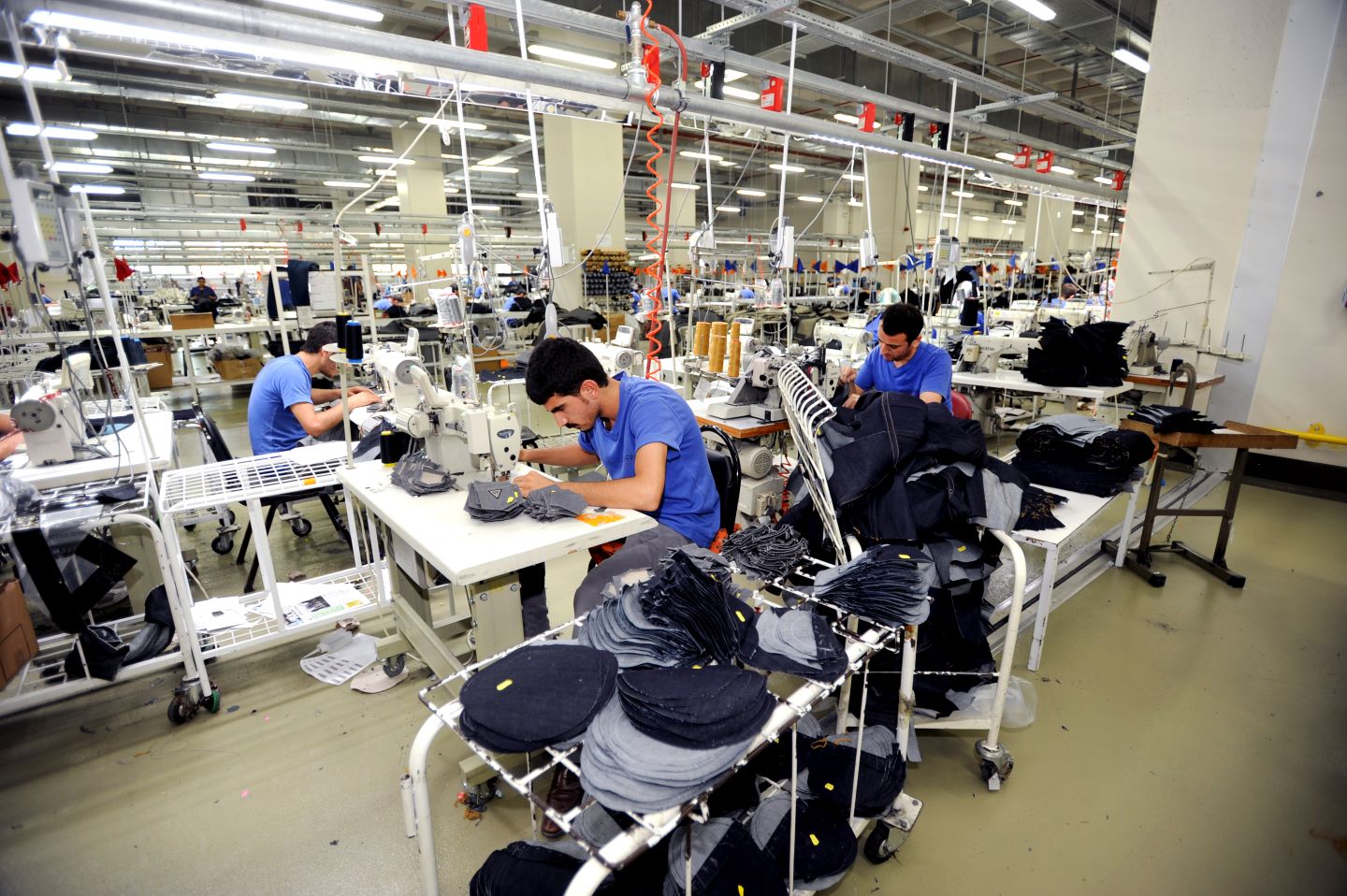 The apparel sector in Türkiye has a lot going for it and in recent years and, in a turn of events, its thanks to the challenges brought forth by the Covid pandemic. Following the pandemic, orders from Europe surged. At present, it is the fifth largest garment exporter in the world, after China, the EU, Vietnam and Bangladesh, with exports standing at US$21.2bn.
The industry spotted an opportunity for nearshoring – demand was there – and it has run with it, investing in technology and machinery to enable manufacturers to operate more sustainably and efficiently as they aim to deliver on orders in a fraction of the time it would take to have them delivered from Asia.
Alongside this, Turkish suppliers are hugely appealing thanks to the vertical integration of their clothing supply chains.
Vertical integration – a key opportunity
Cem Altan, founder of Aycem Textiles and president of the International Apparel Federation (IAF), tells Just Style: "We are uniquely positioned when compared to competitor apparel-producing countries since we produce our own cotton and then spin that into yarn and fabric. Türkiye is the second largest textile exporter in the world. And we have the capacity to turn cotton fibres into finished garments. It's a big advantage in terms of speed as it allows us to respond faster to orders and allows increased diversity in what we are able to produce."
With each stage of the apparel production supply chain in Türkiye being so closely connected to the next, it allows a birds-eye view of the whole operation, with particular regard to worker well-being and safety, he says.
"All our factories are audited by international and independent auditors, we pay attention to traceability and invest in digital design and production to save time and increase productivity. We've invested in our design force to offer our customers greater choice. And we invest in new technologies as they are being explored in universities. This will put us at a great advantage when it comes to future generations of the industry."
The goal, he says, is to increase apparel exports by 15-20% annually.
Elif Sahinler, general manager of Bozkurt, which is part of Kipas Holding, explains having everything under one roof is very attractive to international buyers.
The brand has two factories in Istanbul and one in Egypt.
"Everything is easily visible and accessible. We have the fabric division and the garment division which means they can come to the showroom and see a style. If they want to change the fabric it can be done then and there. That full package approach is very appealing at a time when speed is key."
The sustainability win
Apparel manufacturers in Türkiye are very responsive on sustainability, understanding it is front of mind for the end consumer and so front of mind for their customers. It is an area they have been encouraged to invest heavily in.
Ismail Kolunsağ, board member of IHKIB and Cross Jeans, a family-owned business established in 1939 with three apparel production factories across Türkiye and Egypt, explains how the company has invested in sustainability in recent years.
"We recycle our own laundry water for reuse in production. We have implemented digitisation in that a lot of the factory processes are computer controlled allowing for more efficiency and none of the workers are in contact with the chemicals. It is a much safer way of working. We use SBTI to calculate the sustainability of our operations, a system our customers can then use to communicate with their consumers.
"As a company, we would like to always follow the technological trends which we believe help in terms of nature and sustainability – we have to protect our planet. If we do it in a better way, it helps to reduce harm. We have to do this for the people and also our customers want us to do it."
But while it is widely accepted among clothing makers that incorporating sustainability into operations is no longer a nice-to-have and instead a must-have, there are certain challenges associated. Unsurprisingly, the biggest issue is the cost of going green.
While Sahinler at Bozkurt notes, "being more sustainable is [not necessarily] more costly", there are certain aspects of it that come with higher costs.
"For example, on the fabric side, BCI comes at cost neutral but organic cotton can be more costly. Of course, there is an initial investment required in moving to more sustainable operations. We recognise that recycled cotton is becoming more important and so we have invested in a huge new operation, a new setup of recycling cotton in our own factories and there is a huge demand to that now."
But she says it's something that has to be accepted as part and parcel of the service if suppliers are working with or looking at working with big brands and chain stores.
"It's not just the fabric side that you need to be sustainable on but also the garment production side, in particular on the laundry operations, which is where you spend the most water, energy and chemicals.
"Our factories are set up to be sustainable and we carry several accreditations such as OCS, RCS, BCI, SEDEX which all come at a cost. That's a cost we bear at present. It's very difficult as the buyers come ready with a price in mind and it is difficult to negotiate a higher price based on being more sustainable.
"Sustainability isn't something we can take off and we can't pass it on and claim because we are operating sustainably it is costing us more. But at the same time, there's nothing to suggest a customer will remain loyal as your price goes up when you implement more sustainable measures. It is our moral duty to produce in a better way and we hope to draw the right buyers accordingly."
Meanwhile, Altan warns for the Turkish apparel sector, continuing to bear the costs of incorporating sustainability, is simply unsustainable.
"Businesses have to be sustainable for the long term. Suppliers invest to create better conditions for production so their workers are safe and harm to the environment is lowered. They know that they will get business after all those investments they make for sustainable production. Sustainability has a cost and that cost has to be shared by all stakeholders.
He adds, over the next 5-10 years the industry will go through tremendous changes to meet hundreds of new regulations and legislation brought into action by global apparel importer countries.
"The apparel and textile industry has to fulfil these demands to be able to supply for these countries. Most important is the EU Green Deal legislation which will help to achieve 2030 and 2050 carbon emission targets. The whole industry has to invest in a green and sustainable supply chain. It is a costly process and needs a lot of funding. The problem is, many suppliers do not have the extra finance to do this so we really need government and EU funding to help meet those goals."
Soaring labour costs in Türkiye apparel sector
Sahinler at Bozkurt muses there's "no loyalty" and when the going gets tough, buyers are quick to cut and run. It's why China has dominated the global apparel export scene for decades, she says.
Altan elaborates, noting that Turkish apparel workers, on a minimum wage are earning around $950 plus benefits. On top of this, the strength of the Turkish Lira and increased energy costs from the fallout of the Russia-Ukraine war serves as a disadvantage to garment makers. In fact, it cost the sector orders in the second half of 2022 and the start of 2023.
"Inflation is soaring globally, but in apparel, even though the cost of energy, raw material and workmanship rises, our customers are unwilling to increase buying prices. In fact, as a result of all this, they want prices to be lower."
Turkish brands – leaning on local strengths
So with all these challenges, the question remains, how does Türkiye get its apparel exports to that $40m target in the near term?
Many suppliers are now turning to create their own brands as a separate income stream, and to increase the strength and presence of Turkish brands in the market.
Join Us was established as a brand four years ago and has a website and wholesale apparel business in Türkiye. It sells through wholesalers in the country like Gizia and Beyman. Powering it is a factory that has for 52 years served global brands including Next, Urban Outfitters, M&S and Ralph Lauren.
"We know the business well," explains Elif Bakluv, general manager at Ugur Konfeksiyon, which owns the Join Us brand. "We have market intelligence and know what our competitors are doing. We thought, why not use this to produce our own collections that are sustainable and increase the presence of Turkish brands. And because we have our own factories, it means we can keep prices on products lower."
Anthropologie has agreed a deal to host Join Us collections in its stores, as has New Look.
"The brand is still a baby but we have aspirations to expand into kidswear and menswear. We also want to open a flagship store in a nice area and grow the brand's presence internationally so people recognise the quality of Turkish apparel goods.
Kolunsağ explains Cross Jeans has been present as a brand for between 20 and 30 years. "It gives us an opportunity to grow sales but also to showcase our skills and expertise."
The US opportunity
But among the biggest aims of the Turkish apparel sector is the opportunity to grow into the US market.
Several makers, including Cross Jeans, Bozkurt and also apparel manufacturing giant Yesim Group, have already established additional factories in Egypt to allow duty-free access to the US market. 
Altan explains Türkiye is currently only the 17th largest apparel supplier to the US market and that the biggest disadvantage with trading with the US is a 16% duty on cotton and cotton-rich goods, and nearly 30% on synthetics.
"We are hoping that the US government can lift these duties. We import big amounts of US cotton and we want to use this to our advantage to sell back to the US duty-free, at least for the same value.
"We are working hard to increase our business with the US. The US is a very big market and we want to increase our market share there. We are working hard to introduce our suppliers to US brands who do not know the Turkish apparel industry very well."
Altan says, as well as organising webinars and B2B events, Turkish suppliers are taken to the US where they can demonstrate their capabilities. He says agreements with industry trade bodies in the US like the AAFA have also been struck with the aim of being able to connect with its burgeoning list of brands and retailers.
"Our target is $3bn before reaching $10bn in apparel exports in ten years time. We need to be able to show our advantage, which is that Türkiye is not a producer of cheap goods but of good quality, great value, value-added and sustainable products."