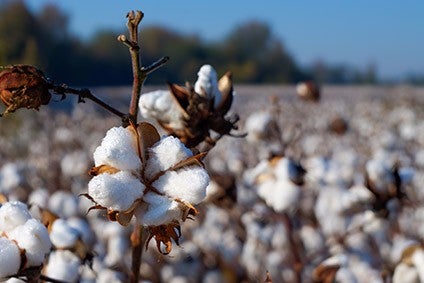 Clothing brands that source from Turkey are being urged to pay closer attention to where the cotton used within their products has come from after research has suggested mills are heavily reliant on cotton from Turkmenistan, which is often produced using forced labour.
An webinar, hosted by Anti-Slavery International, the Responsible Sourcing Network and Turkmen News, has highlighted how cotton picked in Turkmenistan's cotton fields, often by means of forced and child labour, makes its way through the supply chain and into finished products available globally.
Turkmenistan is the seventh-largest producer and exporter of cotton in the world. Land in the country is owned by the state and leased to farmers for a number of years, with the state deciding which pieces of land are used to grow cotton and how much. The target for 2019 was to grow 1.05m tonnes of cotton, with this being raised to 1.25m tonnes for 2020.
Ruslan Myatiev, the editor of Turkmenistan News – based in the Netherlands as a political refugee – explains the government has imposed unrealistic quotas on farmers for how much cotton they should be delivering, which often leads to the farmer failing to meet the target and having to pay a penalty. Quotas can be missed due to poor quality or an insufficient amount of seeds or fertiliser, lack of mechanisation or pest problems.
Compounding this is the prevalence of forced labour, with regional authorities sending thousands of civil servants – teachers, doctors, hospital and bank staff – to pick cotton manually in order to hit quotas.
"Until 80% of cotton bulbs have flowered, farmers do not allow machine harvesters on to the farm for fear they will ruin the cotton bulbs and result in less profit," says Myatiev. "In late September/October, harvesters are allowed to enter. Once they are done, farmers negotiate with military chiefs to send soldiers to pick the remainder. They pay them money and enjoy cheap labour."
Ties with Turkey
Much of the cotton picked is then shipped to Turkey, the world's sixth-largest textile producer.
According to Chloe Cranston, business and HR manager at Anti-Slavery International, Turkey and Turkmenistan have a very close relationship that dates back decades and has led to joint ventures between Turkish companies and Turkmen state-owned companies.
The Turkmen textile industry is 22% foreign-owned of which 20% are Turkish companies, making Turkey the main investor into Turkmenistan's textile production facilities.
Energy, construction, mining, textile and finance conglomerate Calik Holding is one such investor, Cranston claims. She notes that while Calik Denim, a BCI (Better Cotton Initiative) member, states it prohibits forced labour and claims not to procure cotton from Turkmenistan, another Calik subsidiary, Gap Pazarlama, is open and proud of its relationship with the country.
It is the top importer of Turkmen cotton and was the first company to promote and sell the products manufactured at the integrated denim factory and apparel and textile factories in Turkmenistan to international markets. Gap Pazarlarma's key export markets for yarn include Europe, Bangladesh and Poland.
Overall, in 2017, of Turkmenistan's pure woven cotton exports, 79% went to Turkey followed by 18% to Russia. Of its raw cotton exports, Turkey received 84% followed by Pakistan and India at 9.65% and 2.9% respectively.
"Turkmenistan is not on a lot of brand's radars because it is a small country," says Patricia Jurewicz, founder and VP of the Responsible Sourcing Network, which is the co-founder of the Cotton Campaign worker rights group.
"But because so much of its cotton product is going into Turkey, there is a lot of exposure for international brands due to the production which is happening in Turkey."
"We cannot at this point say we are comfortable that any cotton produced in Turkmenistan is produced without forced labour. There is no opportunity for dissent [and] journalists have been jailed for reporting on the cotton harvest. And so really finding out what is going on is very dangerous."
US import ban
Last year US Customs and Border Protection (CBP) issued a withhold release order banning imports of all cotton and cotton products from Turkmenistan, in a move that meant retailers and brands would need to quickly identify and eliminate Turkmen cotton from their supply chains. According to Jurewicz, the amount of Turkmenistan fabric and raw cotton imports into the US has declined, but it is not clear if this is a direct correlation.
Industry heavyweights including adidas, Gap Inc, H&M, Marks & Spencer, NIKE, and VF Corporation have also signed the Turkmen Cotton Pledge, which commits companies to not source cotton from Turkmenistan until the use of forced labour has been eliminated. So far the Pledge has 89 signatories.
"We're encouraging brands and retailers to take action. If customs finds a shipment that comes into the US that it suspects is made with Turkmen cotton, it can hold the shipment at the border. If the brand cannot prove the product is made without forced labour or does not contain cotton from Turkmenistan, it can be shipped back or destroyed. Financially it is a risk."
The Cotton Campaign is now developing the YESS Mission – Yarn Etihcally and Sustainably Sourced – which aims to create an industry-wide due diligence programme for yarn spinning mills to eliminate cotton made with forced labour from their supply chains. In March it launched a new YESS Standard guide for spinners to help avoid purchasing cotton that has a high production risk of forced labour.
"It will be focused on a part of the supply chain which we know is somewhat opaque: yarn spinning. Here, cotton from a number of countries is blended together and you need traceability to country of origin at that spinning level. Even in Turkey, where they have strong labour rights, mechanisation and they are growing a lot of cotton, they could be bringing Turkmen cotton in and blending it with Turkish cotton and you'll have no visibility of knowing there's Turkmen cotton in there with Turkish cotton.
"We are also looking at a programme that would apply to textile mills in addition to yarn spinning mills, so that any mills producing textiles are not using yarns that have come in from Turkmenistan."
More cotton forced labour concerns
Campaign groups have spent years engaging brands on the issue of forced labour in the cotton sector, initially focusing on cotton grown in Uzbekistan. The Uzbek Cotton Pledge was launched in 2011, and has been signed by more than 280 brands and retailers who have refused to source cotton harvested with slave labour.
The initiative has led to changes by the government of Uzbekistan, including steps ending its use of forced adult labour during the annual cotton harvest, increasing remuneration to pickers, partially demobilising some public sector workers, and allowing access to international third-party monitors.
More recently, concerns over the use of forced labour from Muslim minorities in the Xinjiang region of China has come to light. UN experts and human rights groups say China is holding more than a million Uyghur and other ethnic minorities in vast detention camps, forcing them to pick cotton as well as work in mills and garment factories. China is one of the world's largest cotton producers, and the Xinjiang region accounts for 84% of Chinese cotton.
The US is taking steps to crack down on the issue, with the Senate most recently voting to create a law that imposes sanctions on Chinese officials over human rights abuses against Muslim minorities in Xinjiang. US lawmakers have also proposed legislation to ban goods made with forced labour in China's Xinjiang region from entering the country.
Tackling the issue requires multi-layered approach, working with brands and industry stakeholders, including NGOs, along with tools that confirm a product's origin, and flag suspicious items for further screening and monitoring.