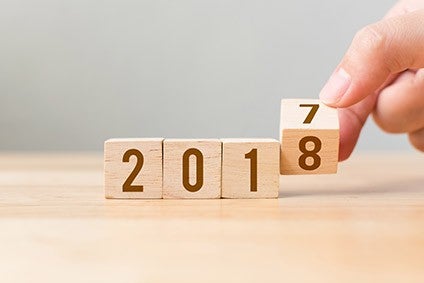 Drilling down into the results of just-style's State of Sourcing 2018 survey, first pointers suggest more optimistic expectations for consumer confidence in key markets in the year ahead. But the pressure is also on for faster, more responsive supply chains to meet growing demand for convenience and newness. Respondents are also bracing for another year of rising raw material and labour costs.
The overall outlook for 2018 comes amid more optimistic expectations for consumer confidence in all key markets in the year ahead – with the biggest improvements continuing to be seen in Asia.
The biggest fears continue to be directed at the UK, where 29.4% expect confidence to worsen over the next 12 months – although this marks a dramatic improvement on the 52% who took this view last year. And whereas just 8.4% thought things would get better during 2017, the figure has seen an upswing to 21.0% this time around. But there is little change in the 49.6% who say they expect consumer confidence to stay the same.
Our survey reflects the fact that despite uncertainty surrounding the Brexit vote to leave the European Union (EU), consumer confidence and spending have remained broadly resilient since the EU referendum, despite rising inflation and a squeeze on disposable income.
The picture is also more rosy for both Europe and the US than it was a year ago. In Europe the results have flipped over the course of the last 12 months, with just 12.7% now expecting a worsening in consumer confidence (against 36% in last year's survey) and 36.4% eyeing an improvement (up from 23% last time). That said, 50.8% see no change year-on-year.
And in the US, too, those thinking things will be worse in 2018 have fallen to 20.2% from the 30.7% who held this view a year ago. The shift in sentiment has seen a rise to 42.0% (from 28.9%) in the view that little will change in the year ahead, with the number seeing an improvement holding relatively steady at 37.8%, dipping just slightly from 40.3% last year.
In North America, 10.6% see consumer confidence worsening, while 34.6% believe it will get better; in South America the figures are 18.1% and 25.5% respectively; and in the Middle East a majority of 54.6% believe the status quo will be preserved.
And it remains a very different story in Asia, where 53.2% are forecasting an upturn in consumer sentiment during 2018, rising from 44.4% last time. In the meantime, the proportion of those expecting consumer confidence to worsen during the year remains flat at just over 6%.
Eighteen months after the UK's Brexit vote in June 2016, and our respondents are starting to see some clarity in their top concerns. Last year the potential impact of Brexit on trade agreements, currency fluctuations, and consumer confidence in the UK and EU were all on level pegging.
But this year, by far the biggest worry is uncertainty over trade agreements (64.5%), followed by consumer confidence and recession in the UK and EU (51.5%), and currency fluctuations (44.2%). Also in the mix, but trailing behind, is unease over increased tariffs and regulatory uncertainty (34.1%) and increasing production or sourcing costs (22.5%).
The continued lack of clarity about the terms of the UK's exit from the EU and its future trading relationship with both the EU and the rest of the world continues to frustrate. "Not getting on with it quickly enough, thus adding to uncertainty," was the view of one respondent.
On the other side of the Atlantic, uncertainty over trade agreements is also cited as by far the biggest concern for 39.1% of respondents, with increased tariffs and regulatory uncertainty coming in second for 27.5%. These numbers are little changed from last year's survey.
And their concerns are well-founded, given that President Donald Trump has already pulled the US out of the proposed Trans-Pacific Partnership (TPP) free trade deal and launched renegotiation talks on NAFTA (the North American Free Trade Agreement with Canada and Mexico). He has threatened to abandon NAFTA if consensus can't be reached, and hinted that the DR-CAFTA Central American free-trade agreement with the Dominican Republic, Guatemala, Honduras, Nicaragua, El Salvador and Costa Rica may be next in the firing line.
Zooming out to take a look at the global sourcing stage, demand for increased speed to market has climbed to the top of the list of challenges for those surveyed as they head into 2018. Mentioned by 54.6% (up from 49.6% last year), the need for a faster, more responsive supply chain is being driven by consumers' increasing demands for immediacy and constant newness, as well as the speed with which social media can spread new trends.
In line with last year, next on the list of concerns are raw material cost increases and/or volatility, and rising production labour wages (51.8% and 50.4% respectively). But the pressure of exchange rate volatility has slipped, while a greater weighting is now being given to factory, social and environmental compliance (35.5%) and changes in trade agreements (34.8%).
The number of possible responses to this question illustrates the complex mix of factors that influence apparel sourcing – everything from political unrest in sourcing destinations, the protectionist trade agenda in the United States, investing in and updating technology to energy price volatility and the availability of production facilities.
Having established that sourcing costs remain a pressing issue in the year ahead, it is interesting to see the sentiment here has deteriorated from a year earlier. A massive 72.9% of those surveyed expect overall sourcing costs to rise in 2018, independent of sourcing country, up from 68.8% last time.
However, those anticipating a significant rise of more than 5% has fallen to 12.0% from
16.8%, with the heaviest rating now given to costs rising by between 1% and 5% (for 60.9% versus 52% last time). A further 23.3% predict little change.
Just 3.8% are optimistic for lower sourcing costs in the year ahead, compared with 6.4% who saw this happening in 2017.
Respondents appear to be planning for these higher costs with a rise in their sourcing budgets in 2018. Almost half expect their budget to go up, with 15.3% seeing an increase of more than 5%, and 32.8% anticipating a rise of between 1% and 5%. A further 32.1% see their budgets staying the same in the year ahead.
Answering the same question last year, 14.5% of those surveyed thought their sourcing budgets would go up by more than 5% in 2017, 33.9% saw an increase of 1% to 5%, and 29% thought they would stay the same.
Worryingly, given the expected rise in costs, 7.6% expect their budgets to drop in 2018.
The biggest impacts on sourcing costs not surprisingly mirror responses to the question on overall sourcing concerns – with labour costs and raw materials at the top of the list, according to 25.8% and 18.9% respectively.
The cost of factory, social and environmental compliance comes in at third place as a driver of costs for 15.2% of those surveyed, rising from 8.7% last year. Together, labour, raw materials and compliance are seen as having the main impact on sourcing costs in 2018 according to 59.9% or respondents.
Among the other pressures, exchange rate volatility, which topped the list last year, has tumbled to a concern for just 7.6%. And, again chiming with responses to earlier questions, the cost of fabric/yarns gets 12.1% of the vote.
Faced with an expected rise in sourcing costs in 2018, and a shortfall for many respondents in their sourcing budgets, it may not be surprising that renegotiating with current suppliers has risen as a cost-cutting tactic, edging up to 45.5% from 38.9% year-on-year.
But process and productivity improvement (56.7%) and closer collaboration with key suppliers (50.8%) remain the top measures to try to mitigate any increases, with their rankings unchanged from responses given a year ago.
Also not surprising given that the cost of raw materials has been cited as a key driver of costs, raw materials management has risen as a potential strategy mentioned by 47.0% (up from 30.2%); as has identifying new, lower-cost vendors (up to 36.6% from 27.0%), and exploring new sourcing hubs (up to 29.1% from 27.8%).
Plans to streamline internal sourcing organisations also appear to be on the rise 28.4% (edging up from 26.2% last time), as is investing in and updating technology (38.1%).
Click on the links below to see more results from the just-style State of Sourcing 2018 survey: