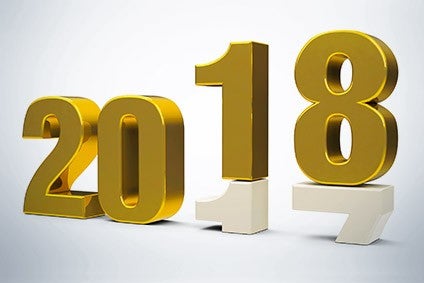 Having established that speed-to-market and rising costs remain among the top challenges for apparel sourcing executives as they head into 2018, the second part of just-style's State of Sourcing 2018 survey analysis takes a closer look at their strategic plans for the future. This includes likely shifts in global apparel manufacturing and technology investments for a faster response.
The fact that sourcing is in a constant state of flux in a bid to drive efficiencies, manage costs, mitigate risk and navigate new duty opportunities, as well as strike a balance between speed and flexibility, is amply illustrated by the answers to this question. The number of respondents who say they have no plans to reallocate their sourcing in 2018 has fallen to just 19.8% – which means a massive 80.2% are looking to make changes to the mix.
Of this, 27.8% say they intend to move 1-5% of their sourcing; 34.9% are looking to shift 5-10%; and 16.7% will make changes to between one-tenth and one-quarter of their portfolio. A tiny minority of less than 1% say are intending to make big changes, with plans to reallocate more than a quarter of their sourcing next year.
Who will be the likely winners and losers from this shift? By far the biggest beneficiaries are alternative sources of supply in Asia, according to 66.4% of respondents, although this has dropped from 72.1% in last year's survey.
But the search also continues for new supplier countries outside this region in the coming year. This is especially the case for those importing into the US, with 21.9% saying they are looking at near-shoring to Central America and the US, which is flat with last year. But just 6.7% are eyeing on-shoring to the US as an option, a marked decline from 16.2% a year ago.
The opposite seems to be happening, however, in the EU and UK, where respondents suggest on-shoring to European countries and the UK has grown in popularity to 15.1% from 8.1% a year ago; as has near-shoring to European countries and the UK, rising to 18.5% of responses from 15.3% last time.
Interest is also rising in sub-Saharan Africa as an apparel source, with 15.1% of survey respondents looking here for alternative sources of supply, up slightly from 13.5% the year before.
South America, Jordan, Oman, and on-shoring to Canada, were also among separate answers given. Several respondents also pointed to reallocation of product into existing and local markets closer to the point of sale.
Drilling down even further – and looking into the future – Bangladesh and Vietnam continue to be seen as the two sourcing markets most likely to grow in importance in the next five years.
Another strong contender is Ethiopia, which has pulled ahead into third place with 35.7% of our respondents
In joint third last year, Myanmar has now slipped slightly with a score of 29.5% (down from 40.8% last time). As has India, which some 30.2% expect to grow in importance as an apparel source (compared to 34.2% in last year's survey).
From the other options given, Cambodia (24.0% vs 29.2% last time), Indonesia (16.3% vs 19.2%) and Kenya (13.2% vs 18.3%) have all slipped in sourcing popularity over the next five years. But both China and Pakistan remain flat with last year.
Respondents also highlighted several other countries and regions not specifically mentioned in the suggested responses: Portugal, Morocco, Turkey, Taiwan, Brazil, Sri Lanka and the Philippines, as well as West Africa and Eastern Europe.
The survey confirms that China's undisputed dominance of global apparel manufacturing is unlikely to change anytime soon.
Asked about their China sourcing plans in 2018, 21.1% of respondents said they would buy more here over the next 12 months. The number looking at a significant increase of more than 5% has edged up to 7.8% (from 5.9% last time), whereas those expecting to source 1-5% more from China next year slipped to 13.3% from 15.1% a year ago.
Some 30.5% expect their China sourcing to remain roughly the same year-on-year (26.1% in last year's survey) – making this the most popular response.
Conversely, while 28.9% of respondents say they expect to source less from China, this is an improvement on the 33.6% who last year said they would reduce their orders from the country.
Despite concerns that increasing wages are undermining the competitiveness of China's garment production on the world stage, the latest survey results continue to confirm its appeal to apparel buyers as rising prices are largely being offset by productivity gains.
No other country can match China in terms of the size of its supply base, its range of skills, its quality levels, its product variety and the completeness of its supply chain. The country also continues to lead the way when it comes to efficiency and infrastructure.
Of those who source from Bangladesh, the survey results also suggest they intend to place more orders here in the next year.
Echoing the answers to the earlier question that mark Bangladesh as one of the key apparel suppliers most likely to grow in importance in the next five years, a strong 42.2% of those surveyed say they intend to source more from Bangladesh in 2018 (versus 38.6% last time). Within this, 16.4% point to a rise of more than 5% (compared with 10.9% who gave this answer last year) and 25.8% are looking at an increase of between 1% and 5%.
17.2% are looking to source roughly the same from Bangladesh as last year (up from 19.3%), while 9.4% say they intend to source less (up from 4.2% last year).
The responses suggest that despite Bangladesh's uncertain safety record, work by industry-backed building and structural safety initiatives, coupled with the country's price and capacity advantages, mean there is little likelihood of it losing orders in the near future.
Gains in sourcing volumes also seem to be on the cards for Vietnam, with nearly half (48.0%) of respondents who source here saying they expect this to increase next year. One-third of these (33.8%) are forecasting a rise of 1% to 5%, while 14.2% are eyeing a bigger increase of 5% or more.
Around 20.5% expect to source roughly the same from Vietnam year-on-year (up from 15.4% last time), while those who plan to source less here in 2018 has dipped slightly to 4.7% from 6.0% a year ago.
The survey results suggest that the decision by US President Donald Trump to withdraw from the Trans-Pacific Partnership (TPP) free trade deal – of which Vietnam had been expected to be one of the biggest beneficiaries – has not dampened the county's prospects as an apparel source.
Instead, manufacturers in Vietnam stand to gain from improved access to the EU market once the EU-Vietnam free trade agreement comes into force, as well as the increased foreign direct investment that flowed into the country ahead of the TPP. In particular, Chinese apparel manufacturers have ramped up their interest in Vietnam, improving both the upstream textile sector and the capacity for large volume garment orders.
In the wake of the renewal of the African Growth and Opportunity Act (AGOA) for a further ten years in June 2015, investment has been flowing into countries such as Ethiopia and Kenya – not only in the garment manufacturing sector but also upstream in textile mills and training.
That said, it still remains to be seen how this will translate in terms of apparel sourcing market share.
While the 29.7% of respondents who say sub-Saharan Africa will gain importance for their sourcing strategy over the next five years is marginally higher than in last year's survey (25%), the number who say it may be of more importance has fallen to 36.7% from 43.7%. And in line with this, those who emphatically say sub-Saharan Africa won't be part of their sourcing strategies in the short-to-mid-term has risen to 33.6% from 31.1%.
The number of possible responses to this question again illustrates the complex array of factors that influence apparel sourcing – everything from lower costs to increased speed, compliance and reduced risk.
A first glance at the comparison with last year suggests little change. Many of the benefits identified here – lower costs, increased flexibility, speed of delivery and shorter lead times – are, according to respondents, similarly influential in 2018 as the key drivers for seeking new suppliers.
A couple of other trends stand out. This year, less weight is given to quality (35.6% compared with 43.6% last time) and more to smaller minimum orders (39.0% versus 30.8% a year ago).
Other considerations include alternative sources of supply to take advantage of trade agreements and to navigate political and regional stability. Perhaps surprisingly, less weight is given to improved fire and building safety or chemicals and environmental compliance – which may indicate respondents are happy with the provisions already in place.
Other suggestions offered outside the survey options include: "Improved product," and "Digitalisation, which will help to improve speed to market, longer term costs and flexibility."
Not surprisingly, respondents recognise the importance of technology in order to help them remain competitive into the future. Asked if they expect to invest in new technology in the year ahead the responses were split: 63.0% said yes, 29.4% said maybe, and 7.6% no.
The tool this investment is most likely to focus on continues to be Product Lifecycle Management (PLM) software, mentioned by 45.3% (flat with last year), with platforms allowing all parties in a garment's design and development cycle to collaborate to boost speed-to-market and profitability.
Close behind in terms of their popularity are applications for predictive analytics in production and demand planning (40.2%), supply chain traceability and transparency (39.3%), 3D design and prototyping (35.9%) and Enterprise Resource Planning (ERP) (32.5%).
Click on the links below to see more results from the just-style State of Sourcing 2018 survey: