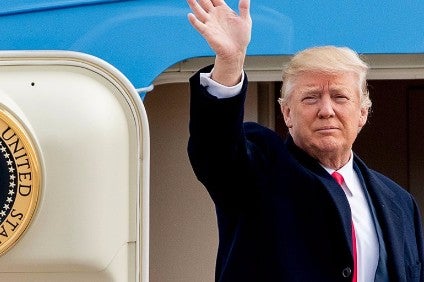 Groups representing companies across the entire US apparel, footwear and textile supply chains have criticised the "unfathomable" decision by President Donald Trump to impose escalating tariffs on all goods imported from Mexico – beginning 10 June.
In a statement last night (30 May) Trump outlined a plan to ramp-up tariffs on Mexican goods if illegal immigration is not checked.
The US will impose a 5% tariff on all Mexican imports from 10 June and duties of up to 25% will be added in the coming months if Mexico does not take action to "reduce or eliminate the number of illegal aliens" crossing into America.
If the crisis persists, the tariffs will be raised to 10% on 1 July, increased to 15% on 1 August, to 20% on 1 September, and to 25% on 1 October 2019.
"Tariffs will permanently remain at the 25% level unless and until Mexico substantially stops the illegal inflow of aliens coming through its territory," the White House said.
The statement also said "companies located in Mexico may start moving back to the United States to make their products and goods," adding that "companies that relocate to the United States will not pay the Tariffs or be affected in any way."
President Trump also accused the Mexican government of passive cooperation in illegal immigration and said the "mass incursion constitutes an emergency and extraordinary threat to the national security and economy of the United States.
"Gang members, smugglers, human traffickers, and illegal drugs and narcotics of all kinds are pouring across the Southern Border and directly into our communities," he said in a statement. "Thousands of innocent lives are taken every year as a result of this lawless chaos. It must end NOW!"
Apparel and textile impact
Mexico is the 8th largest supplier of apparel and 7th largest supplier of footwear to the US market. It is also the largest supplier of men's and boy's jeans to the US – accounting for 35% of imports.
The American Apparel & Footwear Association (AAFA) says the use of tariffs on US imports from Mexico is "unfathomable, especially as we are working to gain approval of the USMCA (US-Mexico-Canada Free Trade Agreement) in the United States and as the USMCA is about to be introduced in the Mexican legislature.
"More than 200,000 jobs in our industry, and countless more across the United States, depend on strong trade linkages with Mexico. Whether imposed at 5% or 25%, these tariffs put American jobs in jeopardy," says Rick Helfenbein, AAFA president and CEO.
"By imposing escalating tariffs on Mexico, our second largest export market and third largest trading partner, President Trump has again chosen to increase taxes on US businesses, American workers, and American consumers. Because of President Trump's tax increase, Americans will pay more for everything from jeans to cars to computers to machinery."
Similarly, the magnitude of the trading relationship with Mexico is significant for the US textile industry, representing $12.2bn in two-way textile and apparel trade in 2018. The US textile industry alone exported $4.7bn in yarn and fabrics to Mexico last year and had a net export surplus of $3.8bn – making Mexico the single largest market for US-made textile exports.
"We are very concerned about the impact these proposed tariffs would have on a critical and integrated supply chain for the US and Mexico textile and apparel industries," says Kim Glas, president and CEO of the National Council of Textile Organizations (NCTO).
"Under the NAFTA agreement, the US has benefited as a result of strong rules of origin that require the use of regional yarns and fabrics. As a result, the US industry has made significant investment – $22.8bn from 2006 to 2017 – to help grow the manufacturing of fibre, yarns, and fabrics in the United States."
"Adding tariffs to Mexican apparel imports, which largely contain US textile inputs, would significantly disrupt this industry and jeopardise jobs on both sides of the border. And as a result, it will accelerate substantially the immigration issues the administration is seeking to address."
Glas also believes the tariff increase "would give a significant competitive advantage to China, which already accounts for about 38% of apparel and textile imports to the US.
"In fact, if this increase goes forward it will drive business back to China at a time when the administration is trying to crack down on intellectual property abuses and make systemic trade reforms that have undermined US manufacturing industries for decades.
"This proposal is extremely concerning to US textile manufacturers and we will do all we can to amplify these concerns with the administration and members of Congress."
Additional details?
According to international trade law firm Sandler, Travis & Rosenberg, the president has brought this action under the International Emergency Economic Powers Act of 1977, which has previously been utilised to freeze or block assets of foreign governments or nationals.
"Similar to previous tariff actions initiated by the administration, we anticipate this action to mean additional tariffs on top of existing rates of duty, including on NAFTA qualifying goods," ST&R says. "We expect a federal register notice prior to initiation of these tariffs, with additional details clarifying the scope of the action."
Imports of textiles and apparel, travel goods and footwear from Mexico into the US are duty-free under the North American Free Trade Agreement (NAFTA). According to the re:source by just-style strategic sourcing tool, the value of US apparel imports from Mexico in 2018 totalled US$3,623.7m (down 3.7% from 2017), of which US$3,107m were under the FTA – giving an 87% FTA utilisation rate.
An agreement was reached last year between the US, Canada and Mexico to update NAFTA as the United States-Mexico-Canada Agreement, but the new pact is still awaiting US congressional approval.