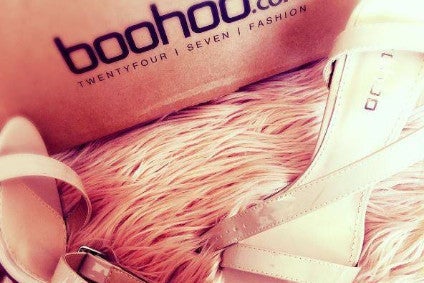 Boohoo reported an operating loss of GBP11.8m (US$12.5m), a 10% fall in global revenues to GBP882.4m while EBITDA fell by 58% to GBP35.5m during the first half (H1) of fiscal 22/23.
Boohoo "not immune" to cost of living crisis
Darcey Jupp, Apparel Analyst at GlobalData: "Despite building its reputation on low-cost, value apparel, the Boohoo group has proven it is not immune to the cost of living crisis, ending H1 FY2022/23 with revenue down GBP93.5m (US$98.9m) to GBP882.4m and an operating loss of GBP11.8m. As a result, the group has slashed its profit guidance for the year, now anticipating EBITDA margins to be 3-5%, down from 4-7% previously. The group's topline was largely dragged down by troubling performance in the US, where revenue tumbled 29.2% to GBP177.4m despite the group's expansion plans in the region. This is likely due to it struggling to compete against rival fast fashion giant Shein, which has seen rapid growth in the country, fuelled by its ultra-low prices and wide product range.
"In its home market the UK, revenue fell 4.4% to GBP544.6m in H1 FY2022/23. While the strong comparatives in the year prior (+32.4%) due to lockdowns in Q1 must be noted, news has recently broken of the Boohoo group cancelling orders with UK suppliers, signalling a wider downturn in demand. Prolonged inflation and the increased likelihood of significant interest rate rises in the UK will be hitting consumers' discretionary incomes more than anticipated, so order cancellations are likely to be a common occurrence in the coming months, with fast fashion players due to be some of the hardest hit, as though they often offer low prices, they rely heavily on selling high volumes. The percentage of UK shoppers in GlobalData's monthly survey who plan to buy fewer clothing & footwear products as a result of rising cost of living grew 10.2ppts between May and September to 43.4%, proving that volumes are becoming increasingly strained.
"In July 2022, the CMA launched an investigation into Boohoo's sustainability claims alongside other fast fashion players ASOS and George, suggesting that the ranges the retailers claimed to be sustainable are in fact examples of greenwashing and therefore deceiving shoppers. While no further information has been released about the case, both ASOS and George have restricted their sustainability marketing, yet the boohoo group has continued to launch new supposedly eco collections across its brands, including announcing Kourtney Kardashian Barker as sustainability ambassador in September. Furthermore, PRETTYLITTLETHING's resale marketplace went live in late August, allowing consumers to buy and sell secondhand products. Launching PLT Marketplace with a range of pre-owned clothes from creative director Molly-Mae Hague was likely successful, as her loyal fanbase will be keen to purchase products she has worn. However, though external brands can also be listed on the platform, most items are currently from PrettyLittleThing itself, and it must be considered that the brand's products are not made to last, so true circularity will be restricted.
Supply chain disruption set to continue
Josh Holmes, Senior Consultant at Retail Economics: "These results (H1) confirm that all is not well at the retailer (Boohoo). There's no doubt about it, they are navigating through particularly challenging times with the business model under pressure.
"Following a pandemic-fuelled boom, many shopper habits have snapped back into place more forcefully than had been expected. Rising returns and weaker demand have collided with spiralling input and operating costs, which has hit profitability hard.
"The cost-of-living crisis is also hitting Gen Z consumers disproportionately given their typically lower wages and squeezed disposable incomes. It has encouraged many people back into stores as they avoid costly delivery and returns, and can ill-afford to wait for refunds with spare cash under so much pressure.
"The international operation has also been hampered by ongoing disruption in supply chains which looks set to continue well into next year. There are some signs of improvement, but with such significant headwinds in the UK from inflation, rising interest rates and recession, it feels like things may get worse before there are signs of improvement."
Impact of returns charge
Eleonora Dani, Research Analyst at Shore Capital: "In July the group introduced a return charge for Boohoo and Karen Millen customers. While the charge is limited to customers that do not have a Premier account and should create loyalty, we wonder about the impact on volumes as consumers tend to use different platforms for their shopping. However, we highlight an increase in average order value which could represent the first encouraging sign of improving economics.
"In our view the announcement of an external CFO (Shaun McCabe) and the transition of Neil Catt to an executive director role, highlight the magnitude of the challenges ahead for the group. This is another disappointing set of results showing both revenue and earnings decline in addition to a weakening balance sheet."
Wake up call for entire fashion industry
Andrew Busby, Retail Industry Lead at Software AG: "These results demonstrate just how tough it is right now, not just for fast fashion but for retail as a whole. Inflation, energy prices and the cost-of-living crisis are really beginning to bite.
"It is no secret that Boohoo has endured its fair share of challenges since the height of the stock valuation in June 2020. Nevertheless, this is a huge wake-up call for the entire fashion industry – extremely volatile consumer demand, coupled with a very uncertain outlook have combined to result in a 4% drop in UK sales for Boohoo.
"Now, more than ever, as household budgets are squeezed, in many cases, almost beyond breaking point, new clothes have become a luxury item, and in the new climate, more than ever, consumers need to feel a sense of trust in brands they purchase from."
Greenwashing accusations bite
Melissa Minkow, Director, Retail Strategy at CI&T: "With a slowdown in global sales, Boohoo's (H1) results reflect the current climate of uncertainty. The brand has made many attempts lately to stay disruptive in the fashion space, but trendy purchases just aren't sensible to consumers right now given the cost-of-living crisis.
"The recent introduction of charging for returns will undoubtedly have dissuaded many from choosing the retailer. The items themselves are not expensive enough to merit putting a price on returns, and consumers are now used to ordering clothing online in multiple sizes, trying, and returning what doesn't fit. If an item appears risky in fit, the shopper will likely be deterred from buying at all with a return charge.
"While the Golden Quarter may temporarily rescue many brands, fast fashion purchases aren't usually where consumers turn for gifting in the lead up to Christmas. Gift cards could help the business marginally, but overall, this isn't the time for fast fashion to have a moment, even under better circumstances.
"The brand will also need to work on its reputation after receiving accusations of greenwashing through its partnership with Kourtney Kardashian Barker. It will likely continue work on various iterations of appeals to sustainability, but until it completely revamps its pricing and production approach, it's going to be nearly impossible to avoid greenwashing accusations."
Click here to read Just Style's report on Boohoo's H1 performance.