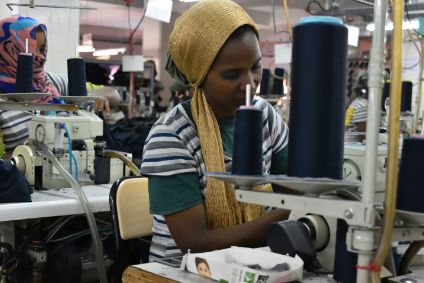 High worker turnover in Ethiopian garment factories means brands often end up paying more to source from the country than other low cost locations, according to a new report – which is calling on global brands and retailers to take steps to align their business practices with realities.
A new report 'Made in Ethiopia: Challenges in the Garment Industry's New Frontier' by the NYU Stern Center for Business and Human Rights, says the country's efforts to attract international investment in clothing manufacturing is failing the Ethiopians who work in factories making apparel for some of the world's biggest brands.
Its findings are based on interviews with workers at several factories at the Hawassa Industrial Park located 140 miles south of the Ethiopian capital of Addis Ababa. The park, one of five the government has inaugurated since 2014, currently has some 25,000 employees and is supposed to grow to 60,000. Factories here produce for brands and retailers including Levi Strauss, Guess, PVH, H&M and Hanesbrands.
Ethiopia has no legally mandated minimum wage for the private sector, and the report's findings suggest entry-level workers in Ethiopian garment manufacturing – most of whom are young women – are typically paid a base salary of just US$26 a month, leaving them struggling to get by and unable to save or send money home. They also receive very little training – often two weeks or less – leaving them with little time to adjust to the culture of factory life. They often don't understand why they would be disciplined for lateness, absenteeism, or chatting at the expense of completing their sewing tasks.
It also notes cultural differences between management – many of whom are from from South and East Asia – and workers, and a "weak trade union movement" as further issues leading to worker dissent in the park. The report's findings suggest "only a handful" of the 21 sites across the park operate fully functional worker councils in place of traditional union representation.
"Ethiopia's plan to become a major garment-exporting nation rests in large part on the assumption that workers would accept the extremely low base pay of $26 a month, which isn't enough to live on, even in Ethiopia," says Paul Barrett, deputy director of the NYU Stern Center for Business and Human Rights.
"Rather than the compliant, cheap workforce promoted in Ethiopia, the foreign-based suppliers have encountered employees who are unhappy with their compensation and living conditions and increasingly willing to protest by stopping work or even quitting."
During the park's first year of operation in 2017, overall attrition hovered around 100% – meaning factories were replacing workers every 12 months, driving up training costs up and pushing efficiency rates down.
"Viewed through this lens, it actually costs more to make a basic T-shirt in Hawassa than in a Bangladeshi supplier. Ethiopian labour has turned out to be considerably more costly than the government had initially advertised"
"Viewed through this lens, it actually costs more to make a basic T-shirt in Hawassa than in a Bangladeshi supplier," according to one expert consulted for the research. "Ethiopian labour has turned out to be considerably more costly than the government had initially advertised.
In March, just-style revealed workers at the park embarked on a strike over low wages, unsafe working environments and exposure to sexual abuse and abduction. At the same time, Mywage.org/Ethiopia and the Confederation of the Ethiopian Trade Unions (CETU) published the results of a survey that found 90% of workers across 52 factories in the country are earning less than the living wage.
"Brands can mitigate these challenges for suppliers and their employees by aligning business practices with realities in Ethiopia," says Dr Dorothée Baumann-Pauly, research director for the NYU Stern Center for Business and Human Rights. "Long-term sourcing commitments, investment in on-boarding and on-the job training, and the provision of non-financial benefits like meals, transportation, and housing subsidies can help to increase the currently low-efficiency levels and eventually lead to higher wages."
Recommendations…
…for the Ethiopian government
Establish a minimum wage that ensures decent living conditions for garment workers. The government is considering such a move, which must be done gradually so as not to drive away foreign manufacturers.
Address ethnic tension in Hawassa and elsewhere. Ethiopian Prime Minister Abiy Ahmed needs to apply his "ample political skill" to defusing potential violence that could threaten Hawassa and other industrial parks.
Craft and implement a long-term economic plan for strengthening the apparel industry, including developing a domestic supply chain, shoring up industrial parks, and diversifying into other sectors.
…for foreign manufacturers and Western brands
Provide more extensive training on both hard and soft skills. Evidence of the need for more training comes in the form of low efficiency numbers and high attrition rates.
Promote more Ethiopians more quickly into middle-management jobs. Doing so would alleviate the tension between managers from East and South Asia and their Ethiopian charges.
Build worker dormitories that offer subsidised rent. The lack of decent housing is the most pressing form of worker deprivation in Hawassa.
What the brands say
just-style reached out to some of the brands mentioned in the report for their response to the claims.
"We believe that our presence in Ethiopia has a positive impact, contributing to much needed economic growth in the country," says a spokesperson for H&M. "Since we began sourcing from Ethiopia in 2013, around 18,000 jobs have been created. However, as a company, we need to ensure that the growth created is sustainable and contributes to positive development.
"We are building long-term partnerships with suppliers, in Ethiopia and in other production countries. Even if we currently only work with nine supplier factories in Ethiopia and our production volume is small, we see the potential to further reduce unemployment, raise social and environmental standards and contribute to decent working conditions. Since approximately 80% of Ethiopia's population resides in rural areas with agriculture leading the economy, the textile industry is important for the country to be able to take further steps towards industrialisation.
"Earning a living wage is a fundamental human right and the reason why we, as one of the very first companies, acted on this. Summing up the first five years of our Fair Living Wage strategy, we can see that the processes are beginning to fall into place: by empowering garment workers and making fair negotiations possible, we have formed industry collaborations, that will enable the entire industry to take steps forward. We have also improved our purchasing practices to ensure that they support fair living wages, for example by excluding labour costs from price negotiations. And most importantly, within the industry approach ACT, we have, together with 21 other brands and the global union IndustriAll that represents garment workers, paved the way for a true game-changer and turning point for the industry: collective bargaining agreements at industry level supported by responsible purchasing practices.
"To deal with challenges within the Ethiopian textile industry, commitment from and collaboration between for example the government, brands, investors and NGOs is crucial. This is why we have our own production office in Addis Ababa; making collaborations possible, but also enabling us to regularly follow-up on our strict sustainability standards with our suppliers, and more importantly, to develop close partnerships with them."
A spokesperson for Hanesbrands adds: "We are committed to being an industry leader in ethics and workplace practices. Hanesbrands is currently sourcing a very small quantity of T-shirts, barely a fraction of 1% of our total volume, from one supplier in Ethiopia to help us test the viability of garment production in the country. For many decades, the apparel industry has served as a primary catalyst for developing economies, which often takes time to mature.
"For us, part of doing business with any supplier in any country is ensuring that it is operating according to our Global Standards for Suppliers, which fully aligns with the Fair Labor Association's Code of Conduct. Hanes is an accredited member of the FLA and undergoes rigorous review to protect workers' rights, including fair compensation, and improve working conditions in factories around the world."
A spokesperson for Levi Strauss told just-style: "Levi Strauss & Co. believes that everyone who works has the right to wages ensuring a standard of living adequate for the health and well-being of themselves and of their family, including food, clothing, housing and medical care and necessary social services. At a systemic level, we encourage governments to set a minimum wage consistent with the cost of living and establish comprehensive and regular mechanisms for minimum wage reviews. In addition, we have established a number of programs together with our suppliers in sourcing countries designed to promote financial literacy, women's health, and overall worker well-being. We recently began limited sourcing in Ethiopia and we are bringing this same approach to our operations there".
While Gap Inc was mentioned in the report as sourcing from Ethiopia, the company confirmed to just-style it does not presently source from Ethiopia and that it has reached out to the report's authors to amend this.
Guess, PVH and The Children's Place did not respond to requests.