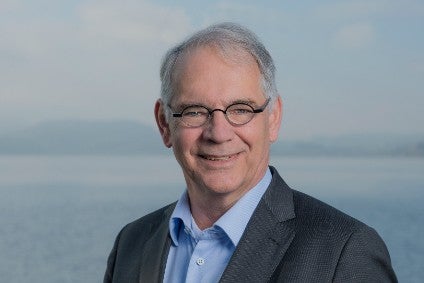 One year into his role as head of circular fashion at the C&A Foundation, Douwe Jan Joustra is leading discussions on how to create the conditions for change in the entire fashion system. His main aim is to see retailers adopt new business models, transitioning into "service providers" where fashion will be offered as a service for customers, not consumers – an idea he will share at next month's IAF World Fashion Convention.
Created to transform fashion into a fair and sustainable industry, the corporate foundation affiliated with global retailer C&A has achieved much in its four-year history.
As part of its overarching goal to make the industry a force for good, it is striving to accelerate the uptake of sustainable cotton, eradicate forced and child labour, improve working conditions, build resilience in vulnerable communities, and foster the transition to a circular economy.
This last area is where Joustra comes in. Leading a team of three programme managers for global support of initiatives, Joustra is responsible for identifying what he sees as levers for change; be it initiatives the Foundation can support or areas in which it can create conditions for the growth of the circular fashion model.
And it's how the fashion industry can foster the move to a more circular approach that Joustra will share during the International Apparel Federation's 34th IAF World Fashion Convention taking place in Maastricht on 9-10 October.
"Our line of thinking is not about recycling issues, or how to improve our waste strategies," he tells just-style. "Fundamentally, we need a new economy in the fashion sector, which means that we need new business models.
"Basically, we are focusing on how we can get clothing as a service instead of clothing as a consumer product with a lot of sales. When you make it into a service, it means that you need service providers instead of retailers and that's the big change and challenge that we foresee."
The easiest way to explain, Joustra says, is to look at products other than fashion.
"Take food: how many initiatives are there nowadays to order your food online? It's brought to you within half-an-hour and you get what you want, that's the basic idea. Uber Eats, Deliveroo and quite a lot of other companies are working on optimising that system of food as a service."
A sharing phenomenon
The "million dollar question" however, is how can this be translated to the fashion industry? One example is Mud Jeans, a sustainable and Fair Trade Certified denim brand based in The Netherlands. Founded in 2012, Mud Jeans introduced a pioneering 'Lease a Jeans' model to ensure it stays the owners of the raw materials and gets them back after use.
The so-called guilt-free solution sees customers return worn out jeans and try out a new pair, while the discarded denim is recycled to make new items.
"Guilt free, because it's not the consumer that is responsible for good production and the end of use, it's the company that takes the responsibility," Joustra explains. "And sometimes end of use for one client is the beginning of use for another. I'm of the generation that wants to have jeans that look good, are neat and functional, but there's also a generation that wants jeans with tears in it."
But how far in the supply chain does this burden of responsibility go? "When you provide a service you need to be close to the customer so the shops will become the service providers and the responsibility first goes back to them. They can then make arrangements with the other producers to share that responsibility back into the chain. You then get a new discussion on collaborative responsibility."
Another example is Amsterdam's LENA fashion library, which allows shoppers to borrow apparel for a monthly subscription; and the numerous 'Share My Closet' schemes that have sprung up worldwide, offering designer apparel for hire.
"There is a new kind of market growing, a phenomenon, and it is the kind that we embrace."
"There is a new kind of market growing, a phenomenon, and it is the kind that we embrace," Joustra says. "There are all these new services and the existing system doesn't really know how to operate or connect to it.
"What you see in fashion nowadays is that there is a lot of initiatives in creating more sustainable fashion, which is a very good first step, but it's not really yet changing the system. It gives the consumer some more choices: facilitate the guilt-free consumption which means there is no hazardous chemicals, good working conditions, no child labour."
And while Joustra admits these new services remain a very small part of the market at present, he is optimistic about their growth – and indeed the growth of the sharing and service economy overall. "We see, fundamentally in society, at least here in the Western world, an enormous growth of the service society. That's what people want."
A circular fashion buzz
Twelve months after joining the C&A Foundation, Joustra says his main observation is that everybody is now talking about circular fashion, though loaded in various ways: from upgrading recycling to new business models.
Traction has been helped by the Foundation's flagship initiative, Fashion for Good. "This is a place where we want innovators to come together to improve the work of the whole sector and not just one or two companies."
Launched in early 2017, Fashion for Good is an industry-wide call for collaboration to help brands, retailers and manufacturers to find more innovative and sustainable ways of producing fashion.
US giant PVH Corp., owner of brands including Tommy Hilfiger and Calvin Klein, is the latest name to commit to the programme's innovation agenda, joining industry heavyweights Adidas, C&A, Galeries Lafayette, Kering, Target and Zalando.
The programme has so far supported 40 innovations across raw materials, cut-make-trim, wet processing and end-of use, and most recently revealed plans to open a museum next month to showcase more than 50 innovations on the verge of disrupting the fashion industry. The Fashion for Good Experience aims to change the hearts and minds of its visitors by helping them discover the stories behind their clothes, learn how they can take action – creating a collective movement to make fashion a force for good.
It has also unveiled the latest batch of start-ups awarded a place in its Fashion for Good-Plug and Play Accelerator, a collaboration between Fashion for Good (with C&A Foundation as founding partner), Plug and Play and corporate partners Adidas, C&A, Galeries Lafayette, Kering, PVH Corp., Target and Zalando.
Launched last year, the Accelerator aims to fast-track sustainable innovation within the luxury and apparel industries.
"More and more we are discussing how can we change the system through creating new business models."
"Many of the discussions in the first phase were on how can we improve recycling," Joustra explains. "But now, more and more we are discussing how can we change the system through creating new business models and how can we create the conditions for change. Because when we don't create these conditions, whether it's in policy, or in new market positions, or in new ways of doing business, then nothing will really change. We will make some improvements, but that is not enough these days."
Walking the talk
Yet with all the buzz in the industry regarding circular fashion, how is it that so many companies are lagging behind when it comes to adopting circular business models?
For Joustra, there is an enormous gap between what he calls the "talking and the walking."
"Lots of people are now talking about circular fashion, but only a few are really looking for the new business models," he explains, "though thinking in circular business models is relatively new, so maybe it is not 'lagging' but time needed for understanding and implementing based on re-design of the business models."
"The difference between the talking and the walking; that's what we call the implementation gap."
"There are a lot of companies optimising the existing fashion system, using (somewhat) better materials, (somewhat) better chemical procedures and working on recycling, but the difference between the talking and the walking; that's what we call the implementation gap."
The main challenge is getting C-suite executives in a "creative mood," moving away from the fundamental business model they've been trained within for the last ten to 30 years.
"Many of the first replies we get is 'That's impossible. It's a nice idea but it's impossible'.
"My response is 'Why do you think it's possible to keep your existing model working?' because there are some trends that show as the existing model gets more and more tension on it, footfall goes down and online sales go up, but not that far – and in between, almost nothing happens."
He cites the example of Steve Jobs and Apple, noting how everyone thought he was "crazy" when he first presented the iPad. "He had to explain to us, 'No, this is something new, this is not a phone. It uses the same technology, but it's not a phone, it's another device', and that was not even ten years ago.
"He did not wait for the market to ask for the iPad. He identified a possible market niche that nobody else had seen before, and of course, he was able to create this product.
"In the fashion industry, all companies already have the ability to create fashion. And these businesses have connections to their clients through brand loyalty. So let's make the consumer a customer, a customer that uses the materials but does not get the ownership of the materials. This gives you as a company the possibility to do some asset management, because then the products will stay assets of the company," Joustra explains.
Continuity
And such a circular model is not only good for the environment, it's good for business.
"It's pretty simple," Joustra says. "When you have a service contract, you have a long-term relationship with your customer, and when the service is satisfactory, the customer will choose to stay with you. You build continuity in your business, and that's very important for every business, not just in the fashion industry. How can we create more continuity? How can we have a long-lasting relationship with the customer?"
Such a relationship used to be a very local issue but now, with the anonymity of online shopping, and huge flagship stores, "nobody knows me," Joustra says.
"Yet when the service provider knows my behaviour, knows my wishes on fashion, knows how they can service me on that, I will have a long-lasting relationship with them. And long-lasting relations are, from a business perspective, always better than an incidental relationship, which is now the basis of the whole trade in the fashion industry."
A circular future
Looking ahead, Joustra hopes to see a "huge part" of the fashion industry adopting a service-based role and connecting to the sharing initiatives, a move he says would be a big step forward.
"I hope to see better designed garments, a higher rate of reuse of materials, meaning closing the loop is the normal thing to do, and of course, facilitate the guilt-free consumption which means there is no hazardous chemicals, good working conditions, no child labour.
"The long-term aim is to create a responsible fashion sector."
"We want people in better working conditions, we want more gender justice and more for groups that are normally overlooked, and we want to get as much organic cotton in the market as possible. The long-term aim is to create a responsible fashion sector," he summarises.
To get there, Joustra suggests companies should invest time in exploring new business models – and C&A Foundation is currently in the very early stages of developing an 'implementation strategy' to help companies rethink the way they operate in the marketplace.
"The main step would be that all companies spend maybe just one or two days in a 'design thinking workshop,' so that they get a clearer idea of their own potential for a new future.
"I hope that in the upcoming years we see ten or 20 of these workshops within companies, because we need the creative thinkers to design the new business model."
Also key is to re-think and re-design the existing 'fast fashion' concept in which ever-increasing amounts of cheap garments are produced for short periods of wear resulting in an enormous surplus of used or unwanted clothing. How can the fast fashion become the feedstock of materials for next phases of fashion?
"We need to change the focus from fashion-design only and have more focus on product design, with an eye on end of use quality. Circular business models will change the existing race to the bottom on price driven competition."
As it seems is his nature, Joustra remains optimistic, noting the pressure on brands and retailers to be responsible for their entire supply chain back to the raw materials is helping to drive a more circular sector.
"It's already happening," he says. "There have been a lot of NGO publications on wicked problems in the existing fashion industry and that helps the fashion sector to make new steps. So some pressure from outside is always good for the process of change."
Registration is now open at the IAF Convention website, where more information and the full programme on 'Building a smart future for fashion' can also be found. Click here for details.