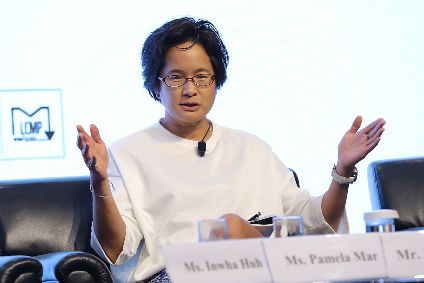 Digital technologies, robotics and artificial intelligence are starting to bring more speed, efficiency and transparency to apparel supply chains – but less well documented is their potential impact on job losses and social unrest, especially in Asia. It's a balancing act that Pamela Mar weighs up in her roles as director of sustainability at the Fung Group and EVP of Supply Chain Futures for the Fung Academy, as she tells just-style.
The accelerating march of digitisation and automation into apparel supply chains is being driven by a perfect storm of circumstances. For a start, the technologies are improving and their price is falling, just as rising labour costs in supplier countries across Asia are driving factories to seek new tools to drive efficiencies in production.
At the same time, global brands and retailers are demanding more real-time information to help understand and respond to rapidly changing consumer demand, along with more transparency, traceability and end-to-end visibility into the factories that make their clothes.
Indeed, one of the main proponents of this new direction is global sourcing giant Li & Fung, the trading and logistics division of Hong Kong-based Fung Group, which has put the creation of smart, connected factories at the heart of its vision to create "the supply chain of the future."
But while the good news is that all this can empower suppliers to provide better quality, better speed and agility, societies must also face up to the potential loss of millions of jobs that are currently created by labour-intensive factories.
The question is how Asia can avoid social upheaval and unrest while still encouraging manufacturers to adopt new technologies that are key to their survival
For Pamela Mar the question is how Asia can avoid social upheaval and unrest while still encouraging manufacturers to adopt new technologies that are key to their survival.
As director of sustainability at the Fung Group, "there are a handful of issues that will be affecting our Group companies in three to five years. We have to address these responsibly," she tells just-style.
On the other hand, as EVP of supply chain futures for the Fung Academy, the Fung Group's leadership and innovation arm, "we are actually launching the applications and tools that are helping factories digitise, like process digitisation, using sensors, using RFID, so that retail to sourcing is connected.
"If you can't connect to the factory, faster sourcing can only go so far. So we want to help suppliers upgrade. Not to mention that suppliers are under a great deal of pressure because they can't be fast enough, they can't be flexible enough, they always need to be more efficient. And so the only way to actually achieve all that is to go digital."
Responsible automation
Mar believes that now is the time to prepare for the rise of these new technologies, and that both industry and government must commit to 'responsible automation', where workers are equipped with skills to make them relevant to the digital economy.
"I'm pro technology. I believe technology is a big part of the answer to Asia's supply chain pressure. It will give suppliers more margin. It will give them more visibility. But we can't just do it for that: it's got to be part of responsible social development from a societal point of view.
"AI and automation will be net creators of jobs, but the jobs won't be the same. They won't be in the same time frame; and they won't be in the same location. They will probably be more data intensive, more analytical, more working with collaborative robots. And that requires different skills."
The prospect of greater automation has already led to warnings that workers in Southeast Asia's textiles, clothing and footwear industries are most likely to lose their jobs, with women the most vulnerable.
Indeed, a study by the International Labour Organization (ILO) suggests that of the 9m people working in the sector in the ASEAN (Association of Southeast Asian Nations) region, 64% of Indonesian workers, 86% of Vietnamese workers and 88% of Cambodian workers are at risk.
"I believe technology is a big part of the answer to Asia's supply chain pressure. But we can't just do it for that: it's got to be part of responsible social development from a societal point of view"
But a big concern for Mar is that there is not yet sufficient momentum from governments and policymakers to prepare for this transition.
"Some governments are getting it faster than others. And while it's not only an Asian issue, I think the need here is so great because textiles and garment manufacturing supports millions of jobs. In some countries, the sector accounts for as many as half of all manufacturing employment. We have to figure out what is the right paradigm to grow.
"We also have to continue to push governments to make the education system more relevant; they're basically educating students for a world that doesn't exist anymore.
"We [the industry] really need to form a partnership with government and have an honest discussion about what are we both going to do to make sure that workers who leave factories do so with relevant skills to the digital economy. And that workers who stay are able to navigate, function, be data relevant, analyse, be proactive.
"It's all about moving from this top-down test-taking mentality to something that is more innovative, creative and risk taking. And if we can do this, then Asia can be the new paradigm for how countries navigate through value chain upgrading and adapting to technology."
However, she says: "I would rather go slowly on digitisation and automation because that gives us time to make sure we have a social safety net and to change the way we educate people and to change the mindset of our supply chains and factory managers. They've been trained to do what the buyer says – but we need to train them to define who they are going to be to the buyer."
Collaborative effort
There's also a role for factories to engage workers as they modernise their operations. "It can be part and parcel of factory upgrading," Mar says, noting that a Fung Group factory in Thailand has been digitalising processes using sensors and Internet of Things (IoT) platforms – and training workers on the new equipment as it is being installed.
"Many of the employees have been there 15, 20 years, so they are not digital natives. They are learning the technical skills required to actually operate in that more digital environment where they have to read and analyse data. And they can do it." It also brings tangible benefits in terms of worker confidence, and the contribution of new ideas and innovations to the business.
Other initiatives have included the joint launch by Fung Academy and Li & Fung of a smartphone app earlier this year to educate factory workers on critical life skills, and allow management to engage with them through surveys and announcements.
"While it's not only an Asian issue, I think the need here is so great because textiles and garment manufacturing supports millions of jobs"
"We want workers to get used to learning online, and get away from this idea that education stops when you leave school," Mar explains. "And there are benefits for the factories, because if they engage employees better, then employees will stay. There are also productivity benefits…so everybody wins."
The app initially launched across 10 suppliers in Vietnam – reaching thousands of workers – and garnered over 26,000 screen views in just six weeks. India and Indonesia have launched and Cambodia and Bangladesh will follow next.
Maintaining Asia's relevance
Making Asian supply chains more relevant for the digital economy is a theme that Mar returns to repeatedly.
"They need to be digitised. They need to be fast and flexible and sustainable. And they need to move out of this mindset of labour intensive manufacturing.
"We've got a lot of industrial infrastructure which was built in 1980, 1990, which is totally depreciated, but is still valuable and can still be used – but we are not financially incentivised to upgrade.
"We need to get over that and we need to ask how do we digitise processes while not throwing away all our old equipment. How do we use what we have and add technology to make it more efficient?
"If we want to continue to be the Asian factory for the world and to base our economic development and social development on manufacturing, then we have to make ourselves better and we have to become relevant. And we have to be that place where brands and retailers and buyers, with huge demands about speed and visibility, can get what they want.
"Eventually, part of Asia will break through middle income, with diverse economies based on retail services and smart manufacturing. But while we're in this period of low- to middle-income, we can't just think that the old model is going to work. It doesn't."
Changing supply chains
As part of Li & Fung's plans to reinvent its supply chains, the company's position at the centre of a network that spans 15,000 factories in around 60 countries, and 8,000 customers in 100 countries, gives it a perfect vantage point to see what buyers want – and the pains of suppliers.
"So it's a question of finding that small space of overlap and then really zeroing in on it.
"We're launching applications and we're putting sensors into factories and so on; we're building up a stable of demonstration cases, which we will then use to go to other factories to build that IoT network, which is going to help drive performance across our entire supply chain."
"We need work together to actually change how the supply chain works. And for us, digitisation is a big part of the answer"
A key criteria is to ensure that any changes are "priced and designed for emerging markets. We're not talking about the million-dollar production management system because that's not the level at which our suppliers can invest.
"Suppliers understand they need new technology, that they need to stop using paper tickets, to train up their employees better, and do more with data. Now, does that mean they're going to go and invest in digital systems? No. Because the industry is very transactional, and relationships are short. So even for investments which are net positive, there's a period of six months or a year where there may be some teething issues. And historically, suppliers haven't had the flexibility to work through these without losing ground with buyers, who themselves are under pressure from consumers and changing retail markets.
"But we have to change that because it's a broken system. It's not good for the workers; it's not good for the suppliers; and the brands aren't getting what they want either.
"So we need work together to actually change how the supply chain works. And for us, digitisation is a big part of the answer because it's all about transparency, it's all about seeking the way forward based on what the data says."
Ultimately, the goal is for "the signal from the register to be felt in tier two or three in the supply chain in real time."
Meeting consumer demands
The incentive to persevere, of course, is because "that's how we need the supply chain to operate. That will be the supply chain that can meet consumers' demands, which are changing all the time. And it will cut down so much environmental waste.
"We have to get better at understanding consumer demand and actually producing the product that someone is going to want to buy. And that's all about data.
"The other thing is to produce in smaller lots – and the only way to do this is to digitise more of the operation so that you can do small quantities as efficiently as you can do large quantities. We're not going to have orders of 500,000; it's going to be more like 50 orders of 10,000.
"Smaller lots necessarily means more styles, and as we digitise development and virtual design, those styles can be attribute-based and driven by AI.
"So if I have a shirt, and the signal from the consumer is telling me it should be blue dots instead of red, that style can actually be done by the computer. Then you can send that tech-pack design module to the factory, and make a thousand. A few years ago it would be crazy to do a thousand. But today you have software that generates hundreds of styles in a fraction of the time taken by a designer.
"Fashion is a business, not an art, so the more we can use business technology and data to give the consumer something that is more fulfilling, it will be cheaper and it'll be more resource efficient. And once you digitise that whole process, then you can do carbon footprinting at scale."
But it's also about finding the right technology to solve a problem – rather than trying to find uses for new technology.
Take blockchain. "Yes it can deliver traceability and transparency in the supply chain, but is it the best technology for the task? Because if you're only looking for transparency and traceability, you could use IOT, you could use sensors, you could use RFID, and they're all a lot easier.
"We've discovered that blockchain is a critical technology for the supply chain, but we are still discovering how exactly it will work.
"The thing is, you never start out knowing what the future looks like. You just know that you have opportunities in the short term to make changes in terms of digital connectivity in various parts of the supply chain.
"And I see this as entirely doable. The technologies are there. They're in the price point which makes them accessible. The knowledge is there. We can see it's done elsewhere in the world. And also the market pressures are there. So what are we waiting for?"
See also: