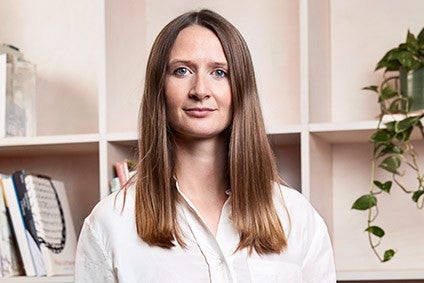 Set up to test and scale the game-changing concepts that will help drive the fashion industry towards a more sustainable and circular future, H&M Group's The Laboratory innovation hub also aims to challenge the way of thinking within the company – as Laura Coppen, circular and sustainable business developer, explains.
"What we do strategically is test small and then scale smart when we really have the learnings on hand," Coppen tells just-style.
The internal innovation department, which started up almost four years ago, is retail giant H&M Group's research and development platform, tasked with "challenging our thinking" and "giving us fresh perspectives" on everything from innovative business and service concepts that explore how consumers will shop fashion in the future, to the technologies and solutions that will help steer the industry to becoming fully circular and sustainable.
The hub has been running a number of pilots since its inception. A collaboration last year with H&M Germany saw the production of a unique collection custom-made for shoppers in Berlin.
And the retailer's COS stores teamed up with The Renewal Workshop to make a "first of its kind" collection by mending – and re-selling – damaged clothing sourced from the brand's own supply-chain or returned by customers. The collection launched in three COS stores in Berlin, Stockholm and Utrecht.
One of its latest initiatives has been on-demand manufacturing for its youth culture brand Weekday. Customers can choose either a T-shirt or a sweatshirt made from 100% organic cotton, and customise it by selecting a variety of different prints, text and stickers – with products manufactured and shipped directly to customers in 2-3 days from a supplier in Bulgaria. Currently available in 15 countries across Europe, discussions are already underway to scale the model up further following a "very successful" test period.
Sustainability on-demand
"We see the on-demand model as a great opportunity of being sustainable yet profitable," says Coppen. "Part of what we do in The Lab is to incubate new models, such as on-demand or reusable packaging, for a certain period of time until we see that success. And then to ensure scalability we have to hand over to the bigger business, and we are in that stage now of handing over to scale-up."
Weekday is just one of nine brands owned by the fashion giant, which operates stores in over 73 markets and carries out over 800m customer transactions per year.
It also provided the test-bed for a custom-fit denim pilot last year to tackle the challenge of size and fit. 100 customers were body-scanned and offered a selection of customisation options to design their perfect pair of jeans. The body scan was converted into a production-ready pattern and measurement list using an algorithm created by start-up Unspun, with the jeans produced as unique items in partner factories – a process that took ten days from customer scan and customising to delivery. Over the last 18 months the algorithm has been tested and refined to ensure it becomes increasingly accurate over time.
"2020 is going to be an interesting year," Coppen says. "You're going to see a lot more of these on-demand tests popping up and we really do believe this is a great model for us to explore. Circularity, of course, is inherently about using resources sustainably and one central aspect is to avoid over-production, and on-demand plays a very important role in that.
"We don't have all the answers, so this is why we take the test approach where we put these models in front of our customers, test the infrastructure on the back-end, and learn to scale from there."
Supply chain disruption
H&M Group's products are made in 2,383 supplier factories around the world, but inevitably, the on-demand manufacturing model "is completely restructuring how the supply chain has traditionally been set up.
"It requires new machinery, new processes, and that is pretty disruptive. How we approach that is to start with one factory, learn about how this process should be set up, learn how to optimise it, and then scale from there.
"One key thing for this disruption is that we need a local supply chain to be close to our customers, because on-demand inherently means we need to be quick to customers' demands."
Re-packing the system
With the group seeing a 30% year-on-year surge in third-quarter online sales, H&M's most recent pilot is a reusable packaging system – which ran as part of the on-demand test with Weekday to tackle the issue of increased packaging waste from online orders.
With a view to pushing the industry away from a linear packaging model, the retailer partnered with Finnish start-up RePack to develop an initiative that re-circulates the same packaging over and over again. After receiving their order, customers get a discount if they return the packaging, which is cleaned and used again.
Introduced in September last year, Coppen says it is still too early to gather results from the test, but adds: "Overall we've seen from our customers from a survey we sent that they absolutely love RePack, they love the idea of reusable packing, they found it very easy to understand the process, and they were very happy it is a test that looks at removing the use of single-use plastics."
She adds: "A reusable packaging system makes sense for us to test as we are also sending items directly from the factory to customers.
"The test isn't finished yet so we can't give an exact percentage [as to how much packaging has been returned so far]. On the RePack there is a prepaid return label and that is basically snail mail, so the idea of using the slowest postal service is that we get a lower cost on that return delivery and it goes on slower ground transportation, which removes unnecessary emissions."
She adds that not all customers are immediately returning the packaging, making it hard to conclude on a return rate.
"This is, of course, a new behaviour for customers to learn. It's not very common to return packaging…they have to understand the model, which from the survey they say they do, which is great, but we also know it needs to reach a critical mass so that many brands are adopting the same model so it becomes more of a normal behaviour. But we do think there is great potential to scale-up the reusable packaging model."
There is no time limit for the trials The Laboratory carries out. Instead, Coppen says the intention is to reach a point where the team can see scalability. For the reusable packaging system, H&M will "absolutely" look to roll it out beyond Weekday if it is successful.
Agile thinking
The team at The Laboratory is "deliberately quite small" with just 15 full-time people so it can "remain agile and work quickly."
On top of this, they can tap into "a lot of expertise around the organisation," as well as a wide stakeholder network externally. "The USP is to collaborate with a network of start-ups, such as RePack, and bring these into the organisation through pilots."
Although still in its early days, Coppen says The Laboratory set-up is designed to be agile so that it can change and adapt to industry challenges.
"We're built in the way that agility is inherent in everything we do. We have the right innovation set-up and mindset to tackle changes as and when they come, and with The Laboratory we are constantly researching, we are constantly working on new pilots, so it's really a learning environment. As the industry changes, we change too. Or, at least, that is our intention."
Sizing up the challenge
The challenges that are shaping the industry, Coppen says, are varied given the size of the fashion supply chain.
"When you innovate, change doesn't happen overnight, and it doesn't happen with just us alone. We are only 2% of the fashion industry in total so collaboration with other brands and industry partners is very important. It requires intense innovation to find solutions and you don't tend to find the solutions first time around, you have to have a very agile approach, otherwise it's near impossible to make that change."
In particular, Coppen points to the need for collaboration on scaling up and accelerating. She is optimistic. "Hopefully 2020 will be a year of action. We are definitely on-board for that change to be implemented. It needs to be visionary, it needs to be bold, and we are on our journey."
Also key to driving change is to connect with the customer to truly make a difference.
"It goes into customer psychology. It's about making it convenient for the customer, making it extremely clear, and making sure that we also make it a little bit fun. Then you will see the behaviour shift.
"With re-packaging we knew from the very beginning we had to talk to our customers in multiple different ways. On the packaging itself, we sent them an email on how to use the process, and we communicated it on our website."
Coppen understandably has ambition for The Laboratory and wants to some of its sustainable business models run at a certain level of scale in the next five years and beyond.
"We need to offer customers more accessible and convenient choices through rental, re-commerce of second-hand goods. And if we can operate any of these models at scale – or all of these models at scale – the fashion industry will look super different than it does today and that is a good ambition for us to reach."