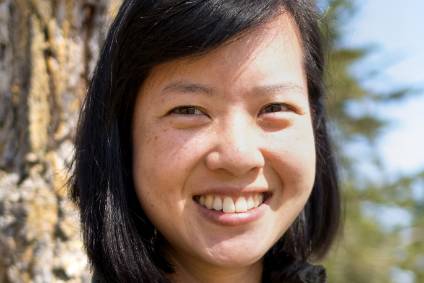 The North Face is waking up to the practice of regenerative farming in its cotton supply chain. As Carol Shu, senior manager of global sustainability, explains, it not only has a positive impact on nature and resources, but is another critical step in addressing climate change impacts.
As the largest brand in VF's outdoor segment, The North Face reported annual revenues of US$2.3bn last year, up 3% thanks to growth across all channels and regions. It currently operates around 200 stores globally, in addition to selling its products through partnerships, concessions and online.
With sustainability a key focus for the brand, its most recent endeavour places a greater emphasis on the farming ecosystem by sourcing more sustainable cotton from farmers deploying regenerative farming practices that improve or restore soils by adding cover crops, reducing tillage, and other practices such as rebuilding soil organic matter.
As the first apparel brand to partner with agricultural technology startup Indigo, the aim is to develop a collection that will hit shelves in autumn 2022 by working with growers who have transitioned to farming practices that draw down carbon from the atmosphere and restore soil health.
"Not a lot of people know what the term regenerative really means, so this is a good opportunity for us to adopt regenerative cotton in our supply chain," Shu explains
"We are obviously a very synthetics heavy business, we mostly use polyester and nylon, those are our top two materials – and then cotton is our third most commonly used material. We've already been working really hard on converting our synthetics to recycled content, we're making a lot of progress on that front; so figuring out how to source better cotton was really important to us as a next step and Indigo presented the perfect opportunity."
Growers who implement regenerative practices are rewarded with a premium on the sale of their cotton and through third-party verified agricultural carbon credits that provide an additional income stream per tonne of carbon dioxide equivalents sequestered and abated.
Regenerative ramps up
Adoption of regenerative farming practices in the apparel and textile industry has been slow, but it is gaining in popularity.
Earlier this year, French luxury goods group Kering partnered with Conservation International to launch a new fund that aims to turn 1m hectares of farms and landscapes producing fashion's raw materials to regenerative agricultural practices over the next five years.
Timberland, another VF Corp brand, has also taken interest, aiming to source 100% of natural materials from regenerative agriculture in ten years' time.
The North Face believes the launch of regenerative products will help the company transition from recycled products that do less harm, to replenishing or having a positive impact on nature and the planet's resources. Shu says it has also helped the brand make deeper connections with the upstream end of its supply chain.
"Supply chains are always complicated. With Indigo and our cotton, we're really going further back in our supply chain than we usually go, so all the way down to a yarn spinner level. We have really strong relationships with our mills and cotton factories so we've built a new relationship with the yarn spinner too.
"That's a challenge but it's also our biggest opportunity, leveraging the partnerships we have in our supply chain and just growing those one step out of the bounds of the fabric mill. When you partner with folks that share your values it just makes everything a lot easier. The supply chain we've developed for this cotton is amazing. They all understand the importance of it and why. It's kind of game-changing for us."
At present, only a small amount of the cotton sourced by The North Face is from regenerative practices. The brand also uses organic cotton, much of it from India. "Our goal is to convert our cotton globally to recycled or regenerative. We have been increasing our usage of recycled cotton over the past few seasons."
The regenerative cotton programme will initially take place as a pilot, "just to ensure everything runs smoothly in our supply chain," Shu says, "because we are definitely disrupting normal practice with what we're doing with Indigo." The plan is to incorporate more of this cotton in the future.
Riding the pandemic wave
The brand's sustainability work has not taken a back seat during the pandemic, although with all the mandated closures in all of its regions there were inevitably unforeseen impacts on the supply chain. "The good thing is we were able to be pretty agile and work through it with help from our parent company."
In December 2019, The North Face issued its Science Based Targets, which included an absolute reduction of Scope 3 greenhouse gas emissions by 30% by 2030, from a 2017 baseline year, focusing on farm-to-retail materials, sourcing operations and logistics.
"That's very aggressive and so it really holds us accountable and it also keeps us on this forward-facing path. No matter what, we have to keep making progress and moving forward."
Engagement over education
As an outdoor clothing company, customers of The North Face are more inclined to be shopping with sustainability in mind. But Shu suggests engaging, rather than educating, consumers can often be more effective.
"When we first launched our pilot beneficial wool collection in 2017, it was very difficult to figure out how to explain the carbon cycle and what carbon farming was to the consumer, so we kept it really simple. We created a really beautiful graphic and had one of our athletes, Margo Hayes, wearing a beanie in the photo that we posted on Instagram. Like that it caused attention and made consumers wonder what was so special about this wool. So you have to think about how you engage consumers in a way that will attract their attention. You draw them in and then you explain to them, what it is, and what is so special about it."
The pandemic has also led to a noticeable increase in interest in climate change and social issues from consumers – which ultimately places more pressure on brands.
"If you look at consumer insights on Gen Z and Millennials, it's pretty clear where their preferences are. With all the Greta's of the world and all the attention on climate change, people just expect companies to be doing better. It's an expectation, so you have to meet that expectation at the very minimum and stay relevant with your consumers."
In recent years, The North Face has placed more focus on chemical responsibility and has been working to replace Durable Water Repellency (DWR) chemicals with environmentally preferable options. It partnered with Bluesign Technologies to help its mills reduce their impact by using water and energy more efficiently and by addressing harmful chemicals at the fabric level.
It is also working to increase the amount of recycled plastic in its polyester fabric, and helped create the Responsible Down Standard (RDS) in partnership with Textile Exchange.
Clothing and textile waste is also high on the agenda. The brand currently has a Clothes the Loop programme running, which allows consumers to drop off their unwanted clothing and footwear at its stores in the US, the UK and France. The items are repurposed for reuse to extend their life or recycled into raw materials for use in products like insulation, carpet padding, stuffing for toys, and fibres for new clothing. Over 45,300 kgs of clothing and footwear have been donated to date.
In 2018, The North Face launched its Renewed programme, which enables the brand to sell its pre-owned apparel that has been washed, repaired and quality checked, at a lower price point. The programme has so far diverted more than 200,000 pounds of clothing from landfills. Last year this was extended, providing its designers with an opportunity to learn the principles of circular design and implement them into future brand collections.
Renewed called Remade is another initiative to tackle clothing waste, which involves upcycling garments and "frankensteining pieces together" so you can buy a completely unique jacket that you wouldn't find anywhere else.
But the idea of ensuring the longevity of an item of clothing goes back to The North Face's early days.
"We have had a warranty programme for 50 years now. Five years after we were founded we implemented the warranty programme. The average life of a product that goes through our warranty is seven years, so it is worn for seven years, we fix whatever is wrong with it, and hopefully that person is going to own it for another seven years. We're really focused on keeping products in use for as long as possible and getting folks to use our warranty."
'Exploration without Compromise'
Announced today (20 April), as part of the brand's new 'Exploration Without Compromise' vision, The North Face has committed to ensure 100% of the top materials it uses for apparel will be recycled, regenerative or renewable by 2025. While 100% of the brand's polyester and 80% of its nylon fabrics will be made with recycled content by 2023.
Other commitments include the acceleration of the sustainability of its operations, logistics and packaging, and the launch of its own fully circular apparel of converted franchise styles by autumn 2022. This includes the elimination of all single-use plastic packaging by 2025.
The 'Exploration Without Compromise' seal will easily-identify the brand's most sustainable products online and in-stores, as well as on Renewed circular products. To earn the badge – apparel, equipment, and accessories must be made with 75% or greater recycled, organic, regenerative and/or responsibly-sourced renewable materials by weight. If the product has a DWR finish, it must be non-perfluorinated chemicals (non-PFC) DWR.
Making a difference
Much of the innovation in sustainability is reliant on new technology.
On the regenerative farming project, for example, Indigo has been using satellites to help monitor the farmers' soil, which enables the impact of carbon farming to be measured. While this can be expensive, it "helps prove that what they're doing is making a difference."
"There's a lot of really exciting technology in the circular space as well," Shu adds. "Like helping to track the life of a garment over time, I think that'll be great. And then on the traceability side, there is technology helping to manage certifications and documentation for proof of recycled materials or organic cotton in a more streamlined way to make it easier for everyone."
While these are technologies The North Face is looking into for the future, for now the priority is leveraging consumers' interest in shopping sustainably, and doing a better job of engaging with them on why it is so important.
"How do you make better decisions when you're shopping for a product? It is one of the number of things you hear in consumer insights. Consumers don't know how to make a better choice so we need to make that easier for them."
But there is also untapped opportunity in the regenerative space. "Kering has come out with some really amazing work. Our sister brand Timberland has a lot of projects in the works too with regenerative leather. I think that's really exciting and is going to send signals to growers, land managers across the world that there is interest in this and they can become economically stable and profitable by doing these practices and really protecting their land.
"Regenerative products have the ability to shift the industry from simply 'doing less harm' to actually replenishing or having a positive impact on nature and resources, and as a brand that is committed to protecting the outdoor places we love to play, we believe this is another critical step in addressing climate change impacts in our supply chain."