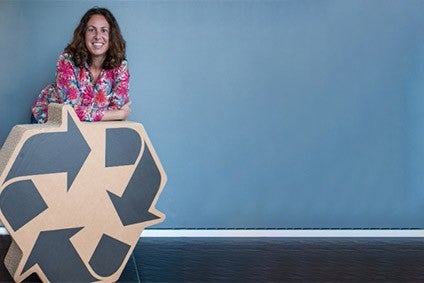 More than a year into its new global sustainability and responsibility strategy, apparel giant VF Corp is helping to drive efforts to lead large scale commercialisation of circular business models. As Anna Maria Rugarli, senior director of sustainability and responsibility for EMEA at VF International, explains, there are opportunities ahead to make circularity work.
The US$12bn powerhouse, which counts industry heavyweights such as The North Face, Timberland, Vans and Wrangler among its portfolio of about 25 brands, launched 'Made for Change' in November 2017. The forward-looking strategy, which was almost eight years in the making, commits VF to a series of sustainability goals across its business and global supply chain and focuses on three pillars: Circular Economy, Scale for Good, and Movement Makers.
On Circular Economy, the goal is to lead large-scale commercialisation of circular business models; in Scale For Good, it wants to "halve our upstream environmental impacts that come from farm to front door," namely raw materials, climate change and worker well-being; while Movement Makers wants to connect the company's employees and consumers with VF's purpose to "power movements of active and sustainable lifestyle for the betterment of people and our planet".
But its reach goes far beyond just hitting sustainability targets. "We engaged senior leadership at global level to produce a forward-looking plan that would not just be a sustainability strategy but a VF strategy as well; a business strategy," says Rugarli, who has served as a director of sustainability for EMEA at VF International since December 2010 and as a senior director for two years.
"The idea of Made for Change is that it's integrated into the business strategy and that we collaborate across the corporation and obviously with the brands as well," she adds, explaining her team of four work as "internal consultants" to the rest of the business, ensuring sustainability is integrated at all levels and in all departments of the group.
Recommerce
A recent brand-level example under this strategy is the "recommerce" initiative at The North Face. Unveiled in June last year, The North Face Renewed is a collection of refurbished clothing for consumers who want to access affordable gear and reduce their environmental impact. Available exclusively in the US so far, the initiative is a "great tangible example" of how VF is working to bring the concept of the circular economy to consumers, Rugarli says.
"We're using it as a pilot to gauge consumers' interest in this new way of interaction from our brands," she explains, adding that if the scheme proves successful it could be expanded into new markets and potentially across other brands.
"The idea is to engage with consumers in a different way; going beyond just buying a new product. It's really interacting with them and trying to understand their needs.
"Consumers are changing and the new generations are not necessarily only interested in owning things. They're also interested in experiencing products and brands in a different way through services. They might not be interested in just having a wardrobe full of jackets anymore."
Instead, the idea is to give consumers what they need for the amount of time they want it, before moving on to something different.
In this way, VF not only aims to fulfil the needs of its customers but to also extend the life of its apparel.
"Our products are known to be quality performance products and the idea that they get discarded in a very short time frame is just not in line with what we think is the right thing. Trying to extend the lifetime of all our products is also part of the new business model."
And it's important for brands to show consumers that they're working to transition the industry from linear to circular, Rugarli notes, adding VF is making a conscious effort to be more consumer-facing when it comes to sustainability and traceability.
"There is an expectation from consumers that we do that and that we take responsibility and make a stand," she says.
While this sense of engagement helps boost consumer loyalty, it's also a new way of driving brand growth: "We see this as a new way to build market share for our brands and feel it's going to contribute to our industry growth in the future."
Creating circular supply chains
As VF continues to make progress on its own business models, Rugarli says that infrastructure is the main challenge for the whole industry for adopting more circular practices.
"Circularity is one of the biggest challenges and opportunities because we are right at the beginning," she tells just-style. "We need to create infrastructure in order to move to this new model.
"We're creating it as we speak and it's going to take some time before we shape the infrastructure of the circular economy and, in a way, the new supply chain that we need to scale up to become circular. It's going to take some time, because there are not many players that can really build the supply chain that we need in order to make circularity work. It is a huge change the whole industry is facing."
The first step to building this new supply chain, Rugarli says, is to understand what she calls "the needs behind circularity."
"What type of raw materials can we use to ensure that we can reuse them after a product comes to an end? How do we need to build our products? We need to think about our products in a new way, from a new perspective," she explains, noting how important it is to begin thinking at the initial design phase how a particular item can be deconstructed at the end of its lifecycle.
"We need to design and build products in a different way to make sure that we are able to recycle or upcycle them, dissemble or downcycle them – whatever that's going to be. There's a lot of deconstructing circularity to understand what the needs are."
In addition, a lot of education is also required to support this new way of making products.
As part of its commitment to the circular economy and through its work with the Global Fashion Agenda (a non-profit working to set a common focus for industry efforts on sustainability) VF has pledged to train all of its designers in Europe by the end of 2020 to "really start thinking about what it means to design products from a circularity perspective."
It has also committed to collecting more second-hand garments from consumers in another effort to divert its products from landfill or from being incinerated. The group's Timberland and The North Face brands in Europe already work with I:Collect, a global solutions provider and innovator for the collection, certified sorting, reuse, and recycling of used apparel and footwear.
Collaborating to close the loop
According to Rugarli, it's this sense of collaboration that is required to close the loop.
"It's a shared responsibility across the industry," she says. " We all need to work towards this common goal. We need the whole industry to come together in building the infrastructure so we have more suppliers than can actually recycle certain materials, and more people that are able to collect these materials from consumers and educate them. If you don't have all of this coming together then it's going to be very challenging to do it as a single company, even as a big player in the industry.
"Collaboration is fundamental to the success of the strategy; you have to have all of the main companies in our industry really moving in the same direction."
This sense of working together also requires the vision to expand far beyond the fashion industry.
"We've seen that many industries can come together to actually make things work because sometimes, when we downcycle the raw materials, they cannot be used in our industry but they can become another material for another industry. A lot more of these cross-industry collaborations are going to happen in the future because of this.
"We just need to shift our perspective because the way we've been operating so far doesn't seem to be sustainable for much longer."
"When you have a big challenge you also have a great opportunity," Rugarli says. "If you look at it from this perspective you see a lot of things you can do and it goes beyond just our industry."
With a long way still to go, Rugarli is convinced the work to address and overcome the challenges in moving to a more circular economy will be worth it in the long term.
"My experience is that the more you know about something, the more opportunities you have; you know how much you can innovate in that space," she says, adding her great hope for the years ahead is that all of the goals and targets VF has set under its Made For Change strategy remain on track.
"If we manage to do that, it's not just a success for the sustainability team, it's a success for the whole company and all of our brands and the industry as well. My hope is that we are going to be able to lead in this space by creating opportunities for all brands in the industry to move in this direction.
"While many people are scared of change, the issues our society is facing from an environmental perspective, are urging us to do so."