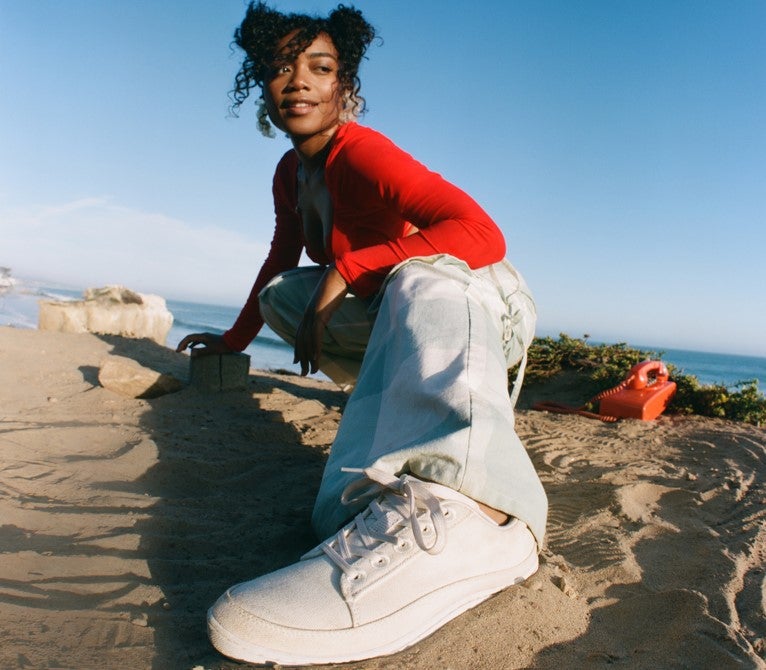 Allbirds Plant Leather, which was created in partnership with NFW is said to be a truly sustainable alternative leather that is 100% plastic-free, 100% vegan and only contains natural materials like rubber, plant oils, and agricultural byproducts such as rice hulls and citrus peels.
Allbirds believes the Plant Leather material, which is being used for its new Plant Pacer trainer, will unlock a new category and allow it to step further into the lifestyle footwear space.
Allbirds co-founder and co-CEO Tim Brown explains: "For way too long, fashion companies have relied on dirty synthetics and unsustainable leather, putting established ways of doing things and costs before the environment. We wanted to put an end to that, which led us to create the Plant Pacer. Through the innovative use of natural materials, like Plant Leather and others, we're going to continue stretching the limits of sustainable footwear."
The Plant Leather material joins Allbirds roster of natural materials, which include a eucalyptus tree fibre knit fabric, sugarcane-based EVA SweetFoam and castor bean oil-based SwiftFoam.
The Plant Pacer trainer featuring Plant Leather consists of:
Plant Leather Upper: made with MIRUM in partnership with NFW, has a carbon footprint that is 88% lower than traditional bovine leathers and 75% lower than synthetic "pleather" alternatives on the market.
Lining: developed using Allbirds's eucalyptus tree-based material, TENCEL Lyocell, the lining is soft, breathable, and provides enhanced comfort compared to traditional leather sneakers.
Midsole: uses Allbirds's SweetFoam, naturally made with sugarcane-based green EVA. This material makes for a lighter shoe that contours to your feet for all-day comfort.
Outsole and sidewall: crafted using natural rubber, the outsole provides grip and stability.
Carbon Footprint: the total carbon footprint of the Plant Pacer is 8.24 kg CO2e, which Allbirds offsets.
Design: inspired by the shapes and curves of the natural world, the silhouette includes an expressive wavy midsole, clean and refined detailing, unique tread pattern, and classic cupsole stitch.
The Plant Pacer trainer is also available in a canvas option with organic cotton and both are available from today (13 September) with a limited release initially that will expand moving into 2023. The Plant Pacer has a GBP120 RRP (US$140.57) and the Canvas Pacer has a GBP110 RRP. The trainers will sit within the company's lifestyle category with more products expected to launch in 2022.
Allbirds VP of product design Ashley Comeaux says: "The Pacer represents the next generation of our brand, contributing to a community of consciously-minded leaders who can wear their values on their feet as a wardrobe staple."
In May Allbirds unveiled a running shoe called Tree Flyer that would not sacrifice on performance but would offset its own carbon footprint.
A month earlier Allbirds and German sportswear giant Adidas released a new iteration of the Futurecraft.Footprint shoe to demonstrate that low-carbon running shoes could be delivered at scale.
Meanwhile, earlier this year Just Style interviewed NFW's founder on why scalability is key to achieving true circularity.