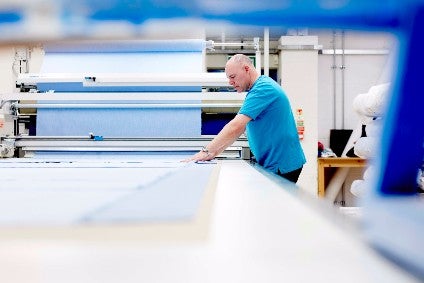 "Made in China" has been a label found sewn into many articles of clothing in the western world for many years – but that's about to change, new research suggests.
Low wages have made China and Southeast Asia unrivalled locations for garment production – but the tide is now starting to turn, according to McKinsey & Company.
A pair of jeans produced in Mexico, for instance, currently cost 12% less than in China, when adding together production, transport, and import costs, the management consulting firm says in a new study 'Is apparel manufacturing coming home?' The same goes for the European market, where a pair of jeans from Turkey shows 3% lower total costs, it adds.
"For some garments with lower-cost production, it now makes sense to nearshore production to Europe or North America. But the main reason for so-called nearshoring is the extremely shorter delivery times it enables, which allows apparel companies to react to trends more quickly and be more agile in aligning collections," says Karl-Hendrik Magnus, McKinsey partner and expert in the apparel industry.
A garment from Southeast Asia can take up to 30 days to transport by sea to Western markets – whereas transport from Mexico to the US takes only two days.
Consumer wishes: fast is not fast enough
"Quick reaction times are a must in order to stay competitive. The times in which consumers would wait half a year for a hip garment are long gone, adds Achim Berg, who heads McKinsey's fashion industry consulting arm.
"Today, fashion companies need to have agile structures so that they don't miss out on trends that pop up on Instagram and so they can avoid ending up with an oversupply of goods."
Another advantage of nearshoring: it can boost sales volumes and sell-through rates, since trendy pieces are more quickly available. Up to 5% of goods are sold to customers at full price. More than three-quarters of experts surveyed for the study believe that a shift back to nearshoring by 2025 is likely, due to the shorter delivery times that would result.
Automation: an opportunity for more sustainability
A further boost for nearshoring comes from automation since it increases productivity. Still, the apparel industry lags behind other sectors when it comes to automation.
The technology for automating labour-intensive sewing work is in general, not so far along, although some technologies have become market ready in the meantime, such as robots and laser technologies for producing jeans.
Over the next 10 years, some 40% (for more complex garments) to 70% (for simple pieces) of working time can be eliminated through automation and along with this, also a big share of costs. Production of a simple pair of jeans could take just 11 minutes instead of the current 36 minutes.
Another advantage of automation in nearshoring: it makes production more sustainable because fewer resources are wasted.
"Automation goes hand-in-hand with less usage of water, energy, and chemicals. Nearshoring also reduces transport routes and thus, ecological footprint. Furthermore, nearshoring enables more on-demand production, which leads to a decrease in overstock liquidation," explains Saskia Hedrich, co-author of the report.
This is a development that consumers also find attractive: more than two-thirds of the industry experts surveyed believe that by 2025, sustainability will be a key factor for apparel customers to purchase a product.
See also: Four first steps to nearshoring apparel supply chains