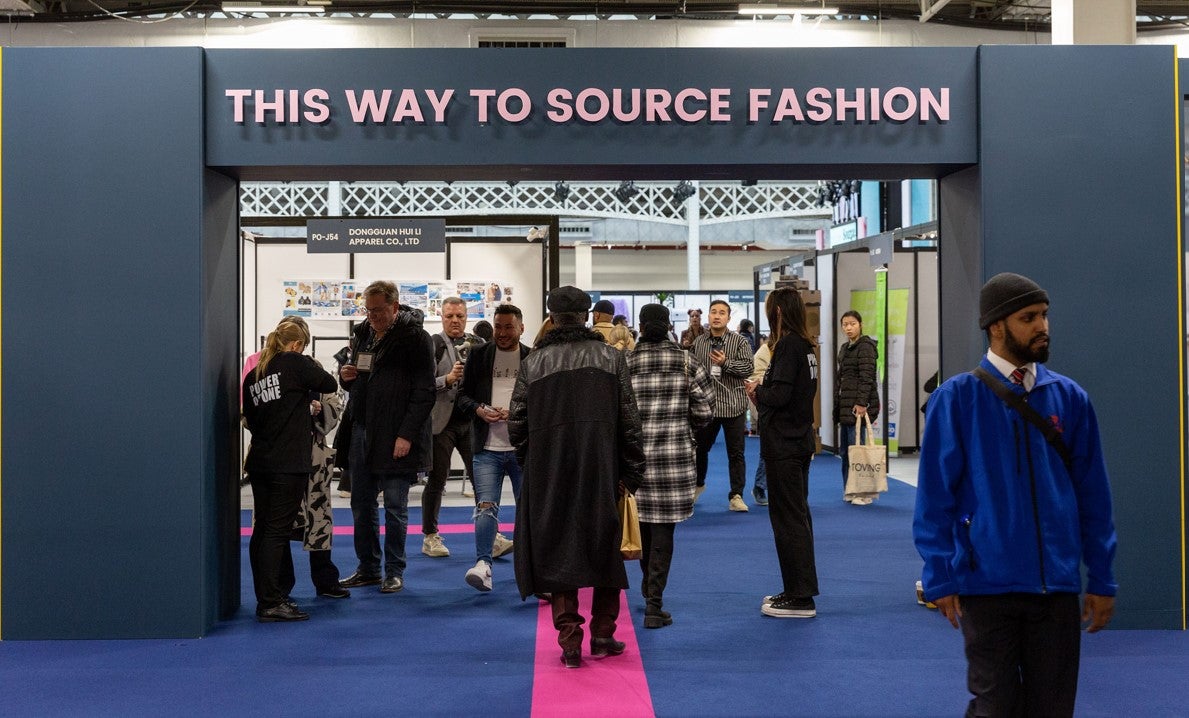 Source Fashion, which is taking place this week from 12 to 14 February at Olympia London aims to help fashion suppliers and manufacturers do responsible business faster and help UK buyers buy better, explains Ellingham.
What makes this responsible fashion sourcing show different?
During an exclusive interview at the show with Just Style, she says: "Sustainability means so many things to so many people. Our goal is to bring manufacturers to the show from all over the world. All of the exhibitors are audited and we work closely with international governments, such as China, to ensure we find the best manufacturers who are doing all the right things."
The responsible fashion sourcing show, she adds, is for retailers and buyers looking to source better products that are sourced in a more responsible way and it's also a way to help manufacturers that have really struggled during the Covid years, such as Bangladesh, Pakistan and Madagascar.
She points out: "Responsible sourcing is not just about large-scale manufacturers producing responsibly. It's about how we can support smaller manufacturers who are able to produce something special that supports their makers. Source exhibitors represent over 20 countries, each showcasing their unique story and will play an important role in moving the industry forward."
Ellingham also reveals the show has already received a fantastic response with retailers in attendance ranging from Harrods and John Lewis to Bella Freud and Burberry.

She explains: "We've brought manufacturers together with buyers but we have also created a fantastic sustainable seminar programme. It's industry-leading and it's covering controversial tropics. It means Source Fashion can be used to host a conversation – we choose to work with people who have interesting things to say."
Sessions included leading UK fashion designer Alice Temperley talking about the impact of Brexit and how she sources the materials for her designs. Plus it featured a catwalk show to bring the manufacturers' garments to life with each one telling its own sustainable story.
In terms of trends at the responsible fashion sourcing show, Ellingham points to the good quality Global Organic Textile Standard (GOTS) certified cotton and says the materials are really soft.
Manufacturers from Peru were also out in force with their Pima cotton on full display and Ellingham explains the overarching theme of the show is that all of the manufacturers ensure their materials come from a good place.
She highlights that the wider fashion industry and garment manufacturing in particular is a hard industry to be in at the moment as a lot of excess stock at the retail level means the size of manufacturing orders remains a challenge.
However, she's optimistic that if garment manufacturers can find the right people to work with they will thrive.
She says: "Not every manufacturer can do a small run of ten orders so we have a responsibility to help garment manufacturers with good practices to find brands and retailers that want to work with them."
She also points out that if brands and retailers want garments to be produced in a good way they will have to pay more for it, and adds: "The UK garment manufacturing industry for example should never compete on price – it's about handcraftsmanship and understanding where they can win."
Ellingham explains the strong responsibility ethos behind the show's organisers doesn't just stop when the show closes its doors.
In fact, the company runs a positive marketing campaign called Power of One, which is about how making one small change can make a collective difference.
She says: "Consumers don't have to wash their clothes all the time, and by reducing the amount of washing, it reduces pollution from microfibres and it's a good example of how positive change needs to happen from a consumer level."
Ellingham is extremely positive about the inaugural Source Fashion show and explains: "We knew this show would have a positive reaction with buyers and retailers. It's one of the first launches we've done as a business for a while and we know it's going to grow because it's about connecting buyers in the supply chain to better garment manufacturers in the supply chain."
The next Source Fashion show
The next Source Fashion show is taking place on 16-18 July 2023 and Ellingham reveals it will feature a large Pakistan manufacturing pavilion with a focus on athleisure.
Plus, the organisers will be working on a three-year women in e-commerce programme with three Bangladesh entrepreneurs and the idea is to help them market themselves to the UK market.
She says it's great to see smaller manufacturers coming through – it's not just about the larger ones – the show is also about helping with and promoting positive programmes that give back to the community, such as Nepal's Helping Hands initiative, which is on the look out for brands and retailers who want to place orders with disabled and ex-trafficked women who are ready and eager to make garments from their homes.