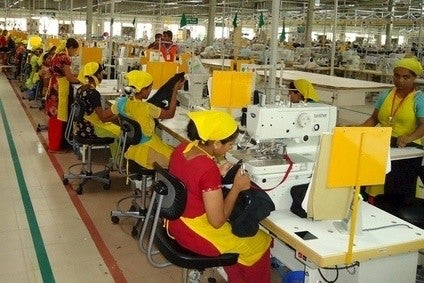 Bangladesh labour rights groups are pressing for increased pay after the government set up a wage board last month to recommend fresh wages for the country's 4m apparel workers.
In a recent meeting with the Bangladesh Garment Manufacturers & Exporters Association (BGMEA), the IndustriAll Bangladesh Council (IBC) along with 16 local labour federations demanded a minimum monthly wage of US$200 – far in excess of the current minimum rate of US$68 fixed in 2013, after the Rana Plaza collapse.
"Prices of essentials have gone up. How can workers meet their daily necessities?" said Towhidur Rahman, secretary-general of the IBC, stressing that rice prices have doubled and house rents have grown three to four-fold in the last five years.
He said the council would announce what it wants as a minimum wage for new work entrants and those of seven other grades on 10 February at a press conference in Dhaka.
The council will then submit its formal proposals to the newly-formed wage board, he added.
But the BGMEA called the wage floated as "too high," saying the industry would not survive if it was implemented.
Siddiqur Rahman, president of the BGMEA, told just-style that regardless of the minimum age, owners have been giving a 5% annual increment on all grades, including new entrants, matching general inflation rates of 5%-6%.
"There is little scope for upward adjustments," said Rahman, a member of the wage board.
The BGMEA boss argued that workers' needs, as well as owners' capacity to meet them, both have to be considered while fixing new wages.
He noted that the talks were at a preliminary consultation phase and much remains to be discussed.
Meanwhile, the government will gazette a formal regulation by Sunday (4 February), allowing the six-member board to start its functions formally, Aktarul Islam, spokesperson for the ministry of labour and employment, confirmed to just-style.
"This will make the board independent, which has representatives from owners and workers," he said.
Islam said the new minimum wage should be agreed and implemented by January 2019, with the board being charged with making a formal proposal within six months.