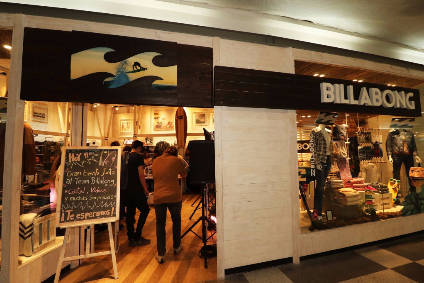 Shares in embattled Australian surf wear brand Billabong International have jumped 22% today (1 December) after it said it has received a takeover bid from Boardriders, the company behind rival Quiksilver.
Boardriders wants to acquire all of the company's shares that it does not already own for AUD1 each, in a move that values Billabong at around AUD198m (US$150m).
Boardriders is majority-owned by private equity firm Oaktree Capital Management, which already holds 19% of the shares in Billabong and is one of Billabong's two senior lenders.
Billabong's board has decided to grant due diligence access to Boardriders to enable it to put forward a formal proposal. Management expects the process to take a number of weeks and has warned shareholders that there is no certainty a deal will go ahead.
The bid comes just two months after Billabong saw its full-year losses widen to AUD77.1m (US$61.1m) after writing down the value of several of its brands, including Kustom, Honolua, Xcel and RVCA. Sales fell 4.7% to AUD974.7m.
Billabong is in the midst of a multi-year initiative to try to turn around its business. Recent initiatives have included the sale of some of its smaller labels in a bid to focus on its three "big brands" – Billabong, RVCA and Element – and drive down debt.
It has already seen a number of takeover talks collapse, most recently in 2013 when Altamont Capital Partners and Sycamore Partners expressed an interest in the business.