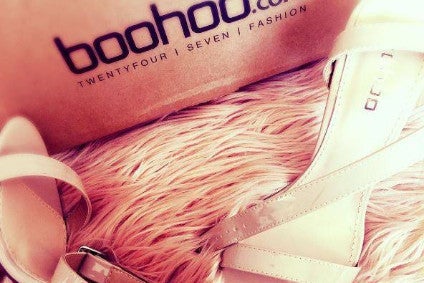 Shares in Boohoo rose today (14 January) after the online fast fashion retailer said it expects annual group revenue growth to come in ahead of expectations after a period of record trading in the last four months of 2019.
In a trading update for the four months to 31 December, which includes the peak Christmas trading period, Boohoo cited continued strong growth across all brands in all regions with group revenue surging 44% to GBP473.7m (US$615.2m). This compares to GBP328.2m last year.
In its domestic market, revenues were up 42% on last year, while Rest of Europe's sales increased by 54%. In the US, sales grew by 57% on last year, and by 13% for the rest of the world.
Gross margin for the four months was down 70 basis points to 53.5%.
The group's key brands – which include Boohoo, PrettyLittleThing and Nasty Gal – all delivered "strong" market share gains in the period, while Boohoo said both warehouses have had "excellent" operational performance.
Sales at the retailer's namesake brand were up 42% to GBP232.6m, while at PrettyLittleThing, revenues reached GBP190.8m, up 32% on the prior year. Meanwhile, sales at Nasty Gal soared 102% to reach GBP41.5m.
For the ten months to 31 December, group total revenue amounted to GBP1.04bn, also up 44%.
CEO John Lyttle noted the newly acquired brands, Karen Millen, Coast, and MissPap, are "showing great promise" and open different target markets for the group, in-line with its strategy to build a multi-brand platform.
"All of our brands have performed exceptionally well and delivered strong market share gains. We have continued to see operating leverage in our more established brands, and will continue to invest into them and our newly-acquired brands."
Looking ahead, the retailer now expects group revenue growth for the financial year to 29 February at between 40% and 42%, ahead of its previous guidance of 33% to 38%.
In addition, group adjusted EBITDA margin is forecast at 10-10.2%, ahead of previous guidance of around 10%. Boohoo added other guidance for the current financial year and its medium-term guidance to deliver sales growth of 25% per annum and 10% EBITDA margin remains unchanged.
Today's figures build on a record performance by Boohoo across the Black Friday weekend.
Click here to read what industry analysts have to say on Boohoo's latest figures.