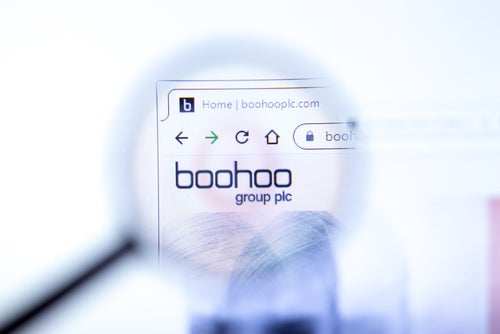 In just a year, Boohoo sales tumbled to £1.7bn, 11% down on last year, while UK revenues were down 9% against last year.
Key results from Boohoo numbers:
Adjusted EBITDA dropped by 49% compared with 2022 to £63bn, with an adjusted EBITDA margin of 3.6%
Adjusted EBIT fell 92% to £63.3m
Adjusted loss before tax of £1.6m
Pre-tax loss of £90bn compared to profit of £7.8bn in the prior year
International revenue was down by 13% but was up by 22% on 2020
Boohoo acknowledged that its operations were affected by increased costs in freight and logistics due to the pandemic, along with higher expenses related to labour and energy. Furthermore, the company has been making substantial investments in its activities, notably its US distribution centre.
John Lyttle, Boohoo Group chief executive, said: "Over the last three years, the group has achieved significant market share gains. Looking ahead, we are investing in the future growth of this business with automation, local fulfilment capacity in the US and building global brand awareness. We will deliver sustainable returns on these investments."
Boohoo Group highlighted its strategy for returning to growth, with improvements in profit margins resulting from deflation in the supply chain. These reinvestments are focused on enhancing speed and pricing in order to strengthen the "test and repeat" proposition.
Boohoo emphasised the successful implementation of automation at its Sheffield distribution centre. This automation has played a crucial role in achieving "best-in-class operational performance and significant savings"
Lyttle continued: "Our confidence in the medium-term prospects for the group remain unchanged, and as we execute on our key priorities, we see a clear path to improved profitability and getting back to double-digit revenue growth."
Boohoo was recently the centre of media speculation alleging it has demanded a 10% discount from its suppliers in a move to ease cost pressures.
"Disappointing numbers from former star of fashion"
Louise Deglise-Favre, apparel analyst at GlobalData, comments it is a "disappointing" set of numbers from the "former star of fashion".
"Although it was up against relatively strong comparatives (+13.6%), the switch back to instore shopping in the first restriction-free year hit the online specialist especially hard. The Boohoo group also suffered from the meteoric rise of Chinese rival Shein, which gained market share thanks to its aggressively low prices and constant stream of new goods. Paradoxically, the group has also been affected by the growing criticism from some consumers against fast fashion, for both economical and sustainable reasons. boohoo expects revenue to continue declining between 10-15% in H1 FY2023/24 before returning to growth in H2, bringing its full-year guidance between 0% and -5%. While it attributes the return to growth to its "investments in price, product and proposition", easing inflation rates towards the end of 2023 will also play a part, freeing consumers to spend more on fashion.
An operating loss can partly "be blamed on higher costs, boohoo's business model of frequent discounting and low margins has made it particularly vulnerable in the current economic climate, she notes.
"It has reportedly asked for a 10% discount from some of its UK suppliers, which may help the bottom line but hurt its ethical reputation even further.  
"Revenues in the UK and the rest of Europe fell 9% and 8% respectively in constant currency as the regions were the hardest hit by high inflation, causing many consumers to reconsider their apparel purchases, prioritising spending on long-lasting quality and versatile pieces rather than frivolous low-quality garments that will fall out of fashion quickly. The group's young shoppers typically purchase the highest volumes of clothing too, leaving them with more scope to cut back on consumption.
Furthermore, the introduction of return fees on some of its brands in the UK may have deterred some consumers, as unlike Zara, which also now charges for returns, the option to return for free instore is not possible.
"Despite inflation being softer in the US, it was the group's worst-performing region, with constant currency sales dropping 24%. The group's lack of local distribution centre has left it unable to match the delivery efficiency of competitors, and although a warehouse is set to gradually open across late 2023 and early 2024, its brands might have already lost their momentum due to the dominance of rivals such as Fashion Nova and particularly Shein. The Boohoo group will have to double down on its marketing efforts through buzzworthy collaborations to win US consumers back from the grasp of the Chinese giant.