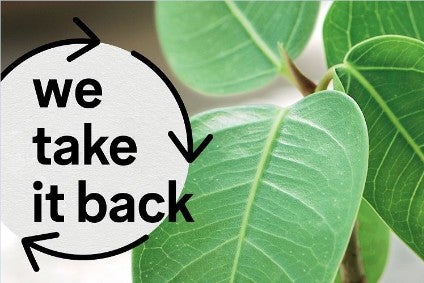 Retailer C&A Europe is expanding its 'We Take it Back' apparel collection programme to Belgium, Luxembourg and Switzerland.
The move means that consumers in these countries will be able to take any clothes and shoes they no longer wear to one of 230 C&A stores in these countries, where they will be collected for re-use and recycling. In return consumers will receive a 15% discount voucher for the purchase of their next item from C&A.
The retailer is working with I:Collect (I:CO) to organise the collection and sorting of the used clothing and shoes.
The items are taken to a processing facility where every single piece of clothing is sorted by hand and categorised for its next best possible use.
About 60% of the collected items will get a new life as second-hand goods. Most of the rest will be recycled to become new products such as cleaning cloths or shredded into fibres that will be used in the production of insulation materials, painters' drop cloths or as stuffing for furniture or car seats.
During the sorting process, metal items such as buttons and zippers are separated for use in the metalworking industry. Even the dust produced during the mechanical recycling process is pressed into briquettes for the cardboard industry.
Very few textiles that are not suitable for any of these purposes are used as combustibles for energy production. A small part of the unwearable items can remain in a closed loop within the textile industry: for example, the recovered fibres may be re-spun into yarn to produce new fabric. 
Since 2012, C&A Netherlands has collected 278,000 kg of clothing in collaboration with I:CO.
"Our approach is grounded in the idea that we must shift our industry from a model of 'make, use and dispose' to one where every apparel product is designed for its next life," says Jeffrey Hogue, C&A's global chief sustainability officer.
"The transition to a fully circular apparel industry will be challenging and will require time and a holistic systems approach. Important steps on this journey are the development of an effective collection and sorting system around the globe, the support of innovative start-ups, the development of new cycling technologies and the use of recycled materials in our clothing."
Axel Buchholz, CEO at I:Collect, adds: "Our collaboration with C&A will help to further reduce the amount of clothing ending up in landfills or incineration and consequently increase reuse and recycling rate so natural resources can be saved."
C&A operates nearly 2,000 stores in 21 countries worldwide, with around 60,000 employees.