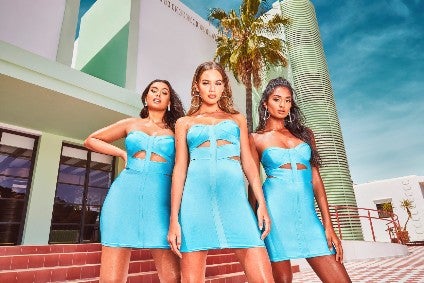 The US is being urged to ban imports from UK online fast fashion retailer Boohoo Group by a charity alleging forced labour is present in the group's supply chain.
Liberty Shared has submitted two petitions to US Customs and Border Protection (CBP) concerning apparel manufacturing businesses in the UK city of Leicester and Boohoo Plc under Section 307 of the Tariff Act of 1930, which "prohibits the importation of merchandise mined, produced or manufactured, wholly or in part, in any foreign country by forced or indentured labour – including forced child labour. Such merchandise is subject to exclusion and/or seizure, and may lead to criminal investigation of the importer(s)."
One petition focuses on apparel manufacturing in Leicester and the district of Leicester East and was submitted on 7 February to exclude apparel and apparel-related products produced "wholly or in part" by forced labour at factories operating in the area, except products produced by Ethically Sourced Products Ltd and Basic Premier Ltd.
It notes reports on the labour issues in the city go back as far as 2001 when the UK Government's Low Pay Commission voiced concern over non-compliance in the city.
"Leicester is a city fighting fast-fashion sweatshops, with as many as 10,000 people potentially working in challenging conditions in its textile factories, in order to supply fast fashion online companies such as Boohoo Plc, and its subsidiaries and affiliates.
"Of the 1,500 textile factories that Leicester City Council estimates exist across the city, most are small businesses – workshops housed in crumbling buildings that are in desperate need of repair. Smashed panes are patched up with cardboard, and fabric is draped across windows so it's impossible to see inside. For decades there have been claims that some factories pay workers well below GBP8.72 per hour, the national minimum wage (for those aged 25 and over)."
It also says there is "considerable evidence" that the UK's national plan to tackle modern slavery and, in particular, forced labour has not been as effective as needed and requires further resources and reorganisation if it is to serve the number of UK residents and foreign migrants, whether they have been trafficked, smuggled or have entered lawfully, who are vulnerable and who may become victims of forced labour.
The second petition was submitted to CBP on 1 February to exclude apparel and apparel-related products produced "wholly or in part" by forced labour in the supply chains of and sold by Boohoo Group PLC and its owned and affiliated companies.
It goes on to note Boohoo is the largest buyer from Leicester East with up to 80% of its production coming from here. Over 50% of the supply chain it says, is drawn by Boohoo from Leicester East.
"Boohoo's business strategy is heavily anchored around a clear and strong image and brand identity conveyed via e-commerce platforms, and Boohoo USA has a very strong online presence. In 2019, Boohoo brands increased their total revenue from the US market by 79% hitting US$215m, and then virtually doubled this number with a revenue of US$202m in the first half of 2020.
"Boohoo has a number of product lines and brands that are available for purchase in the US such as PrettyLittleThing and Nasty Gal."
The petition submitted on 7 February adds: "The longstanding problems of Leicester's garment industry make the situation particularly dire for workers, leading to labour abuse and forced labour. Boohoo sells several hundred million US dollars' worth of apparel into the US and so, by extension, a large volume of Leicester-made garments are potentially making their way into the US."
Media reports in the summer surfaced of one of Boohoo's Leicester-based supplier factories paying staff just GBP3.50 (US$4.38) an hour to work in unsafe conditions and in breach of UK coronavirus lockdowns.
They followed an expose on the Leicester garment industry by the Financial Times in 2018, and a year earlier a second Dispatches investigation regarding wages and working conditions. This led to a visit to the city in April 2017 by a select committee, which reported that labour rights abuses were endemic.
An independent review into its UK supply chain was launched in September by senior barrister Alison Levitt QC who identified "many failings" and outlined 17 recommendations, which led the fashion company to launch an 'Agenda for Change' and appoint retired judge Sir Brian Leveson to provide independent oversight of it.
The second petition, which focuses specifically on Boohoo and cites the Levitt Report, which aimed to examine whether Boohoo had developed and implemented sufficient governance, controls and risk management over its supply chain in Leicester.
Citing a quotation from the report, the petition states: "Much of the time, Boohoo has simply no idea where its clothes are being made and thus has no chance of monitoring the conditions of the workers who make them."
Boohoo's response
Boohoo says it has so far not had any correspondence nor is it aware of any investigation by the US CBP, adding it is "confident of the actions" it is taking to ensure its products meet the CBP criteria on preventing the product of forced labour entering the US (or any of its markets).
"Boohoo continues to fulfil orders to customers in the US across all of its brands. The group will work with any competent authority to provide assurance that products from its supply chain meet the required standard.
"Over the past eight months the group has been working closely with UK enforcement bodies. If the group were to discover any suggestion of modern-day slavery it would immediately disclose this to the relevant authorities. In addition, Alison Levitt QC's independent review into Boohoo's Leicester supply chain, published in September 2020, stated that "there is no evidence that the company itself or its officers have committed any criminal offences."
"As a result of changes already underway since 2019, and those initiated through the Agenda for Change programme, which includes implementing the Independent Review's recommendations in full, the group's supply chain in Leicester, and oversight of it, has been significantly improved and strengthened."