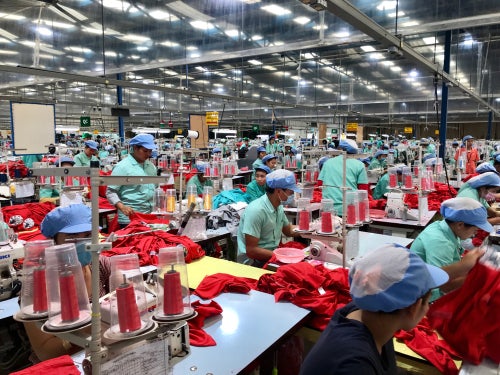 In a statement issued yesterday (7 March), Cambodia's Ministry of Labor said the initiative was a recommendation of Prime Minister Samdech Hun Sen. Dr Ith Sam Heng, Minister of Labor and Vocational Training, chaired a meeting with representatives of employers' associations related to the garment and footwear sectors.
The meeting highlighted the declining trend of orders due to the global economic crisis caused by the Russia-Ukraine war, in addition to the past effects of the Covid-19 crisis. It was noted that the status of the suspension of employment contracts has been increasing and it is uncertain whether this will return to normal at any time. In addition, other costs related to production and export have not yet reduced.
The new programme will apply to workers suspended by factories during the economic downturn.
The meeting agreed on scenarios for the implementation of cash interventions for suspended workers from April 2023, as implemented by the Ministry during the Covid-19 crisis to facilitate the livelihood of workers. During the period in which the factory suspended the contract, the government will contribute $40 and the factory will contribute $30.
The Minister thanked the private sector, especially the employers' association partners, for their cooperation during the implementation of the last ten rounds of government action measures during the Covid-19 crisis.
Representatives of the private sector also thanked the Prime Minister for "always giving high consideration, facilitating the private sector to be able to maintain the balance of its production business and help workers to maintain their jobs and income to solve living conditions when times of crisis arise".
Earlier this year, the Council for the Development of Cambodia (CDC) approved three investment projects for the apparel sector that will create up to 5,000 jobs.
The investment will be used to create footwear and garment factories and aid with the manufacture of accessories for clothes, shoes, bags and hats.
In January, Ken Loo, secretary general of the Textile, Apparel, Footwear & Travel Goods Association in Cambodia (TAFTAC), formerly the Garment Manufacturers Association of Cambodia (GMAC), said Cambodian footwear exports to the EU and US had "not improved" and may continue to decline for the first half of 2023, with footwear orders falling by potentially as much as 30%.