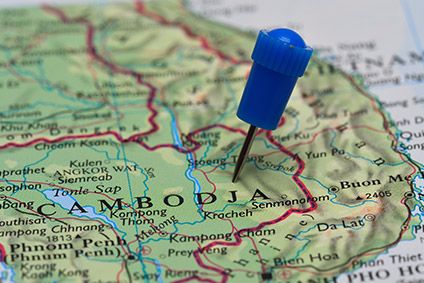 Cambodian garment makers have today (1 December) urged international buyers to continue sourcing from the country amid fears the European Union (EU) may withdraw preferential trade terms in protest at a government crackdown on the main opposition party.
The Garment Manufacturers Association in Cambodia (GMAC), which represents around 600 factories employing 700,000 workers, has sought to reassure foreign buyers that the current political situation will "not be translated into any actions bearing negative impacts on the daily production and supply chain of the industry."
It adds it is committed to maintaining the smooth operation of member factories, and that employees and trade unions have been working "normally and peacefully." GMAC says the factory work has helped "lifted millions of people out of poverty" in the Southeast Asian nation.
"GMAC appeals to all of our international buyers to continue their support (for) Cambodia and our member factories to materialise our economic goal which is the improved wellbeing of all the Cambodian people," a statement adds.
The concerns come after both the US and EU issued strong statements after a ruling last month from Cambodia's Supreme Court to dissolve the opposition Cambodian National Rescue Party (CNRP) and ban 118 of its members from politics for five years.
The US State Department warned the move "damages Cambodia's relationship with the United States and others in the international community; weakens Cambodia's economic growth and prosperity; and isolates the country further from democracy to the region."
The EU also suggested Cambodia's preferential access to its markets through the Everything But Arms scheme could be removed. "Respect of fundamental human rights is a prerequisite for Cambodia to continue to benefit from the EU's preferential Everything But Arms scheme," it said.
Thanks to this duty-free access, the European Union (EU) is the most important market for Cambodia's annual garment exports, accounting for around 45% of the total. The US is the second largest, taking around a quarter of the country's shipments, while Japan accounts for 9%. As a whole the country's garment and footwear sector is worth US$6.8bn and accounts for 80% of its total exports.
Cambodia's Prime Minister Hun Sen has been courting garment workers in the run-up to the general election in July 2018, promising them a range of benefits including free health-care from their employers, free access to public transport and a jump in the minimum wage. The monthly minimum wage for the garment and footwear sector is set to rise from $153 to $170 in January 2018.
Meanwhile Cambodia's government has also sparked controversy this year with a draft new minimum wage law that included clauses to restrict the debate on minimum wage issues. The controversial legislation, which will for the first time set salary levels across sectors beyond the garment, textile and footwear sectors, was amended after brands and retailers sourcing from the country voiced their concerns.
Labour and human rights groups have also expressed their worries at "repression" in the country, and the "alarming high-profile incidents of repression against political leaders, non-governmental organisations, and independent media."